This post may contains affiliate links for your convenience. If you make a purchase after clicking a link we may earn a small commission but it won't cost you a penny more! Read our full disclosure policy here.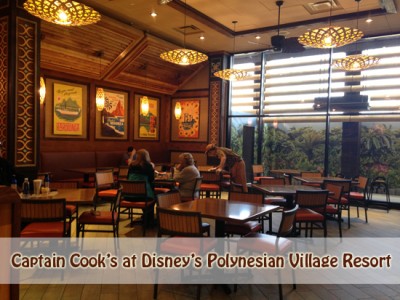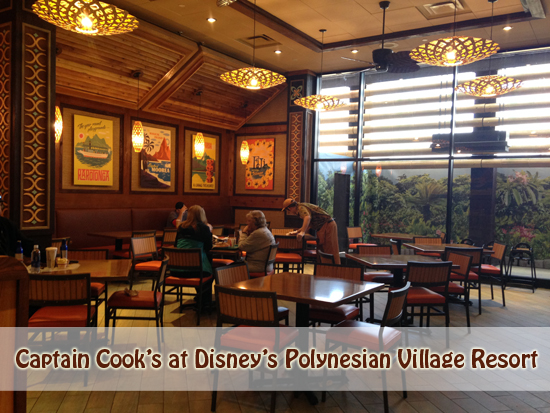 One of my favorite resorts is Disney's Polynesian Village Resort. Yes, even after the resort's refurbishment, the resort still feels like home to me. It's peaceful, warm, and inviting. Plus, the restaurants here are all A+, top notch. I mean you have 'Ohana-the all-you-can-eat meat fest, Kona-the delightful table service location, but when I visit this resort, one of my must stops is Captain Cook's. This counter service location can be found by going to the left when looking through the lobby from the front doors. It can be found down a hallway (the same hallway you would take to get to Trader Sam's Grog Grotto.)
The theme of the restaurant is one of the islands…the restaurant features lots of dark browns, accentuated by these great Polynesia posters.  Captain Cook's features American dishes with Polynesia influence and I have to say, it's menu is quite delicious with different sandwiches, flatbreads, fish tacos, Thai coconut meatballs, salads and more.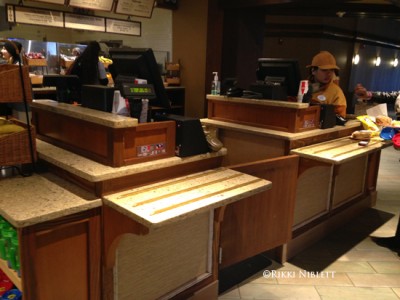 Captain Cook's ordering set up similar to Roaring Fork's. Guests pick up any grab and go items they would like, including pastries, ice cream, fruit, in addition to any bottled beverages. From there, you will then head to the Cashier Cast Member where you will place your food order.
The Cast Member will give you a buzzer. When your food is ready, it will go off and you will be able to pick up your food at the pick up counter.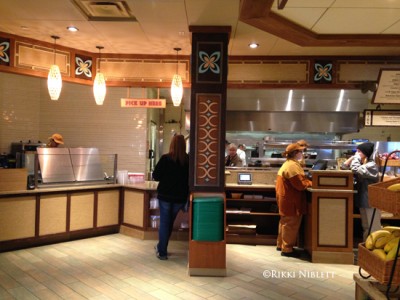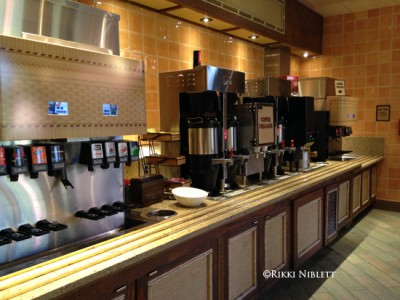 While I enjoy many different dishes from Captain Cook's, I have one that's my go to favorite. It's the Pulled Pork Nachos topped with Onions, Cheese, Spicy Mayo, Tomatoes, and Pineapple Salsa. This dish is SOOO good!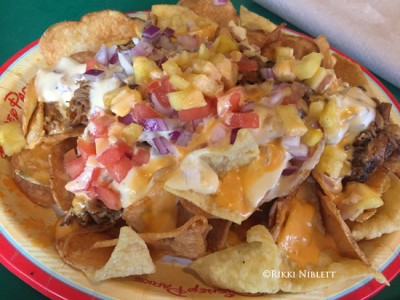 What makes it unique is that the chips are traditional tortilla chips. Instead, they consist of kettle potato chips and crispy wonton chips. These wonton chips are my everything. They make the dish so great because they are so light and airy and completely different than tortilla chips. The pulled pork is tender. The nachos are covered in cheese. The mayo isn't overly flavorful. Matter of fact, because it's mixed in with everything else, I barely notice it. There are two minor drawbacks though. The first is that this dish is LOADED with onions. Keep that in mind, if you don't love super onion breath. Also, the pineapple salsa has a unique flavor. It isn't bad, but sometimes it doesn't always mesh with the rest of the nacho flavors.
Honestly, this dish is so big, I typically share it with my husband, but it's totally one you can enjoy on your own too!
While I am a sucker for these nachos, you really can't go wrong with anything here at Captain Cook's. I appreciate that the flavors are different and include flavors of Polynesia, whether that be a coconut-pineapple bun, teriyaki sauce, wonton chips, pineapple, and various other great options.
Seriously, on your next visit to Disney's Polynesian Village Resort, make sure you stop at Captain Cook's!
Have you tried Captain Cook's? Share your thoughts in the comments!