This post may contains affiliate links for your convenience. If you make a purchase after clicking a link we may earn a small commission but it won't cost you a penny more! Read our full disclosure policy here.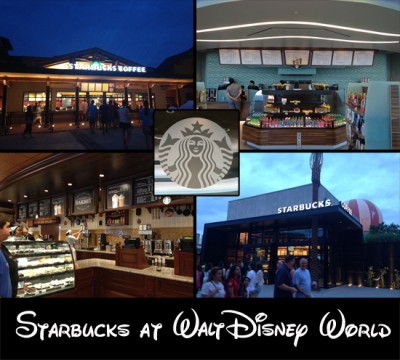 I am a Starbucks fan. There…it's out there. I enjoy Starbucks coffee…I don't drink it everyday anymore…but I do enjoy partaking in a beverage every now and again. So when I heard Starbucks was coming to Walt Disney World, I was a happy camper.
Mostly this excitement came from the news that Disney would be getting rid of Nescafe! (Or Nescrape…depending on your circles.  Nescafe is truly awful coffee…like I can't even drink it bad…and I can drink most coffee.)  While I get the debate that Starbucks doesn't belong in Walt Disney World (a debate I'm not getting into at the current moment…) the fact of the matter remains…Disney has had very poor coffee choices up until recently. (And for those of you against Starbucks, maybe you'd prefer the Joffrey's Coffee that's being sold in many locations, including some kiosks found throughout the parks.)
Wow…somehow I got off on a tangent already…anyway…currently there are many different places where you can go to grab a cup of Starbucks goodness. I've been to both options in the parks, but there are two others that have recently popped up in Downtown Disney.
Let's start with the options in the parks first.  Of course, we're also starting with the most controversial too…and that is the Main Street Bakery.  The Main Street Bakery Starbucks found on Main Street USA in the Magic Kingdom is themed around the turn of the century. It features a lot of woods, browns, and brick. The line does snake through the location a bit, but unless it's morning or around a parade or firework time, it's not going to be completely slammed; you should be able to get your coffee relatively quickly.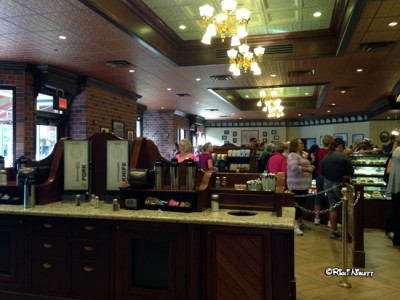 Now, my favorite place to get coffee is actually over in Epcot. The Fountain View is where you'll find Starbucks goodies and it's located in the Innoventions Plaza area.  The location used to serve ice cream, but never seemed super busy, to me.  Enter Starbucks. This location features a lot of cool blue and steel coloring…perfect for a futuristic feel.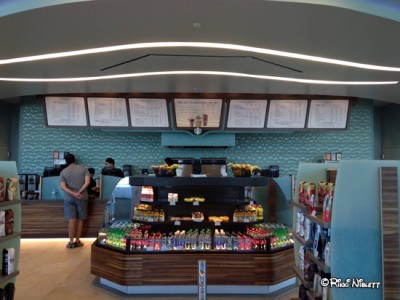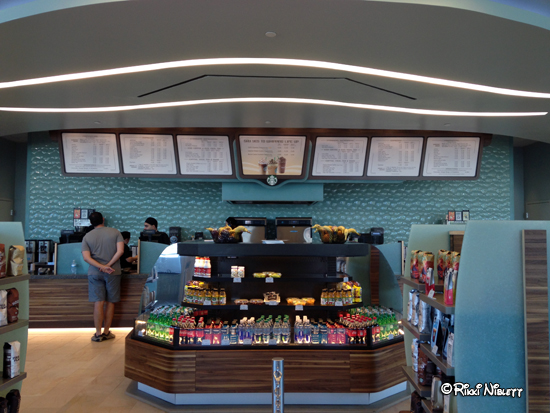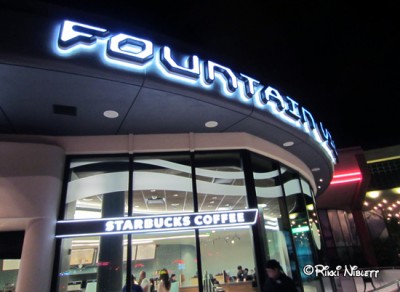 As far as similarities, both have large pastry cases where you can choose a detectible treat. The cases also feature things like fruit and bottled beverages. Also both give guests the opportunity to purchase bagged coffee, if they would like to take some back home with them.
I'm gonna be honest, the best thing about the Starbucks in the parks is that you don't know they are Starbucks until you get close. They don't scream "I'M A STARBUCKS" from the outside, with signage really being at a minimum. (Ok…so maybe my previous photo is a bad example, but honestly, it's not super apparent that the location are Starbucks locations in person…) Once inside, you will see a few logos and such. Overall, they are all well-themed and really, all it is, to me, is an upgrade in coffee and a change in pastries sold.
Over at Downtown Disney, things are a little more apparent, as Starbucks has recently opened up two additional locations; one is on the West Side and one on the Marketplace side.
The West Side Starbucks is state of the art. It features things like a Clover Bar which serves special reserve coffees that are brewed to order. The new store also features a covered patio overlooking the waterfront and a fireplace.  There's also this really cool thing called a Human Connection Wall, which is a large touch-screen monitor that allows guests to use their fingers to draw images.  This location is the perfect place to just hang out and enjoy an evening at Downtown Disney.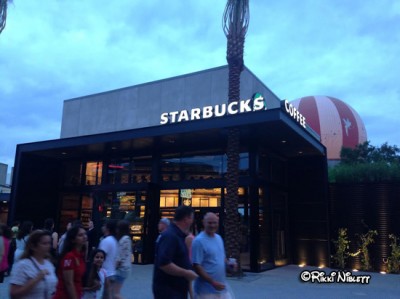 The second location, found on the Marketplace side, is more of a walk-up kiosk. It features no seating.  This location offers all the drinks that Starbucks serves, but has a limited number of pastry options.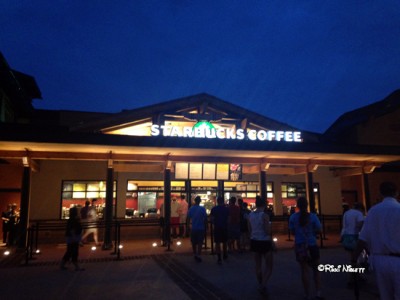 The drinks sold across the board at all locations are all the same drinks you'll find at your local Starbucks, but the cool part is that they are served in fun Disney-themed cups!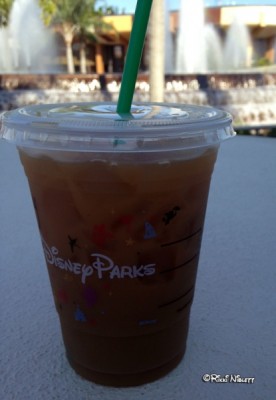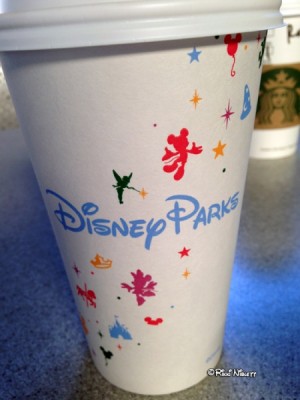 To me, Starbucks isn't a daily necessity, but a treat. I get drinks so infrequently, that when I'm at Disney, it does still feel a bit special. For those who are coffee addicts, the addition of better tasting coffee (well, coffee that most consider decent tasting), is a welcome addition from the swill they used to serve.
In all, while it's been a bit controversial, I think the addition of Starbucks to the Disney parks and Downtown Disney has been a good change.  I am looking forward to the upcoming additional Starbucks that will be making there way to both Disney's Hollywood Studios and Disney's Animal Kingdom in the near future. Just how soon? Rumors are currently swirling about both new locations. I have a feeling we'll be finding out here shortly.