This post may contains affiliate links for your convenience. If you make a purchase after clicking a link we may earn a small commission but it won't cost you a penny more! Read our full disclosure policy here.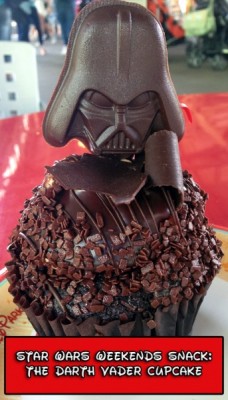 Today marks the start of Star Wars Weekends!  This fantastic event, which takes place at Disney's Hollywood Studios on Fridays, Saturdays, and Sundays from May 16 – June 15, brings Star Wars in all forms, front and center to its fans! People can take in a parade, a fireworks extravaganza, meet Star Wars celebrities, and meet Disney stars dressed as Star Wars characters.  Oh…and you can eat!
There are many different dining options available during Star Wars Weekends.  The newest is the Star Wars character meals.  Sci Fi Dine-In is offering a breakfast called the Star Wars Galactic Dine-In Breakfast and Hollywood and Vine is offering a dinner called Jedi Mickey's Star Wars Dine.
There are also Star Wars themed souvenir buckets, resembling both Stormtroopers and Darth Vader, filled with things like popcorn. Also, there's an R2-D2 power bucket for the kiddos.
But today, I am here to discuss the infamous Darth Vader Cupcake.
You see, I've been dreaming about this cupcake for YEARS.  I have never been to Walt Disney World during Star Wars Weekends, but was recently able to visit on May the 4th. (Also known as Star Wars Day…or May the Fourth Be With You.)  While I am not the biggest Star Wars fan, I was super excited to visit on this glorious Star Wars holiday!  Not only were the parks including some fun events, like trivia contests and merchandise opportunities, but I found out through Twitter that they were rolling out the Darth Vader Cupcake!  Oh heavens, yes!
So, I headed back to Studios Catering Co. and excitedly saw that the Darth Vader Cupcake was indeed on the menu!  One please!  I was ready to join the Dark Side.
The first thing I noticed was that this thing was monstrous.  It was a massive cupcake and perfect for this chocoholic, because as far as they eye could see was chocolate everywhere!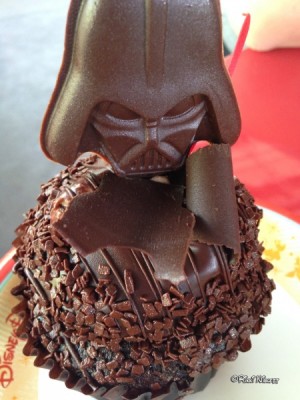 It started with the bottom, which was a delightful and moist chocolate cake base.  As we move up the dessert, you'll see a chocolate ganache, which is covered by tiny chocolate flakes, as well as a couple of large pieces of chocolate bark.  Creamy chocolate bark.  On top of the whole concoction is a milk chocolate Darth Vader "lollipop." Darth Vader was ever so sweet….(and that's the first time you'll ever hear that phrase uttered.)  Also sticking out of the top was a red piece of deliciousness that was supposed to resemble a lightsaber!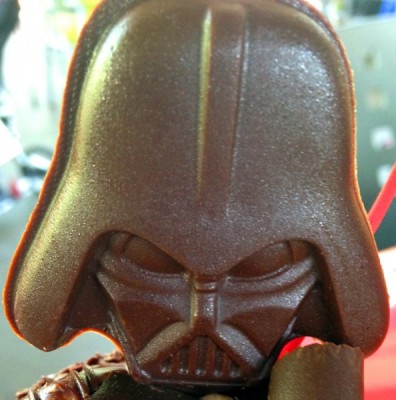 But that's not all!  You see, once you bite into the cupcake, you will find that under that chocolate ganache is a light, yet rich, peanut butter icing! Come to mama!  Peanut butter and chocolate are my two ultimate weaknesses!
The whole cupcake was ridiculously sweet and absolutely filling and so rich that I couldn't eat the whole thing by myself.  (I ate most of it though…I powered through for you, dear reader!  It's a hard job…trust me.)  Really though, if you get this cupcake, consider splitting it because it is massive in size.
The only minor disappointment was that I almost wish there was peanut butter frosting located in the middle of the  cupcake.  (You can never have too much peanut butter in my book.) However, that is an extremely minor thing, because this cupcake was, hands down, a winner in my book.
The cupcake costs $4.99 and can be found at Darth's Mall, Backlot Express, ABC Commissary, Studio Catering Co, Pizza Planet, and Starting Rolls.
PS: Darth Vader may or may not be influencing my decision on this cupcake.  Do you hear breathing?  😉