This post may contains affiliate links for your convenience. If you make a purchase after clicking a link we may earn a small commission but it won't cost you a penny more! Read our full disclosure policy here.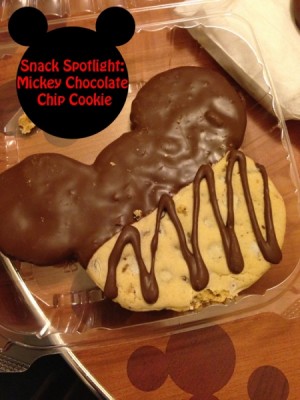 You all know that I love to bring home snacks as souvenirs, right?  It allows me to prolong my Disney vacations, and I still get to enjoy great Disney treats!  It's certainly a win for my stomach!
So, since I'm always looking for great treats to take home with me, that are a good value, I'm constantly scoping out the bakeries across Walt Disney World property. Well, a couple of months ago, I ran across my new it treat to take home. (No….it isn't a cake cup. Though I could go for one of those right now)
It can be found in many different bakeries across property, but my favorite place to grab it is in the Confectionery on Main Street U.S.A. in the Magic Kingdom.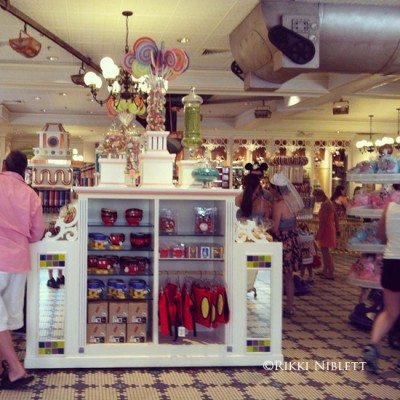 You see, I'm talking about the giant Mickey Chocolate Chip Cookie!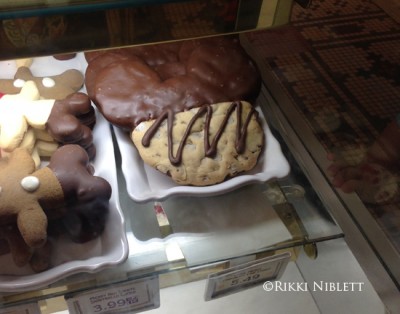 I love this thing for a few reasons.
1.  It's HUGE! Seriously.  It takes me couple of sittings to eat the whole thing.
2. It has chocolate covered ears! Everything is better with chocolate coating and this is a thick coating too. Oh and it has a great chocolate drizzle on top!
3. The cost is right. Yes, it's a bit more expensive than some of the other treats, but for the size it is, it certainly makes the purchase worth it. I've clearly paid close to the same price for things that are much smaller.
4. It's a chocolate chip cookie. Hello….
5.  It's shaped like Mickey Mouse. Again, another necessary reason to purchase it.
I think I rest my case.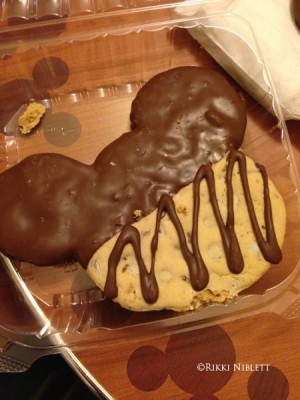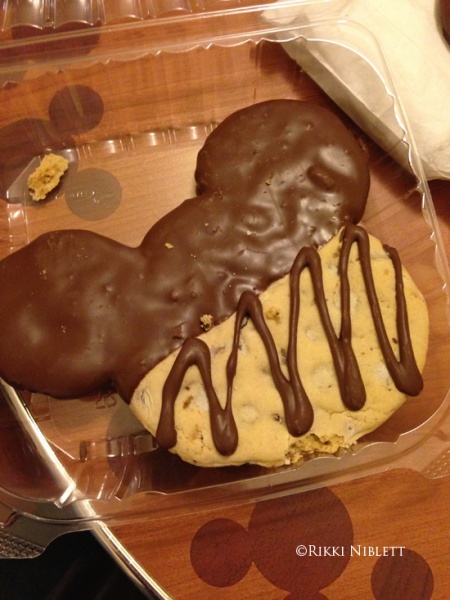 Mickey Chocolate Chip Cookie
The cookie is relatively soft, yet still has a crunch to it. It isn't overly sweet, until you get to the chocolate dipped portion. Speaking of the chocolate, it's a creamy tasting chocolate. It melds together perfectly with the cookie.  It does overtake the cookie a little, but I don't see a problem with that.  I mean, seriously, what would make the treat better would be if the entire thing were covered in chocolate, but I digress.
If you will be going to Walt Disney World soon, I cannot stress highly enough the Mickey Chocolate Chip Cookie. You will enjoy it immensely.
Have you ever gotten the Mickey Chocolate Chip Cookie? What's your favorite treat to bring home that I absolutely need to try on my next visit? Let me know in the comments!
Incoming search terms:
chocolate mickey cookie calories