This post may contains affiliate links for your convenience. If you make a purchase after clicking a link we may earn a small commission but it won't cost you a penny more! Read our full disclosure policy here.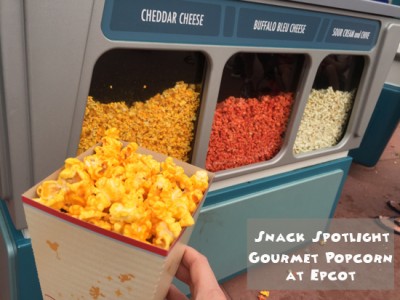 To tie in with yesterday's festivities, today I thought I would discuss one of the staples of a Thanksgiving meal…corn. Ok…well I'm actually going to talk about popcorn.
Did you know that Epcot offers three unique, gourmet popcorn flavors? The popcorn is found in its own specialized cart in Future World in between the Imagination Pavilion and The Land Pavilion.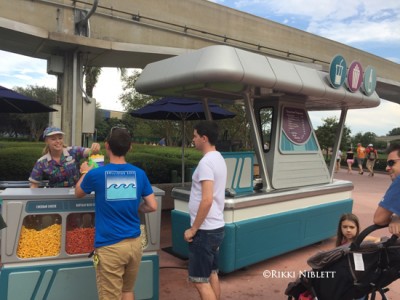 The three flavors that guests can choose from are cheddar cheese, sour cream and chive, and buffalo bleu cheese. I was curious, so I decided to try all three.  All were quite good and each had very good flavor.
The buffalo bleu cheese is bright red and yes, it does indeed have a buffalo and bleu cheese taste to it. It was a bit tangy but didn't have a real kick to it. If you like buffalo bleu cheese flavoring, you will love this popcorn.
I then tried the sour cream and chive. Once again, this tasted extremely reminiscent of chives and sour cream, with the chive flavor the most noticeable. I liked this one very much.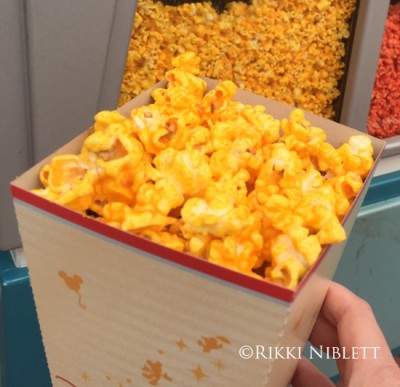 My favorite popcorn choice though was the cheddar cheese one.  I thought this would be pretty mundane and simple, but it really surprised me. It was extremely cheesy, much more so than cheddar cheese popcorn I've had other places. It was actually really rich, in a way.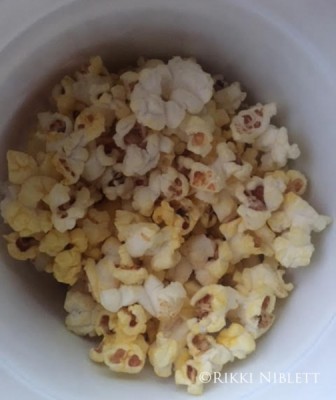 Of course, this booth also serves regular butter popcorn, which is a fan favorite. There is nothing like fresh popped Disney popcorn. It's the perfect mix of butter and salt.
Now, let me give you a little tip. You don't have to choose just one flavor of popcorn hre. You can actually mix an match, which is what we did! It was perfect!
Another tip, consider purchasing the souvenir tub. Usually I'm not one to suggest this, however, I realized on my last trip that for an extra couple of dollars you get way more popcorn in the souvenir tub and you have something you can take home with you.
If you are looking for a great treat to enjoy, make sure you stop by the Gourmet Popcorn stand in Future World at Epcot; I promise you won't regret it. My only wish…that more of these gourmet popcorn stands would show up across Walt Disney World with more flavors, sort of similar to what is available in Tokyo.
Have you stopped for gourmet popcorn at Epcot and which flavor would you like to see offered at Walt Disney World?