This post may contains affiliate links for your convenience. If you make a purchase after clicking a link we may earn a small commission but it won't cost you a penny more! Read our full disclosure policy here.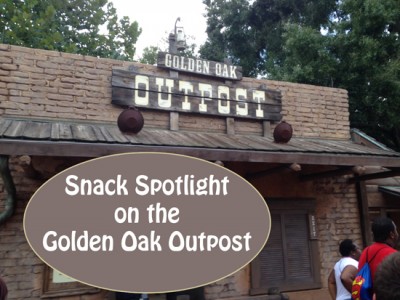 Did you hear last Fall that Walt Disney World was introducing specialty waffle fries at the Golden Oak Outpost at the Magic Kingdom?  Were you as excited as I was? These sounded incredible!  I knew I had to selflessly try them so I could share the details with you!  I really took one for the team…hee hee.
So, in case you don't know, the Golden Oak Outpost is located in Frontierland.  If entering the area through Adventureland, it's this permanent kiosk that's found just a little ways down, across from Pecos Bill's.  The Golden Oak Outpost has gone through a few changes in the past few years.  First the location sold french fries…McDonald's french fries, to be exact.  Then, after McDonald's left the theme parks, the area sort of floundered.  They attempted to sell things like chicken sandwiches and corn nuggets, but honestly nothing ever stuck.  Then, they announced the area was going to be selling the brilliant creation of specialty waffle fries!
There are four different specialty waffle fries to choose from.  They include: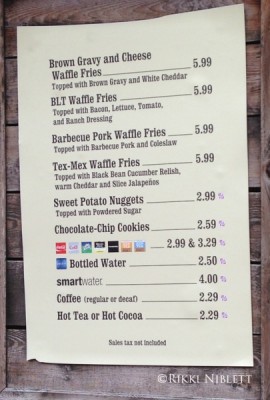 Brown Gravy and Cheese Waffle Fries – topped with Brown Gravy and White Cheddar
BLT Waffle Fries – topped with Bacon, Lettuce, Tomato, and Ranch Dressing
Barbecue Pork Waffle Fries – topped with Barbecue Pork and Coleslaw
Tex-Mex Waffle Fries – topped with Black Bean Cucumber Relish, warm Cheddar and Slice Jalapeños
Not gonna lie…they all sounded fantastic.  Given that I didn't want to be a huge glutton, I decided to only try one.  So, I went with the BLT Waffle Fries.  I had heard that these were similar to the often remember, but now gone, Figaro Fries found at Pinocchio's Village Haus. (This version was just a little bit different.)
One bite in and I was in heaven.  These fries were incredible.  The bacon was cooked to perfection and there was lots of it.  The lettuce and tomatoes were in full force.  The ranch was a nice zesty addition.  I do wish the fries had a touch more puff to them…I was expecting more along the lines of Chic-fil-a fries, but these featured a little less potato, it seemed; they seemed a little crispier.  I also do wish there had been just a few more fries in the dish as there was still some left over toppings after all the fries were gone.    But overall, these were a win.  Grab a fork though, because these are not something you'll be able to eat well with your fingers!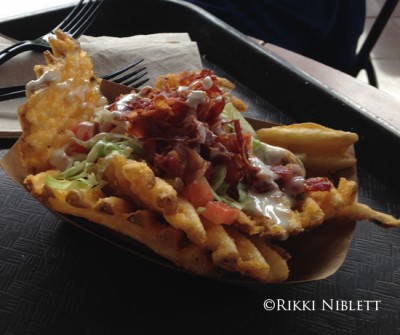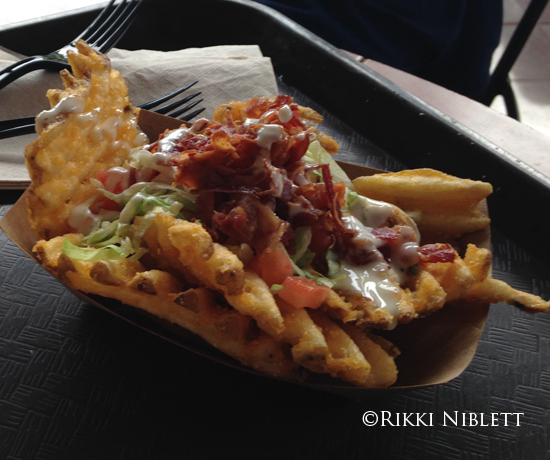 However, that wasn't all I came to the Golden Oak Outpost to try!  They also had been touting that they had something called sweet potato nuggets.  Well…I HAD to try those.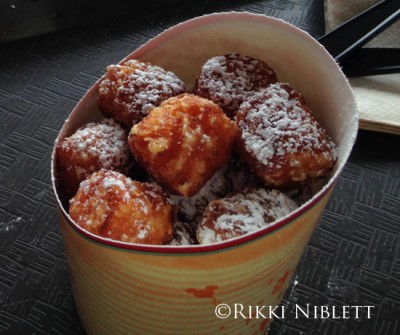 If I thought the waffle fries were good…the sweet potato nuggets were heavenly.  They were small and looked sort of like tater tots, but they weren't nearly as crunchy.  They were covered with powdered sugar too.  I popped one in my mouth and oh my gosh!  It was like a sweet potato explosion!  This little warm nugget was filled with wonderful sweet flavor. The powdered sugar enhanced the sweet taste even more.  This is a fantastic snack for those who like sweet potatoes!
There is one slight problem with Golden Oak Outpost…it appears to only be open on "peak" days.  The snack shop is often closed during the week and often only open on Saturdays, especially in the off-season, which makes me sad because I would constantly be grabbing a sweet potato nugget snack every chance I could get!  (And waffle fries too…because seriously, I've only scratched the surface!  I must try other flavors to see how they compare!)
What do you think?  Do these Specialty Waffle Fries (and Sweet Potato Nuggets) sound right up your alley?