This post may contains affiliate links for your convenience. If you make a purchase after clicking a link we may earn a small commission but it won't cost you a penny more! Read our full disclosure policy here.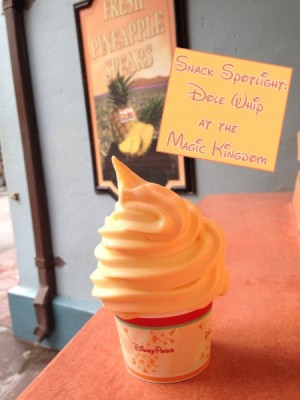 Most people probably think it's a travesty that I have yet to talk about the beloved and cult Disney snack – the Dole Whip.  Well, I am finally fulfilling those wishes.
But you see, my experiences with the Dole Whip didn't start until this year.  (Wait…what?!)  In almost 10 years of visiting Walt Disney World (and Disneyland), I have yet to have tried a Dole Whip.  That is until this past January.  I was sitting outside of Captain Cook's at Disney's Polynesian Resort with a group of friends, one of whom had just gotten a massive cup of the delightful golden treat. (Note:  The Dole Whips at the Polynesian are currently unavailable because Captain Cook's is closed for refurbishment.  In addition, I'm hearing rumors that the Dole Whips at Captain Cooks may be a thing of the past, as there is a new kiosk opening up called Pineapple Lanai as part of the Polynesian refurbishment.  This likely means no more all-you-can-fill Dole Whip cups either.)
Anyway, back to my story…so, as I was sitting there, eying up my friend's treat, I mentioned that I'd never tried a Dole Whip before and asked him if I could have a small bite.  He willingly obliged (and was surprised I'd never had a bite before.)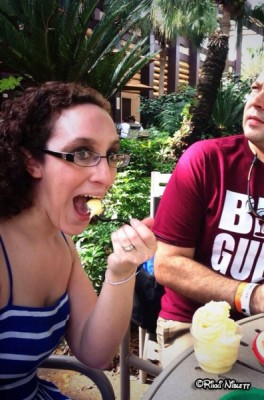 I took a bite and was surprised!  It was a delightful mix of tart and sweet and was quite creamy.  I am someone who doesn't usually do fruity flavors, but I did enjoy the tastes. (Even if I found them to be a bit odd at first, the flavor absolutely grew on me.)  He had gotten the version swirled with vanilla, which I thought cut the tangy pineapple flavor nicely.
Then, in May, my husband, who had heard so much about Dole Whips decided he wanted to try one. It was so hot and we had just entered Adventureland, passing by Aloha Isle at the Magic Kingdom. Oh and there was NO LINE!!!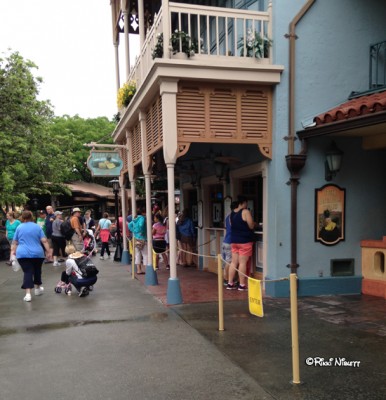 So, we walked right up and he decided to try the pineapple swirled with orange.  I am not an orange-flavor fan, but told him I'd take a few bites of the pineapple side. I dug in and quickly found that the orange really was swirled in, so I got to try the swirl as it was intended.  If you like pineapple and orange flavors, this is a great combination. (Even I didn't mind it too much.)  The fruity flavors really mixed well with each other.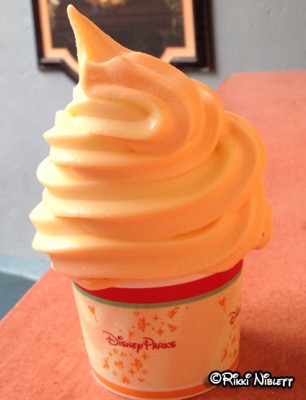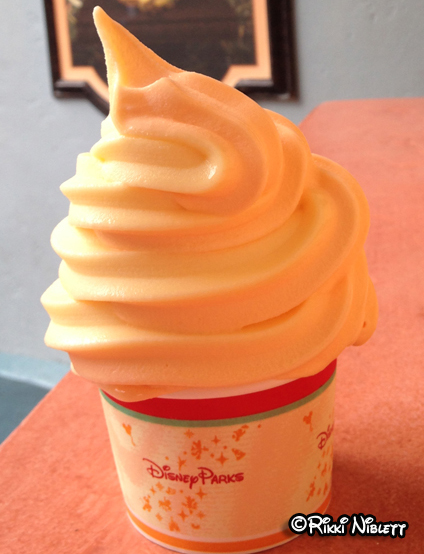 When choosing my Dole Whip for the next time I would have to have it swirled with the vanilla, rather than just the pineapple flavor on its own.  I feel that the pineapple flavor by itself would be too tart and I liked how creamy the flavors were mixed together. Though I do hear that I must try the Dole Whip Float soon.
So, I can officially now say that I have not only tried a Dole Whip this year, but have dined on it twice now!  While I wouldn't necessarily get a whole one for myself (and I know many people who would get a whole one each day of their trip, they like it so much) I would certainly consider getting one again and splitting it with my hubby!
So what about you?  Is a Dole Whip a must get for you? Or are you like me and enjoy them, but a few bites is enough?  Let me know!