This post may contains affiliate links for your convenience. If you make a purchase after clicking a link we may earn a small commission but it won't cost you a penny more! Read our full disclosure policy here.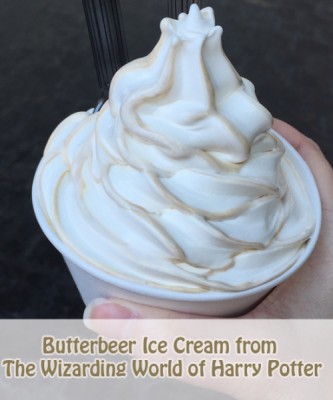 I am a huge Harry Potter fan. Plain and simple. I devoured the books, I eagerly anticipated movies, and one of the coolest moments was walking into Universal's Islands of Adventure and stepping into Hogsmede for the first time. It was surreal. Even more surreal was stepping into the world of Diagon Alley just a few years later. The sights, sounds, and smells were all what I thought they would be, you know, if the world of magic really did exist.
Of course, one of the most important aspects that was brought to life when Diagon Alley was introduced was the inclusion of Butterbeer ice cream. Having tried frozen Butterbeer before, I was certainly intrigued. Frozen Butterbeer was quite good, so how would the same flavors taste in delicious ice cream form?
So, on my most recent visit to The Wizarding World of Harry Potter, I knew that above all else, I had to try Butterbeer ice cream. It was good that it was a blazing hot day too.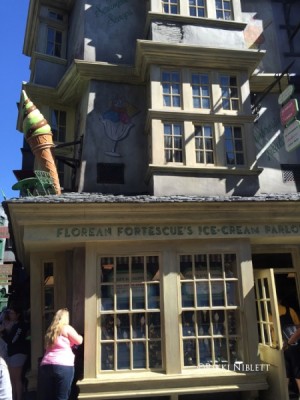 Florean Fortescue's Ice Cream Parlour
Now, while most people get their ice cream at Florean Fortescue's Ice Cream Parlour in Diagon Alley, there is actually a secret place where you can stop. Serving as more of a bar than anything else, The Hopping Pot also serves up Butterbeer ice cream. So, if the lines are too long a Florean's and you just want to enjoy a cup of Butterbeer ice cream, this is the place to go!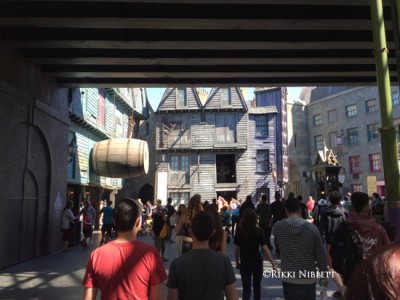 The Hopping Pot is on the left
As mentioned, The Hopping Pot features the many different brews (beers) that they have on tap, including Wizard's Brew and Dragon Scale. You can also choose to get Frozen Butterbeer or regular Butterbeer.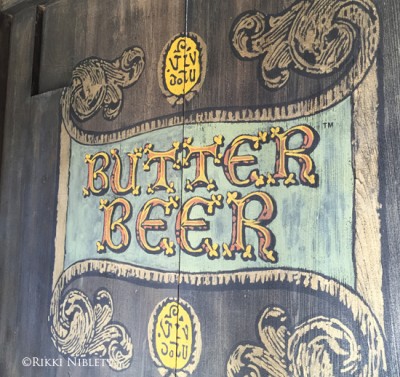 There are a few seats available in the form of picnic benches right in front of The Hopping Pot. This is a great place to stop off for a beverage or snack and watch one of the shows being performed on the Carkitt Market stage.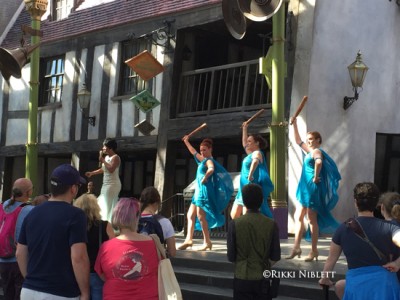 So, of course, I was on a mission to try Butterbeer ice cream, and was impressed when I saw the size of the cup. It was a decent sized dish filled to the brim with delightful ice cream.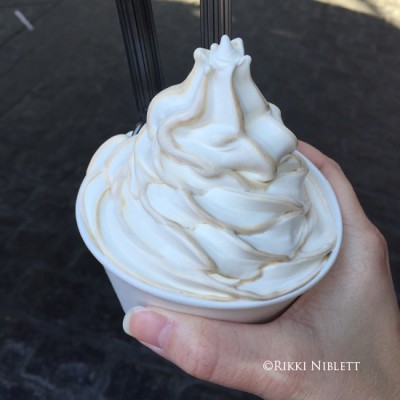 Butterbeer ice cream is swirled, vanilla and butterscotch flavors (or at least that's what everyone equates it to.) I mostly tasted a very strong vanilla flavor. This ice cream was extremely rich and delightful. It was also exceptionally sweet. Because of the intense (but yummy) flavor, as well as the large size of the cup, I was actually unable to eat all of my ice cream. (Which let me tell you, is not normal. When  you give me ice cream, I eat it all!)
Butterbeer ice cream was certainly a win in my book and I think so far, I rank it over both frozen and regular Butterbeer, however, warm Butterbeer is my ultimate favorite.
Have you tried Butterbeer ice cream? What were your thoughts? Share in the comments section!