This post may contains affiliate links for your convenience. If you make a purchase after clicking a link we may earn a small commission but it won't cost you a penny more! Read our full disclosure policy here.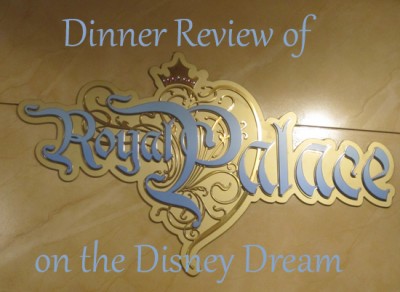 Welcome back to Day 2 aboard the Disney Dream! Today's feature dinner is Royal Palace!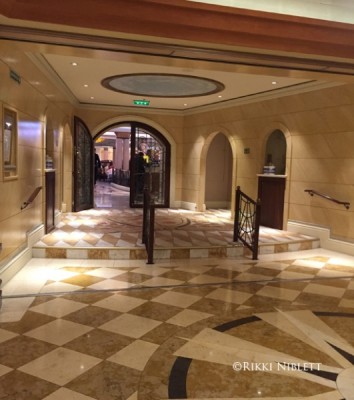 This regally decorated restaurant is located on Deck 3 with the main entrance just off the ship's main lobby and has been one of my favorites. The feel is elegant, but not stuffy, almost as though the Disney Princesses are warmly inviting you into their home for dinner. The room's tones include a lot of deep royal blues and golds. Be on the lookout of the great princess touches, such as Cinderella Coaches found as breadbaskets, glass slippers hanging from the chandeliers, and more. Dinner at Royal Palace is an elegant affair!
Menu items at Royal Palace have a French-inspired continental flare. This meal was when I would have one of the best choices for an entree, and also one of the worst choices.  More on that in a bit.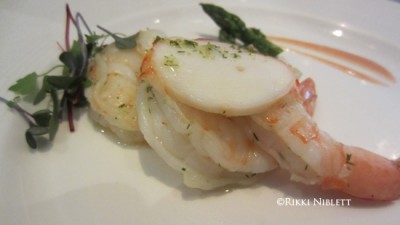 For my appetizer, I chose to indulge in the Iced Lobster and Jumbo Shrimp, featuring green asparagus, dill dressing and horseradish cream. This is a delightful appetizer.  It's light and chilled. I very much enjoy the dill featured in the dish. It doesn't over-power the shrimp, just gives it a good flavor.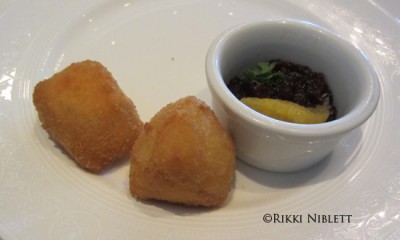 I also had to try a second appetizer this time. I sampled the Breaded and Deep Fried Brie. Oh yum! This dish was super cheesy and pillowy and a crisp outer coating. It was a fancy cheese stick and I loved every bite.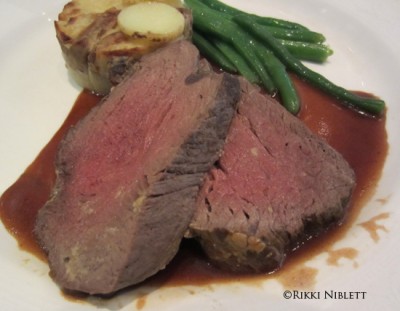 For my main course, I went with the Chateaubriand-Roasted Filet Steak served with Crushed New Red Potatoes with Shallots, Buttered Green Beans, Red Wine Jus, and a Bearnaise Sauce on the side. The beef was perfection. There's nothing more to say.  Just perfection. The green beans were waxy and I'm not a fan of waxy green beans.  They were good, but not my favorite. The potatoes were interesting and not what I was expecting. Visually they were stunning, and they tasted good too. They were perfectly prepared with a nice rich flavor.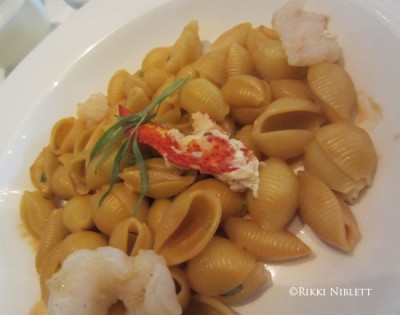 For my second main course (yep…I did two…) I tried perhaps the worst dish I've ever had the Disney Cruise Line ever. I had the Conchiglie Pasta which featured Buttered Lobster, in a Tomato Shrimp Tarragon Brandy Sauce with Lemon Basil.  I had very high hopes for this one, which were dashed immediately. The pasta appeared it had been sitting for a while, as the actual noodles were not al dente, the lobster and shrimp were rubbery, and the sauce was non-existent.  I have never not eaten a good portion of a dish before on the cruise, but this was terrible. I took one bite and was done. Matter of fact, everyone else at my table who got the entree proclaimed it to be just as awful as I thought it was and no one else ate it either. This is a dish that I hope Disney takes off the menu and replaces with something different and better. It had promise and it failed on every single level.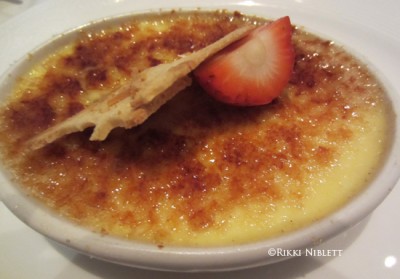 Let's get back on track with dessert.  You see, at Royal Palace, my favorite dessert is offered – Creme Brulee. Oh…it was so incredible. It was rich and creamy with a great caramelized crunch. I dream of creme brulee, and this one definitely fit the bill. It was simply the perfect end to a filling meal.
Royal Palace was mostly a hit, much like it usually is. The meal is usually quite rich and filling, given it's French influences, and I have to say, I was certainly stuffed as I walked out.
What's your favorite dish at Royal Palace? Let us know in the comments!
Looking to book your own Disney Cruise? Request a free, no-obligation quote from The Magic for Less Travel, an Authorized Disney Vacation Planner.