This post may contains affiliate links for your convenience. If you make a purchase after clicking a link we may earn a small commission but it won't cost you a penny more! Read our full disclosure policy here.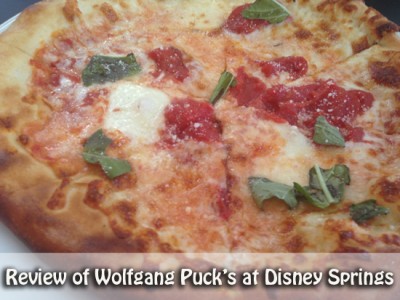 This weekend, all the talk will be on the new Town Center of Disney Springs. This brand new area will debut on May 15 and will feature lots of great new shops and restaurants for Guests to be able to experience. It is certainly an exciting development, especially given how long construction has taken place at Disney Springs. (And truthfully will continue because the entire area will not officially be done until later this year.)
With all that being said and focus being on the new, I thought we'd take a look at one of the long standing Disney Springs restaurants – Wolfgang Puck.
Now, I've long said that counter service options are far and few between at Disney Springs. It does seem as if some of those issues are being addressed here with the new areas that are opening, but one of the quick service options that is tried and true at the shopping and dining district is Wolfgang Puck Express.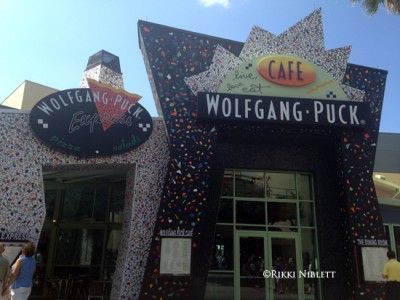 There are two Wolfgang Puck Express locations, one on the West Side and one in the Marketplace. The West Side version which is the one I visited, seems to be more of a satellite option, however, both focus on specialty sandwiches, soups, salads, wood-fired pizzas.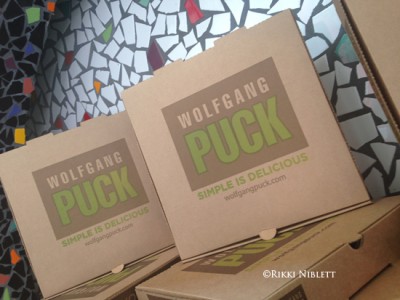 The restaurant itself does look a little dated. Hello 1990s! Lots of bright colors and geometric designs.
In addition, I found the restaurant's set up to be confusing. The only thing that let me know where to order was the menu board overhead. The layout of the overall restaurant left a little to be desired. Things were very compact in the Express area. There also wasn't really much in the way of indoor seating on this side (though there was on the Cafe side.) There was some outdoor seating, but it was HOT and I didn't want to enjoy a warm pizza in the blazing sun. There were maybe four tables located inside the restaurant.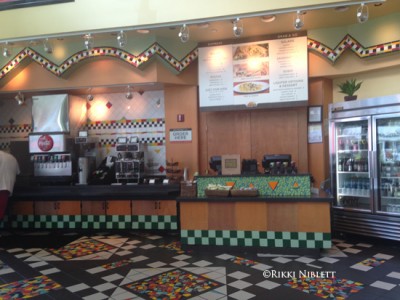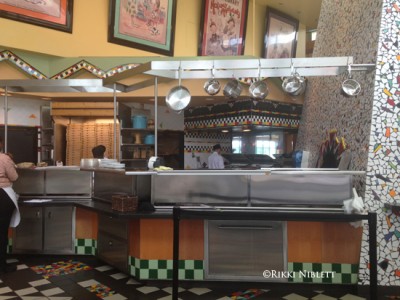 On my visit, I was starving and wanted something substantial, so I chose the Margherita Pizza, which features mozzarella, torn basil, fresh tomatoes.
The first thing I could see was that even though I was starving, I was not going to be able to eat this huge pie. Second, it was how delicious the pizza looked.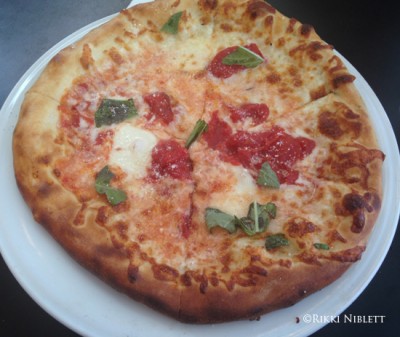 You could immediately taste the wood-fired aspect of the pizza, with the burnt char on the bottom. Not enough that the pizza itself was burnt, but enough to give it that flavor. There was plenty of cheese on the pizza, and the tomato and basil were fresh. It didn't follow the trend of Disney pizza, which offers too much crust and not enough substance. This had a good mix of both. I thought it tasted exceptional.
Rumors have indicated that this restaurant on the West Side is being told they need to have a massive remodel overhaul or ship out, what with all the new updates that have happened in the rest of the area. After stopping in for a slice, I can see why. The actual restaurant certainly doesn't scream modern, but despite that, the food itself was quite good. (The restaurant on the Marketplace side is rumored to be staying.)
If you're in the mood for a quick and delightful meal, then Wolfgang Puck's is a great option. (Or if you just want to experience 1996 again, you should stop in here too.)
What do you think of Wolfgang Puck Express? Do you enjoy the restaurant? Would you like to see an upgrade? Share your thoughts in the comments.