This post may contains affiliate links for your convenience. If you make a purchase after clicking a link we may earn a small commission but it won't cost you a penny more! Read our full disclosure policy here.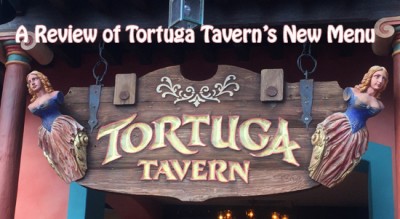 Recently, at the Magic Kingdom, there was a menu change that occurred at Pecos Bill's Tall Tale Inn and Cafe. The restaurant began serving dishes with a Mexican flare. Those items could previously have been found at Tortuga Tavern, found in Adventureland, however, you can't have two restaurants that are right next to each other serving the exact same food.
So, just a few months ago, Disney changed the menu offerings at Tortuga Tavern as well. This seasonal counter service location would now serve up BBQ flavors. This would include a barbecue pork sandwich, a barbecue chicken sandwich, and a barbecue brisket sandwich, plus more! Sounds interesting, for sure!  I was excited for this new, unique menu, so I decided to go check it out.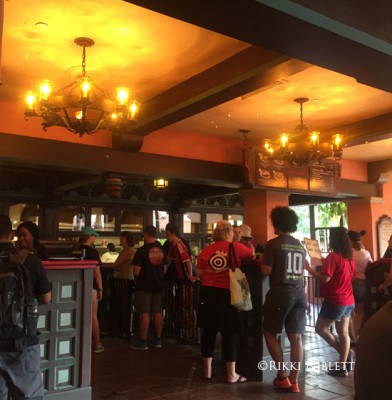 The restaurant was hopping when I got there, however, keep in mind that it often sees shortened hours. It is often only available from 11:00 a.m. until 3:00 p.m., so keep that in mind. In addition, Tortuga Tavern's seating is mostly open air, with covered overhangs, however, you could always head inside of Pecos Bill's if it was insanely hot out.
Tortuga Tavern follows standard counter service ordering procedure. Guests walk up to a Cast Member at a cash register and place their order. (Keep in mind that both the right and left side of the Cast Member are fair game, so if one side is shorter, choose that one.) Guests then head up to the main counter to pick up their food.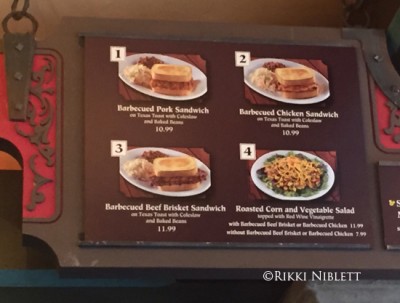 I decided to try the Barbecue Pork Sandwich which is served on Texas Toast with cole slaw and baked beans. Another tip…they do not offer substitutions here. For example, I despise cole slaw…with a passion. Cannot stand the stuff. So I asked if I could substitute that for anything else…an applesauce, more baked beans….they said no. I was quite surprised, so keep that in mind when choosing Tortuga Tavern.
That actually should have been my first sign that this wasn't going to be the greatest of meals.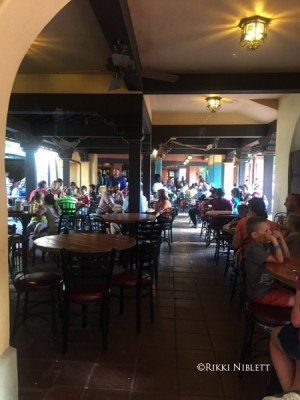 Seating at Tortuga Tavern
I got my food after sitting down, noticed that the Texas toast left a lot to be desired. I would have expected it to be toasted; have a nice brown look to it, like it had just been on a griddle. Nope! This was two pieces of bread that was more dried out that toasted. I couldn't eat the sandwich as a sandwich. I actually had to eat it open-faced because the top part of the bread added nothing to it and overall, it was just entirely too much bread.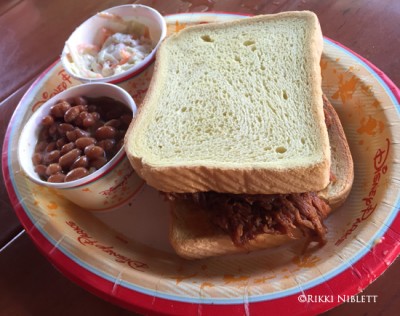 The pork was quite good though, I will admit. The sauce had a nice, tangy flavor and the pork was cooked to perfection. It wasn't too fatty, there was just the right amount of meat.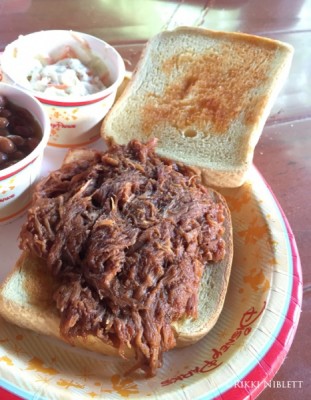 The baked beans were ok. They weren't anything to write home about. I also tried the cole slaw, which had a much too vinegar taste for me.
Overall, I am happy to see that Disney decided to branch out and try to serve something besides burgers and nuggets, however, while I had such high hopes for this meal, it left me quite disappointed.  I actually heavily debated in my head going back next door to Pecos Bills and getting one of their delicious rice bowls after all was said and done, as I found that menu change to be a much better one.
If you are looking for a unique meal at the Magic Kingdom, then Torguga Tavern is a place where you should certainly consider, and I think if I was to try it again, I would rather try one of their Roasted Corn and Vegetable Salads instead. Overall, Tortuga Tavern, makes a good effort, but doesn't quite stick the landing.
Have you tried Tortuga Tavern's new menu? What did you think?