This post may contains affiliate links for your convenience. If you make a purchase after clicking a link we may earn a small commission but it won't cost you a penny more! Read our full disclosure policy here.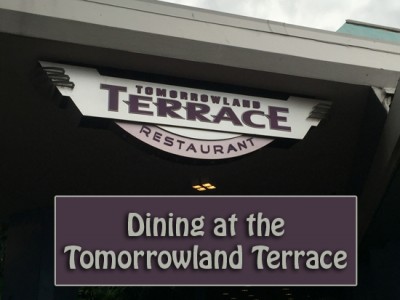 Every once in a while, I am astonished by something I see at Walt Disney World. I've been so often that it does take a lot to surprise me, but my most recent trip, I was certainly surprised. By what, you ask? By the fact that Tomorrowland Terrace found in the Magic Kingdom was actually open!  What is this sorcery?!
Why is this odd? Well for those of you who don't know, Tomorrowland Terrace is a counter service restaurant that is located at the corner of Main Street and Tomorrowland (though it's a Tomorrowland restaurant) that is closed for the majority of the year. The restaurant is typically only open during peak times of the year.  I hadn't expected to see it open because while the middle of July (when I was visiting) is busy, it isn't as busy as say Christmas or the Fourth of July. So, while I had seen reports that the restaurant had been open for the Fourth of July season, I figured that by the time I arrived, it would be closed and shuttered once again.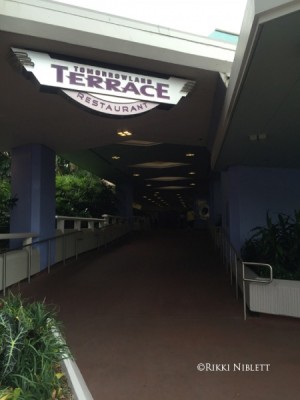 How wrong I was!  As I walked that way towards Tomorrowland (a popular shortcut I like to take) I was surprised to see that the restaurant was serving food. The Tomorrowland Terrace, to me, isn't like your traditional counter service restaurant.  It seems more spread out, perhaps because of its awkward position in the park.  You walk up to the ordering windows, place your order, and then have the choice of sitting in the upper seating section or the lower seating section. (The lower seating area is where the Wishes Dessert Party takes place.)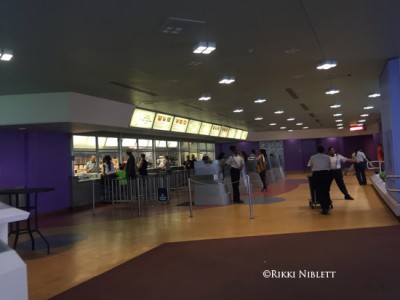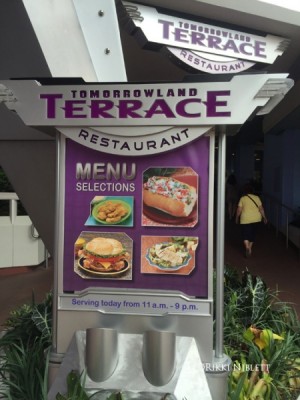 Now, keep in mind that the current menu offerings aren't as exotic as they has previously been. (The restaurant was formerly known as the Tomorroland Terrace Noodle Station serving more Asian-inspired cuisine.)  Instead, the current offerings are more along the line of what you'd expect from Disney…burgers, chicken nuggets, and fries.  Though there is the unique choice of a lobster roll on the menu.
As for my visit, I decided that I was in the mood for just your standard chicken breast nuggets.  These are served as an 8 piece (more on that later) and with fries.  My hubby got the traditional 1/3 lb Angus Bacon Cheeseburger served with fries.
I was served my chicken nuggets and sat down to eat in the lower section so I could enjoy a view of the castle while dining. It was exceptionally hot out, but being under the shade at the open air restaurant made it way more bearable.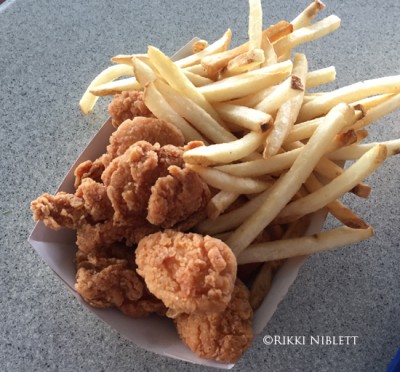 The nuggets were actually quite good.  I haven't had a Disney chicken nugget in a while, so I was happy to see that the chicken was moist on the inside (too often I find chicken breast to be very dry) and that there was plenty of breading that coated the nugget, however, not too much breading, still allowing the chicken to shine.
In addition, I'm not sure if it was just because they were slow or what, but I had to have gotten WAY more than 8 nuggets.  I didn't count, but I ate a generous number and thought, gosh, how many nuggets are left, examining my plate and seeing that it looked like I hadn't made a dent. I would guess that they had given me around 12 or more.  Again, don't look for this to happen on your visit, but it was a nice surprise for me.
Disney has recently updated their fries and this was my first real chance to get a good taste of them.  They are hand cut and they are skinny.  I found them to be fantastic.  I love skinny fries over thick fries, and these were fried up nice and crispy.
Overall, I was surprised to have had such a pleasant meal at the Tomorrowland Terrace.  I found everything to be top notch and I have to say, if I was in the mood for a traditional Disney theme park meal, I would absolutely go back that is, if it was open again on my next trip.  There's just something about this section of the park that I love.  In looking at the schedule though, if you are wanting to dine here during this summer vacation, you're going to need to do it soon.  The restaurant closes again for the season on August 9.
Have you ever gotten to eat at Tomorrowland Terrace? What are your thoughts?