This post may contains affiliate links for your convenience. If you make a purchase after clicking a link we may earn a small commission but it won't cost you a penny more! Read our full disclosure policy here.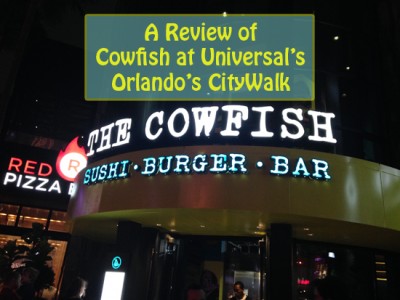 Did you know that yesterday was National Sushi Day? Well, I know one place where you need to go if you're looking for sushi any time. Over at Universal Orlando Resort's CityWalk, you will find The Cowfish, a unique restaurant that specializes in sushi, burgers, and even burgushi. Wait…what is burgushi?  It's sushi, however, it is made with burger inspired ingredients.
The concept of The Cowfish intrigued me. I am not a big sushi eater, however, there was something about this place that was calling me.  It was truly a one-of-a-kind concept that I just couldn't pass up.
When you walk in, you are smacked in the face with incredible pop culture art.  There are also a lot of decorative pieces that resemble both cows, as well as fish.  Overall, the decor is loud and colorful and yet it totally works and the vibe is very fun and light-hearted.  Guests have the ability to dine both upstairs and downstairs, and there is even a great bar area outside, where you can play a game of cornhole and enjoy a beverage or two.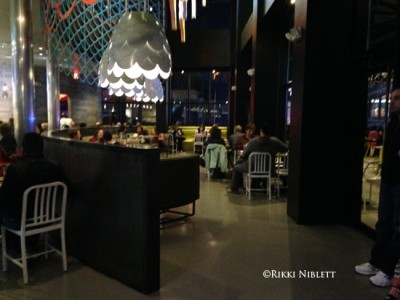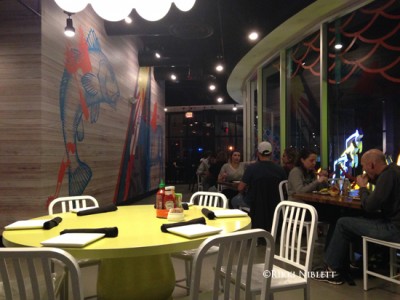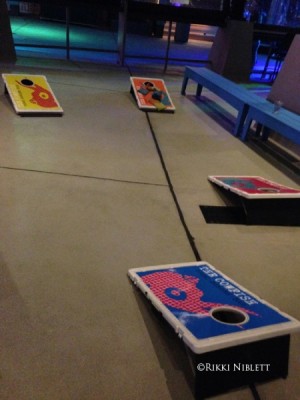 I have to tell you, I was digging this place.
The hard question was…what to order.  The menu is extensive and there are plenty of sushi and burger options to choose from.  They even have bento boxes which offer you a ways to sample a little bit of both.
Then there is the burgushi.  Burgushi items include two different types of dishes–either sushi rolls created using burger components or creative sandwiches created using sushi components.
I thought Brian was gonna go for the sushi because he loves sushi, but instead, he decided he was going to get the The Jalapeno Popper Show-Stopper, which is a beef burger, jalapeño-infused cream cheese, jalapeño bacon, fried jalapeños, jalapeño citrus aioli, lettuce, tomato, fresh sliced jalapeños, brioche bun.  (Can you say that's a lot of jalapeños?)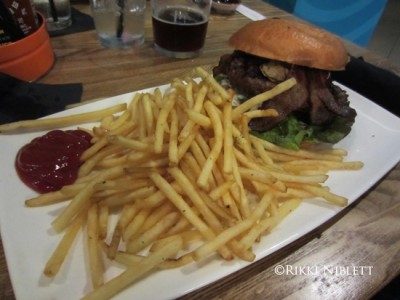 He really liked it, but as is expected with a dish that is just filled with jalapeños, he said it was just a bit spicy. (Ok…his words…it was extremely hot, but I liked it.) Not being someone who loves super spicy food, I did not try his, so I'll take his word for it that it was quite good.  I did try the fries and they were fantastic.  I had actually wished I'd ordered some of my own.  They were the thin kind that I like, super crispy and good salty flavor.  These were delicious.
As far as my meal, I decided I had to try the burgshi.  I mean the place is known for it! I went with  The High Class Hillbilly-Southern Style Bar-b-q-shi which was pulled pork, caramelized onion and BBQ sauce, potato wrapped and flash fried. Topped with housemade bacon coleslaw and chives.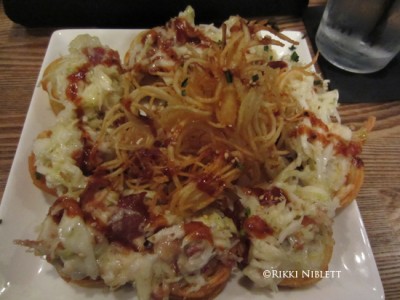 Holy cow…when they brought out my plate, I thought, I wished I would have shared this with somebody!  This thing was MASSIVE!
The pork was really good with good flavor. I do wish that it had been dipped in more bbq sauce though.  The outside was the potato wrapped section and due to it being flash fried, it was nice and crispy. The one thing that surprised me, and I don't know why…it's "sushi" but it was the rice! It really brought all the flavors together.  The slaw added a nice touch on top and I quite enjoyed the crispy onion strings.
Seriously…I am craving this dish right now.  It was that enjoyable.
I decided I had to have dessert because The Cowfish is famous for their shakes.  I really had trouble deciding what I wanted.  Did I want the birthday cake shake or the marshmallow crisp one?  I decide to go for my tried and true favorite dessert type though…s'mores!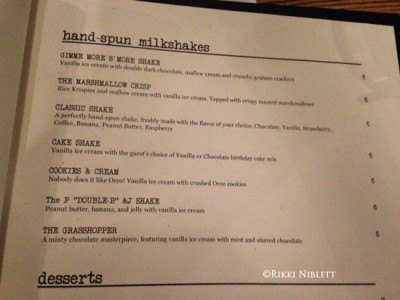 The shake overall was gorgeous, with it's graham cracker rim and toasted marshmallow accent.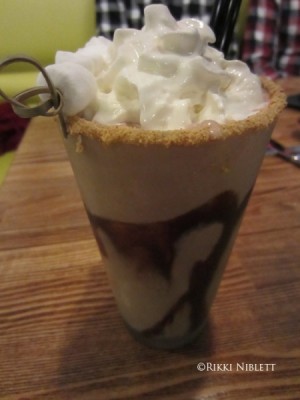 As far as taste, it was extremely chocolatey.  I wish there had been more graham crackers maybe in the shake, to give it a bit of an extra something.  It was excellent though.  If you are a chocolate fan, this is what you want!
Would I return to The Cowfish? I think you can guess that my answer is yes.  Matter of fact, I recently found out that they will be building at Cowfish here in Atlanta within the next year.  I'm already excited to head back and try it again!  (And am happy that I'll have the option to enjoy it in both places, should I choose to!)
What about you? Does burgushi sound intriguing? Have you tried Cowfish yet yourself?  What are your thoughts?