This post may contains affiliate links for your convenience. If you make a purchase after clicking a link we may earn a small commission but it won't cost you a penny more! Read our full disclosure policy here.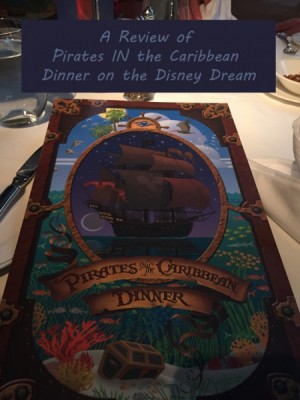 One of the best part of a Disney Cruise is the Pirates in the Caribbean night. It is a party like no other with swashbuckling shows, pirate decor, and a fireworks spectacular. Of course, there's also food…because you know…on a cruise ship, the food is oh so important.
Pirates in the Caribbean night has a special menu that's served at every single rotational dining restaurant. Menu items have a Caribbean-inspired flare to them. Your servers also get in on the fun by wearing pirate-themed garb.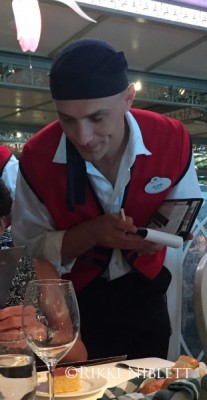 Speaking of getting into spirit, guests are also asked to get into the spirit. Many dress up to the nines in their pirate finest, however if you forget to bring something, you'll be given a Mickey pirate bandanna in your room to wear.
For this Pirate Night, we had our meal in Enchanted Garden. (This was the second time I'd ever been able to eat in Enchanted Garden!)
Now, I had been dreaming about this meal for two years because of the appetizers. The last time, I enjoyed the pot stickers and pineapple and banana so much. I was finally about to be able to get to enjoy them once again.
So, of course, when the menu was put in front of me, I knew immediately which appetizers I was getting.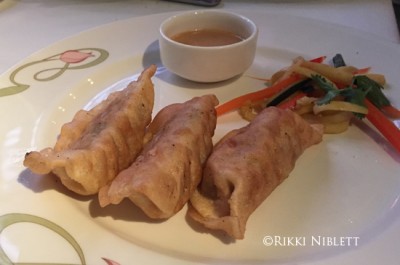 The first one was indeed the Pirates Golden Pot Stickers, which are oriental pork dumplings deep fried. These are so crunchy and delightful. They are full of flavor and the dipping sauce is great too! I am a huge fan of these dumplings.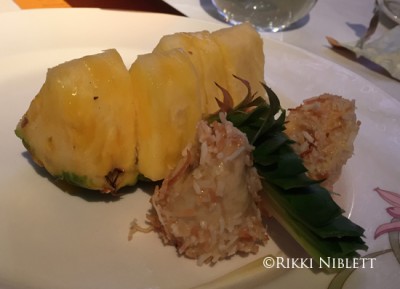 Of course, the second appetizer I chose was the Buccaneer's Sun-Ripened Pineapple. This is fresh sliced pineapple served with a coconut-covered banana.  The pineapple, this time, wasn't as ripe as I was hoping for. It wasn't nearly as sweet. The coconut-covered banana was great once again. I know it's such a simple thing, but it tastes so good.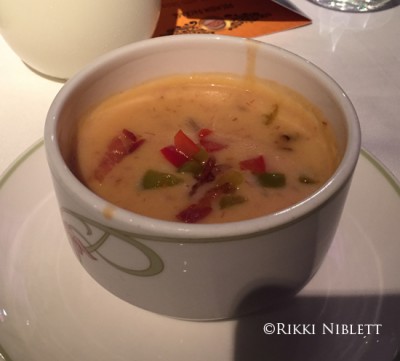 I also tried the Caribbean-style Conch Chowder which consists of Sherry, Sweet Peppers, Onions, Tomatoes, garnished with Diced Potatoes and Crispy Bacon. This soup had some kick to it. It was a little too peppery for me.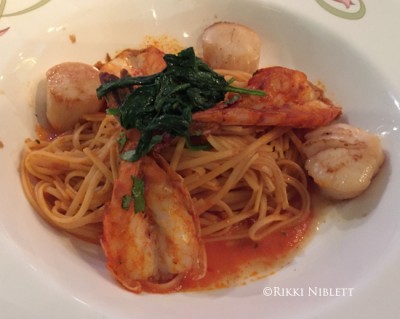 For my entrees, (yep, two again), I tried the Treasure of the Sea – Grilled Shrimp and Seared Scallops served on a bed of pasta and light tomato sauce. I had had this previously and thought it was alright. Once again, it was just a solid dish, but it didn't knock my socks off. The shrimp and scallops were tender (and the scallops were full sized scallops, versus the last time when they were tiny scallops), but the pasta dish overall didn't particularly stand out.
One nice touch though was that our assistant waiter took the time to take the shrimps out of the shells for me at the table. Talk about service!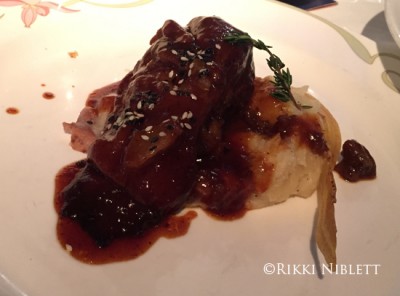 The Jack Sparrow's BBQ Marinated Beef Short Ribs, was however great. The meat was tender and the sauce was flavorful. The potatoes were standard mashed potatoes, a little thicker than I like, but most places serve them thicker than I like.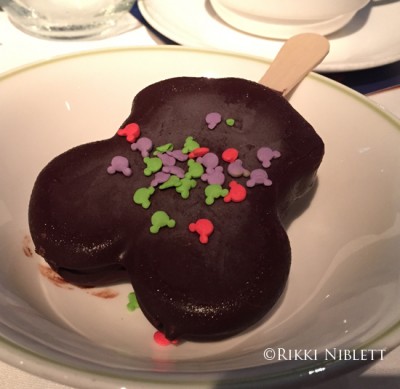 For dessert, I had trouble deciding on something. Nothing on the dessert menu for the evening was particularly calling my name, so instead, I decided to get the Mickey Bar! Did you know that you can get a Mickey Bar at any dinner you want for dessert? Oh they are so good with their decadent crunchy chocolate shell and creamy vanilla ice cream.
I find that the menu for Pirates IN the Caribbean Night to be hit or miss. There are things that are major hits and then there are things that are just ok.  I also find the menu to be one that's a bit more challenging to choose from.  Especially for dessert options.  As far as the menu goes overall though, I can always find something to eat, and it does include a few favorite items, but it's also one of the weakest menus overall on the ship, in my opinion.
What are your thoughts of the Pirates IN the Caribbean menu? Is this a favorite dinner for you onboard the Disney Cruise Line?