This post may contains affiliate links for your convenience. If you make a purchase after clicking a link we may earn a small commission but it won't cost you a penny more! Read our full disclosure policy here.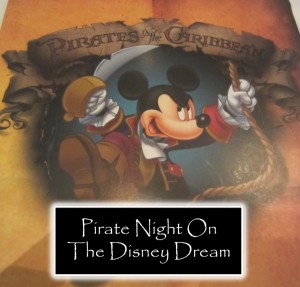 One of the hallmarks of traveling on a Disney cruise ship is getting to experience Pirates in the Caribbean Night.  It's so much fun because you can dress up, a fun party is held, fireworks are shot (usually, though rain can impede them, but you will see them at some point during your cruise if it does), and of course, a special menu at their restaurants.
Pirates of the Caribbean Night is one of my favorite things that happens when traveling on the Disney Cruise Line.
On my previous experience, the night went off without a hitch…however, this evening, it would rain, causing the fireworks to be shown the next evening.  But, despite the damp evening, Pirate Night was still an entertaining experience.
My hubby and I got all dressed and we were ready to go!  By the way, in your room will be those snazzy pirate bandanas you can wear however you want!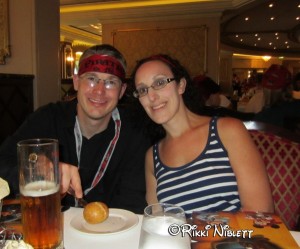 For Pirates in the Caribbean Night, we were scheduled to eat in Royal Palace.  For those who are unaware, Royal Palace is themed after the Disney Princesses, and features a lot of gold in their decorations.  (More on that in a future blog post.)
So, we sat down to look at the specific for that evening menu.  Oh my gosh…what do I choose?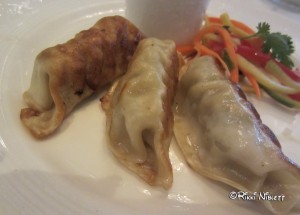 For my appetizer, I got the Pirates Golden Pot Stickers served with a tamarind-ginger soy sauce.  Um…holy cow.  These were absolutely INCREDIBLE!  Before this, I thought I wasn't the biggest pot sticker fan.  This dish converted me.  They were the right amount of crispy, not soggy and in slightest, and the dipping sauce was fantastic.  I actually could have just eaten  this as my meal and been perfectly happy.  I will get this again!
However, I was also debating, because I saw something else on the menu that I was thinking about trying.  The Buccaneer's Sun Ripened Pineapple, which is served with a coconut covered banana.  I didn't get it cause it sounded so light.  I was on a Disney Cruise…I was getting substantial dishes.  But a friend of mine got it.  She let me try it.  The pineapple was good, but do you know what won me over?  The coconut covered banana!!!  I was so happy she didn't like it because she gave it to me!  I dream about this banana!  I want to make it at home.  It seems so easy, but it was so delicious. Next time, I am getting both the pot stickers and the pineapple for my appetizer!  I don't even know if I'll care about getting a meal.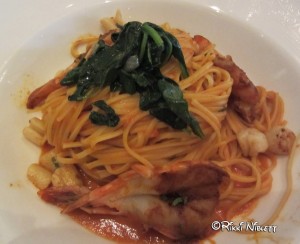 So, If you hadn't noticed, on this trip, I was on a bit of a seafood kick (I think I had seafood just about every night), so I opted for the Treasure-of-the-sea Grilled Shrimp and Seared Scallops served on top of pasta with tomato sauce.  To me, this was just ok.  The tomato sauce was light and the shrimp were large, but the scallops were tiny, leaving a lot to be desired.  The pasta was certainly plentiful, but after being so thoroughly in love with my appetizers, this left me wishing I'd chosen differently.  It was good, but sort of unmemorable.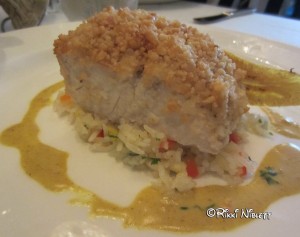 Brian got Captain Hook's Macadamia Nut Dusted Mahi-Mahi.  He particularly enjoyed this.  It was light and delicious.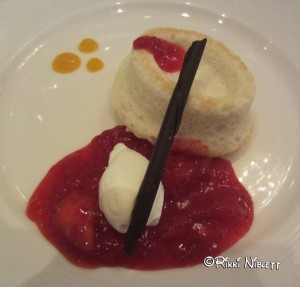 Also unmemorable for me, was dessert.  The dessert menu didn't have a lot that appealed to me at the time and I was so stuffed by the time I finished.  Plus, after choosing less than healthy options earlier in the cruise, I decided to choose a lighter dessert. So I opted for the No Sugar Added Angel Food Cake with strawberries.  Again, it was alright and good for someone who can't have sugar for one reason or another, but for me, it didn't wow me.  I think next time I'll be a bit more adventurous.  Or I'll opt for a Mickey bar!
This isn't to say that the food was bad.  It was all very good…I mean, I was completely fully by the time dessert was brought out…it's just that a few things didn't stand out to me.  What did stand out was fantastic.  It was a good lesson for me for the next time.   I need to learn to try things out of my comfort zone, which I partially did during this meal.  When I did (ie: the potstickers and the pineapple) I was floored.  The best thing about cruising it that it offers you the ability to try things you never thought you would before.  I love that part of cruising.
We ended Pirates In The Caribbean Night by attending some of the fun activities that are held throughout the night which were found in the lobby of the ship.  Another successfully fun night was had by all, despite the rainy weather outside.