This post may contains affiliate links for your convenience. If you make a purchase after clicking a link we may earn a small commission but it won't cost you a penny more! Read our full disclosure policy here.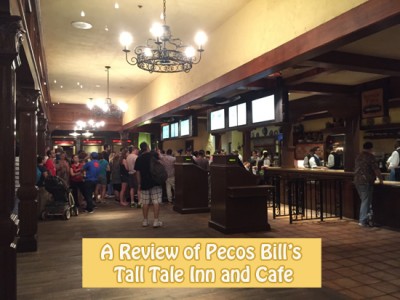 The Magic Kingdom has been changing around menus at many of their quick service dining establishments. One of those changes recently occurred at Pecos Bill's Tall Tale Inn and Cafe. The restaurant previous offered up burgers, sandwiches, and salads, including the former taco salad that so many enjoyed, myself included. Of course, one of the big draws was also the infamous toppings bar that Pecos Bill's offered.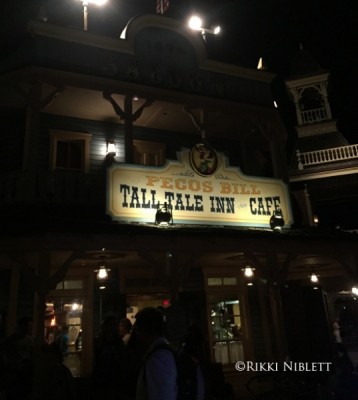 This new menu change occurred on October 1 and the new menu offerings include Mexican-inspired dishes, such as fajitas, burritos and rice bowls.
Pecos Bill's was always an extremely popular location, so how is it now? I have to say…it's even better.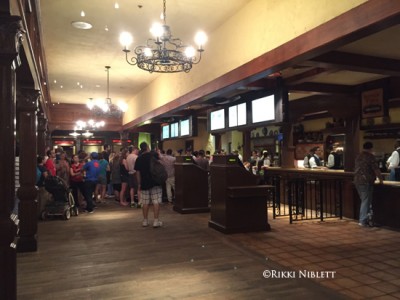 Let's take a step back and discuss the restaurant. When you enter, you will place your order with a Cast Member.  There are two sides that guests can place their order, one on the left and one on the right of the Cast Member. So, if you see a shorter line, join it! Make sure to look above while you are waiting in line to be prepared on what you would like to order when it's your turn. Once your food is ordered, you will then head toward the pick up counter, where your food will be handed to you.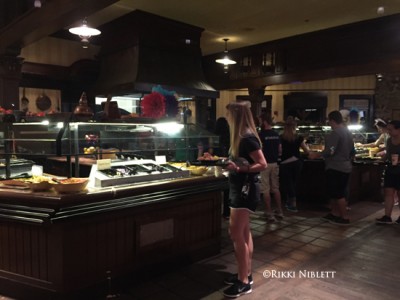 When you have your tray, make sure you head to the fixins bar. Here they offer a wide variety of toppings.  Items include multiple types of salsa, sour cream, cheese, guacamole, jalapenos, onions, and chipotle ranch.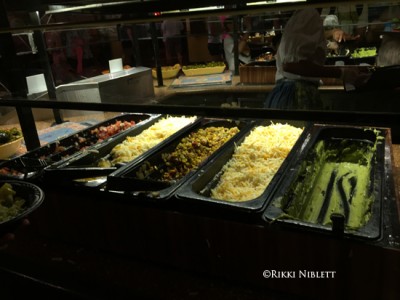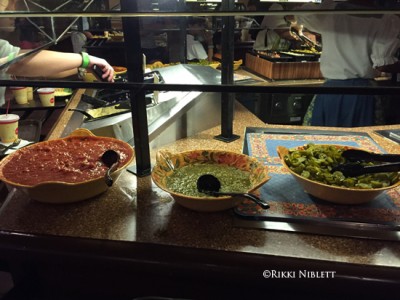 I decided on the rice bowl for my entree and the dish is served with cilantro lime rice, black beans, and your choice of meat. Now, I am not a person who enjoys cilantro, so I was pleased to hear that I could order this dish without the cilantro lime rice, and instead could enjoy it with white rice. This is good to know for those of you who don't like the very divisive flavor of cilantro.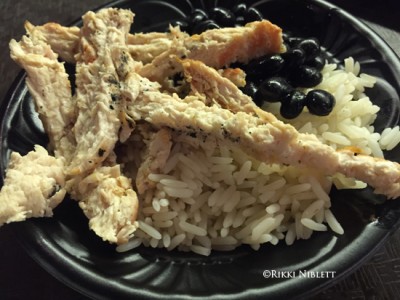 I had a hard time deciding what I wanted to put on my rice bowl…there were so many fantastic toppings to choose from! I chose salsa, sour cream, and cheese.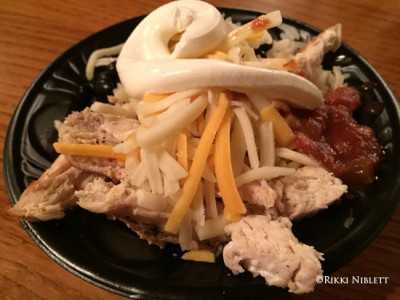 The dish was wonderful! The flavors were great, the chicken was plentiful, and there was more than enough to enjoy on my plate. I enjoyed Pecos Bill's new menu so much that I have returned again a couple of weeks later for another rice bowl!
I highly suggest Pecos Bill's new menu options and I am enjoying the fact that Disney is offering these more unique menu options. So run, don't walk to Pecos Bill's to try the Mexican-inspired menu.
Have you tried Pecos Bill's new menu? What are your thoughts?