This post may contains affiliate links for your convenience. If you make a purchase after clicking a link we may earn a small commission but it won't cost you a penny more! Read our full disclosure policy here.
One of the most popular restaurants, not only in Frontierland, but the whole Magic Kingdom, is Pecos Bill Tall Tale Inn and Cafe.  This is likely because of a few reasons, like the fact that it is a counter service restaurant that offers a lot of traditional dishes, mixed with some unique choices; it's HUGE with ample seating; and it has the famous fixins bar, featuring lots of toppings to put on top of your burger.
At Pecos Bill's, guests are invited to mosey on in for some grub. Given that the restaurant is located in Frontierland, it's themed after the old west, with many decorative items indicating such.
When you enter, you will place your order at a kiosk. Make sure to look above while you are waiting in line to be prepared when it's your turn to place your order. Once your food is ordered, you will then head toward the pick up counter, where your food will be handed to you.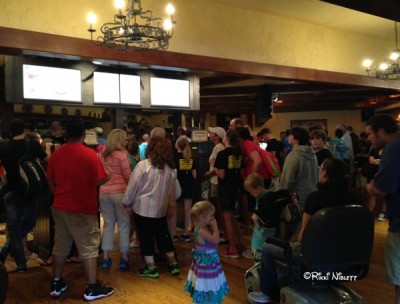 Once you have your tray, it is time for the yumminess that is the fixins bar. Here they offer a wide variety of toppings.  More traditional items include, ketchup, mustard, mayo, cheese, lettuce, tomatoes, and pickles.  But if you look closer, you'll see that there a few unique options too, such as peppers, salsa, sauteed mushrooms, and hot cheese sauce.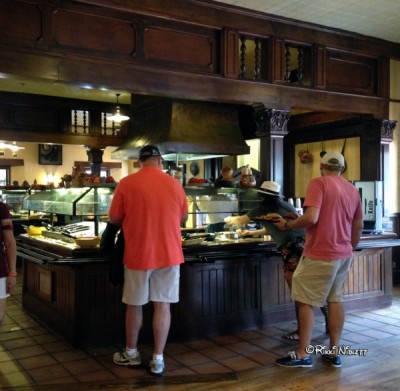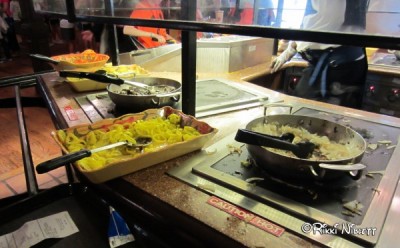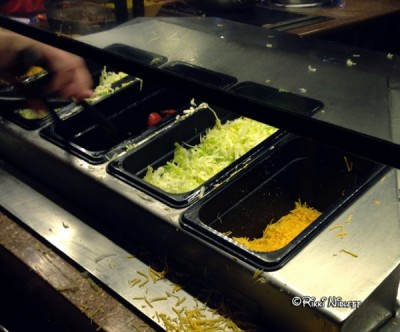 Now, if you guys have followed along with my articles, you know that I'm not a big burger/sandwich person.  So wait…you must be asking yourself "Rikki, what on earth is there for you to eat here?  Isn't it all burgers?" To which I answer back that there is actually quite a bit to choose from here that isn't just a burger.  (Though their burgers here are pretty fabulous too.  They have Deluxe Angus Cheeseburger with bacon!) You see, I have stopped in at Pecos Bill's twice within the past six months, and both times I was not craving a burger!
The first stop off, I decided that I wanted to try the barbeque pork sandwich. I paired it with sweet potato fries, which I much prefer to regular fries.  This was the right choice because it was a wonderful combo. The barbeque pork (which I ate open faced) had good flavor, was piled super high and had a bit of spice to it.  It was full of lots of flavor. The sweet potato fries were also full of flavor, with a touch of sweet and they were not soggy, as sweet potato fries often can be.  Instead they retained a bit of a crunch.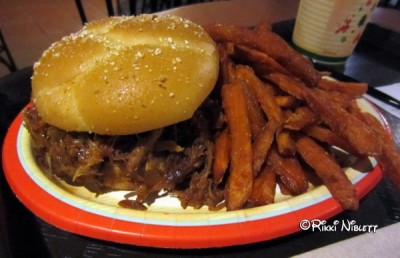 The next time I stopped here, I grabbed a shell.  A taco shell!  My hubby and I got the taco salad…otherwise known to us as the bowl of meat.  You see, at Pecos Bill's when you order a taco salad, you are handed a crispy tortilla bowl filled with just beef.  To make the rest of your salad, that's where the fixins' bar comes into play!  You see, you get to load up on as much of the fixins' as you want!  So my advice is to pile it on!  Here's another little tip…they keep the sour cream at the pick up counter, so before you leave with your tray, make sure to ask for extra sour cream.  Cause one little packet just isn't enough.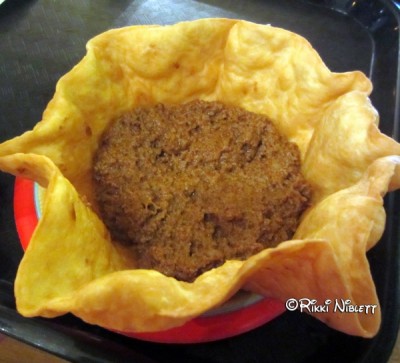 The taco salad is as delicious as you make it.  Since you are in charge, you can do what you choose.  For me, I choose lots of cheese, lettuce, tomatoes, peppers, pickles, sour cream, and onions!  It was quite wonderful.  The only gripe is the meat is not certainly the best quality; it's a little gloppy.  And I would like it if the meat had a bit of a taco seasoning added to it; it was rather bland.  However, the fixins' made up for the meat's minor deficiency.  When it's all mixed together, you really can't tell. As far as the taco shell…oh!  It was light and crisp and honestly, my favorite part of the salad!  (Because you know…it's also the least healthy part!)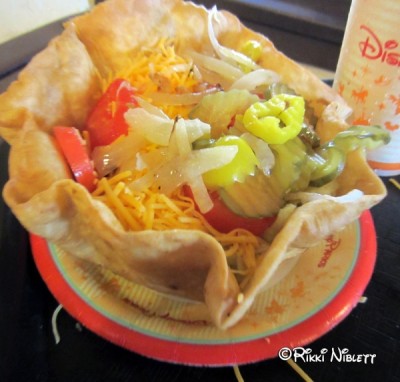 A couple of other notes about Pecos Bill's.  This restaurant is often extremely busy, so if you want to grab a bite here, try to do it at off peak dining times, otherwise, it can sometimes be a madhouse.  Also, the restaurant does serve a few dishes only after 4 p.m.  These dishes include a few heartier options such as the Karubi Style Short Ribs and the Steak and Chicken Platter.
So, as you can see, Pecos Bill's really does have something for everyone.  For a full look at the menu, click here.
What are your thoughts though?  Is Pecos Bill Tall Tale Inn and Cafe somewhere you stop on your trips to the Magic Kingdom?