This post may contains affiliate links for your convenience. If you make a purchase after clicking a link we may earn a small commission but it won't cost you a penny more! Read our full disclosure policy here.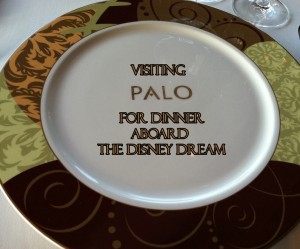 Palo is one of the two "signature" restaurants aboard The Disney Dream.  (Actually,  it can be found on board all four of the Disney Cruise Line ships.)  It is by far, one of my favorite restaurants on board the ship. The restaurant is an adults exclusive venue and reservations are required in order to dine here.  These can be booked either ahead of time online or by your Vacation Planner, however, if there are no remaining reservations ahead of time, you can often get reservations once you board the ship.  Just head to Guest Relations to inquire.  Disney holds back a few reservations each night for guests to book the restaurant onboard.
The restaurant serves up Northern Italian cuisine and there are quite a few items on the menu that make this restaurant noteworthy.  Because of it's more "exclusive" nature, this restaurant does have a $25 per person charge that is applied to your stateroom bill.  Many people ask the question, is it really worth the money?  My answer is an unequivocal, YES!!!
Palo only serves dinner, however, on at sea days, they do offer up a special brunch.  (More on that in a future blog post!)
There is a dress code that must be followed during dinner.  Men must wear dress pants and shirt or jacket and women are required to wear either a dress or pantsuit. Jeans, shorts, capri pants, flip-flops or tennis shoes are not permitted.
This was my third time eating dinner at Palo.  I'd dined two times prior and I was exceptionally excited for what was about to come!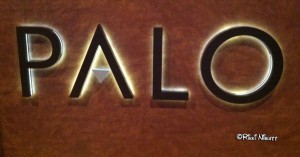 You step into the restaurant and are immediately wowed.  First, when you walk in, you see the classic mahogany woods, dark browns, burgundy and gold colors that permeate the restaurant.    Then, you are taken aback by the large windows that look out into the beautiful ocean scenery.  My suggestion, if you can, try to dine around sunset, as it is a view that is simply gorgeous.  My other suggestion is, if you can, try to avoid dining here on Pirate night.  This is a preference on my part, but dining at Palo is a very elegant experience.  Because of that, you don't get to experience all the fun that's happening during Pirate night in the regular restaurants.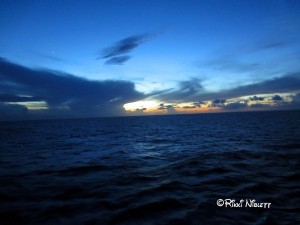 Now, as for the menu…I don't usually look at anything else.  I know what I want and I'm a happy girl!  Lobster and Mascarpone Ravioli…done!  However, this time, since I'd previously dined here before, I was torn.  Do I get my love of the Lobster Ravioli or try something different, namely the Grilled Sea Scallops with Borlotti Beans and Pancetta.  After discussing things with my waiter, Heinrich, (who is awesome, by the way…best waiter I've had a Palo), he convinced me that I should never doubt my original thoughts and should go with the Lobster Ravioli.  Seriously, how could I doubt myself?
Of course, first things first.  Heinrich brought over the freshly baked bread  of Grissini Sticks, Olive and Ciabatta Rolls and Focaccia Bread.  Mmm…delicious bread!  But I knew that this was going to be a meal I wanted to enjoy, so as good as the bread is, I had to stop eating it so I could move on to other exquisite options.
Now it's time for the famous Palo cold antipasti delights.  I remembered liking some things the last time, but decided to try everything again.  (Minus the olives…those are all my hubby's!)  Heinrich gave us a plateful of Prosciutto, Bresaola, Parmesan Reggiano, Marinated Olives and Sun-Dried Tomatoes.  My favorites were the Prosciutto, which was heavenly.  The perfect mix of salty and fat.  It was mouthwatering.  I also loved the Parmesan Reggiano.  This was covered in some sort of oil and was heavenly.  It crumbled a bit in your mouth and had a great taste to it.  Again, I had to temper myself.  I still had an appetizer, my entree, and dessert to go…and I'm a tiny woman!  Need room for more food!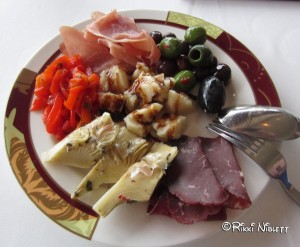 For my appetizer, I decided to continue with the seafood theme and try the Sicilian Pesto Marinated Grilled Shrimp.  Out come five large shrimp that were cooked to perfection.  I tried dipping them in the Mussel, Crab and Cherry Tomato Ragu, which was delicious.  Why have I not been dipping shrimp in this my whole life?  The pesto wasn't very strong, as it was just drizzled on top, I feel more for decoration than for enhancing the dish's flavor.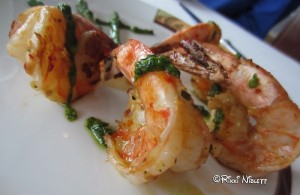 Brian got the fried calamari.  I am torn on calamari.  Part of me is kind of squeamish…not so much of a fan of eating octopus…but let me tell you, if it's cooked like this was…I would eat the whole darn plate!  This was incredible.  The breading was light, the calamari wasn't tough, nor did it have any sort of weird fishy taste.  It was a dish that I ALMOST wish I'd ordered myself.  So, instead, I just kept taking calamari off his plate.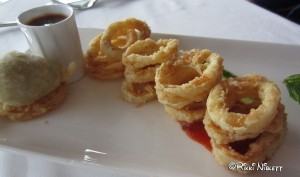 Then, my entree was brought over.  Ok…three ravioli…I can do this.  Yeah…these aren't tiny ravioli.  This are monstrous sized pillows of dough filled with a decadent cheese and lobster mix.   I dove in immediately and only manged to enjoy 2 and a half of the three and I was struggling to get the half down, cause I knew dessert was coming.  But it's so good, you just want to keep eating!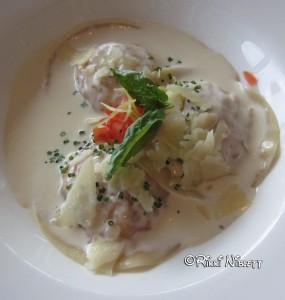 Brian got the Chianti Braised Beef Ravioli, which I took a bite of and enjoyed, but I was busy with my ravioli to care too much about his.  It had a decent flavor to it though.  It wasn't as rich as my dish was. If you're in the mood for a hearty pasta dish, this one's for you.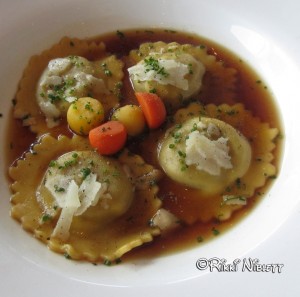 Heinrich, being the awesome server that he was, decided to bring over a third entree for us to try.  (Wait…how am I supposed to eat another one of these?  I have to get dessert!!!)  He brought over Potato Gnocchi served with Gorgonzola Sauce with Asparagus.  Now, this was a dish I hadn't considered before, but I will definitely consider getting it the next time.  These potato dumplings were again perfectly cooked, not too chewy.  I liked the sauce they were in, again, very rich.  I only wished that I wasn't already getting super full, because I would have chowed down more on these bad boys!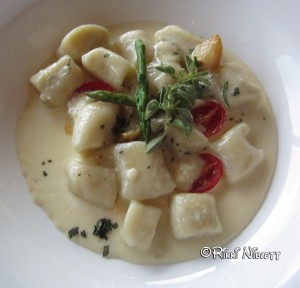 You see, now it's time for dessert and Palo is famous for their chocolate souffle.  It is seriously one of the things I look the most forward to when I get on a Disney Cruise ship.  (I have even tried to make it at home.) It is cooked to order and is served with a vanilla and a chocolate sauce, along with a scoop of ice cream.  When your server brings it to your table, they will pour on the two sauces and then scoop the ice cream onto the souffle.  It quickly melts into the interior of the dessert into this warm concoction of delight.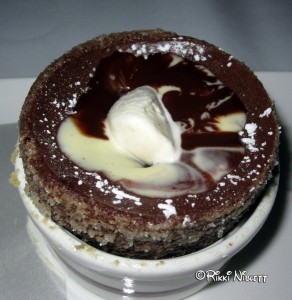 My husband does not like many desserts, but he does like ice cream.  Now, this is why Heinrich is an awesome waiter.  He brought over Brian a combination of different ice creams, one of which was a special option the chef was trying out.  It was called Mocha, but it was unlike any mocha I'd ever had.  It was more smoky than anything.  Almost tasted like a burnt marshmallow.  It was so delightful and that was Brian's favorite choice from that night.
Palo menu:  http://disneycruise.disney.go.com/ships-activities/ships/dream/dining/palo/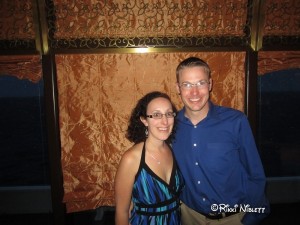 Overall, dinner at Palo is bar none, one of my favorite things to do aboard the Disney ships.  It is a lovely night out and is the perfect way to celebrate a birthday, anniversary, honeymoon, or a Tuesday.  If you are on board one of the Disney ships, do yourself a favor and make a reservation.  It will be well worth it.