This post may contains affiliate links for your convenience. If you make a purchase after clicking a link we may earn a small commission but it won't cost you a penny more! Read our full disclosure policy here.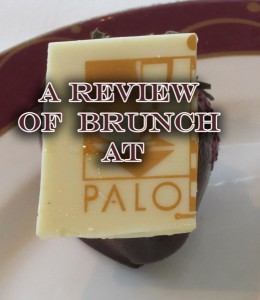 Want to know the most amazing meal you can have on a Disney Cruise Ship? (In my opinion, of course…I still haven't tried Remy)  It's Palo's Champagne Brunch.  Wait…Palo serves brunch?  Yes it does, but it's only available on at sea days during your cruise that is four nights or longer. It is a delightfully filling meal that you do not want to miss out on experiencing.
Brunch, like Palo dinner is for adults, ages 18 and up.  In addition, brunch holds a dress code that must be adhered to.  Brunch also requires an additional fee, which is $25 per person, plus gratuity.  (If you would like to see my review on the Palo dinner, check here.)
Your meal starts with you being offered a glass of champagne or a mimosa.  From there, you are taken back to the buffet portion of the meal.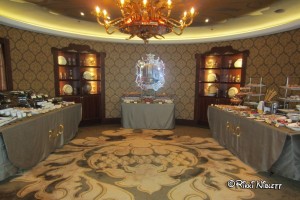 Here, they explained what each dish was and gave their recommendations.  The buffet is made up of many different breakfast options including fruits, danishes, breads, and my favorite, a delicious sort of cinnamon roll/french toast concoction.  They also serve a smattering of seafood dishes, like salmon, ahi tuna and crab legs.  There are additional items like cheeses, tomatoes, olives, and cured meats.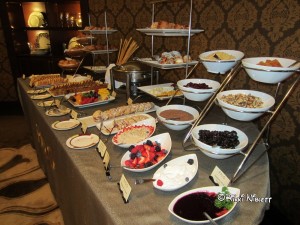 As if that wasn't enough, you can choose to order a flatbread to share with the table (or you could eat it by yourself).  We choose the gorgonzola, grape, and port wine reduction flatbread, the spicy sausage flatbread, and the sun-dried tomato and goat cheese flatbread.  My favorite was the last one.  It was simple and had great flavor.
After eating the flatbreads…we decided it was time for…our meals.  Wait…what you ask?  You see, at Palo Brunch, they also serve up some fabulous dishes that must be ordered from the kitchen.  These include dishes like eggs benedict, pancakes with rum syrup, soups, and more.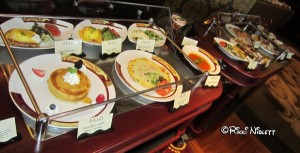 Brian got the pancakes, which he really liked and they certainly look delicious.  (And when I tried a bite, were quite delicious).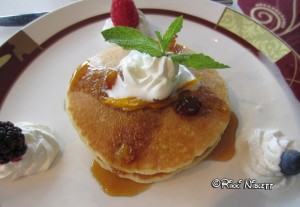 I was focused on my choice though which was the chicken Parmesan served over a bed of risotto.  Holy cow was this good!  It was juicy and wasn't too covered with sauce.  It had a good amount of cheese and the risotto was fabulous! But I was oh so full!  And there still needed to be room for dessert.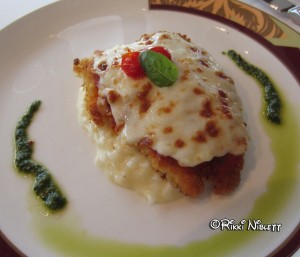 Yep…despite how full my little stomach was, I HAD to make my way to the dessert table.  Now I'm a dessert fiend, but never in my life was I more excited to see tiny, individual dessert choices.  I got a couple of options to sample, but my favorite was the chocolate creme de pot.  So rich and delicious.  I also really enjoyed the mini tiramisu.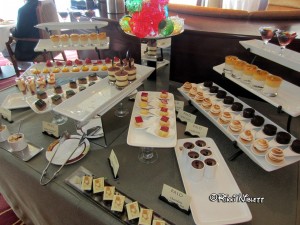 So, at this point I had to be rolled out of the place because I was so incredibly full.  Lots of amazing options, I just wish my stomach was bigger to fit it all in!
Brunch is offered from 10:00 am – 2:00 pm and reservations are required.  You can make reservations either online, or they may very well be available if you check with Guest Services on embarkation day.  (If you have your heart set on going, ALWAYS check with Guest Services, as there could likely be something available that wasn't able to be found online.)
The only criticism I have is that it is EXTREMELY long.  Which, with all the different courses, I get why, but if you have a brunch scheduled, say around noon or one, you have the opportunity to miss out on a good portion of your day enjoying the ship when things are really happening.  (You also run the risk of still being full when dinner rolls around, depending on which dining rotation you are on.)
Now of course, part of the fun of having a Palo brunch is the fact that you get to leisurely enjoy your meal, but if you take advantage of every offering, the meal could easily take a couple of hours, depending on your party size.  (I was with a group of 6.)  I say this more to manage expectations, rather than to make you shy away from a decadent meal here.
With all that said, Palo brunch is, bar none, one of the best values.  Yes, even though you have to pay extra to enjoy this meal.  With the amount of food you receive, you will certainly be fulfilled.
Palo's brunch really is a must do.  If you have the ability to take advantage of it during your vacation, you really should do it, but good luck not stuffing yourself to the gills!  (Get it…I made a fish joke cause we're at sea…nevermind…)