This post may contains affiliate links for your convenience. If you make a purchase after clicking a link we may earn a small commission but it won't cost you a penny more! Read our full disclosure policy here.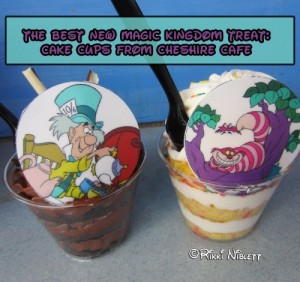 So, I know it's lofty to say I have found a new favorite treat at the Magic Kingdom.  I mean, there are so many other great ones.  The All American Sundae, the Nutella Waffle, a cream cheese pretzel, and of course, for many, the defacto treat from the park, the Dole Whip.  But really…I have found something that takes the cake….quite literally.
You see, my new favorite treat, quite possibly out of all of Walt Disney World, are the Gourmet Cake Cups that can be found at this little window in Fantasyland, over near The Mad Tea Party, called the Cheshire Cafe.  This sort of tucked away shop has typically not been known for much.  They sell mostly drinks, like slushes and ice coffee drinks, fruit, muffins, and cereals, but this new addition has made me take notice.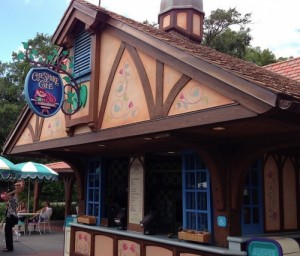 Menu: https://www.themouseforless.com/walt-disney-world/dining/menus/cheshire-cafe-menu/
Being a lover of chocolate, when I saw this treat posted on Twitter, I knew I had to stop and try it.  So, I made everyone in my party traipse over with me so I could try this heavenly creation.  A friend of mine, noticed what I was getting, so she decided that she had to have one too.  I, of course, got the Mad Hatter Mocha version and she decided on the Cheshire Cupcake option.
The cake cups, which cost $4.19, basically are like a deconstructed cupcake.  It is a layer of cake, then a layer of creamy buttercream icing, then more cake, then more icing, pretty much continuing this pattern until the cup is full.  It is then topped with either sprinkles or chocolate shavings and an edible picture of either the Cheshire Cat or the Mad Hatter (depending on which option you choose.)
I took one bite of this incredible dessert and needed a moment.  My head was spinning.  This must be what heaven tastes like, I thought to myself.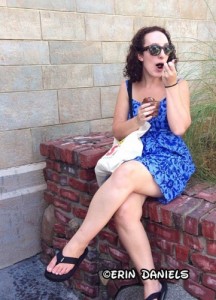 It's this wonderful mixture of a little bit of  moist chocolate cake and a large amount of deliciously rich chocolate icing.  It has a coffee hint to it, but it wasn't overly powerful, to me.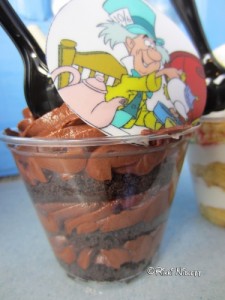 My friend then allowed me to take a bite of hers and it was just as yummy, with incredible vanilla flavor throughout.  And how can you go wrong with funfetti cake?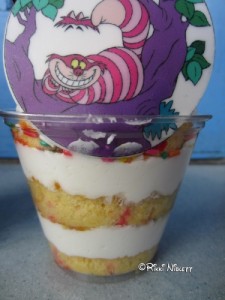 I was certainly glad I chose the chocolate version for my option though, as it was just the bees knees.  (Yep…I said bees knees…)
This is one of the best new things that I think Disney has created in their culinary department and lately they've certainly been bringing out some real winners into all four Walt Disney World theme parks.  It's such a simple idea, but it's an absolute home run.
I will certainly say that whether you get the Cheshire Cupcake or the Mad Hatter Mocha, both are incredibly rich (even for me, someone who has a very high tolerance for rich foods), so you will want to share.  (Well, you won't want to share, but trust me, you'll need to!) It doesn't look big, but it's a lot more than you think it is by looking at it.
A piece of advice:  I would not necessarily do what I did and try getting a lid and taking it home…I had a little accident and it spilled all over my purse, as well as my camera…something that I am certain I will never live down.  I do wish there was a better way to take this goodie home because if I could, I would probably bring like 20 back with me.     That's how good these were and why this has become my absolutely, unequivocally new favorite treat at the Magic Kingdom.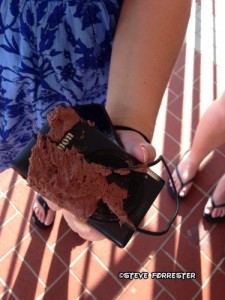 I encourage you to try it on your next trip…purely for selfish reasons…you see if other people buy them, hopefully Disney will keep them around and I will still get to enjoy this sinfully delicious treat for years to come!  🙂