This post may contains affiliate links for your convenience. If you make a purchase after clicking a link we may earn a small commission but it won't cost you a penny more! Read our full disclosure policy here.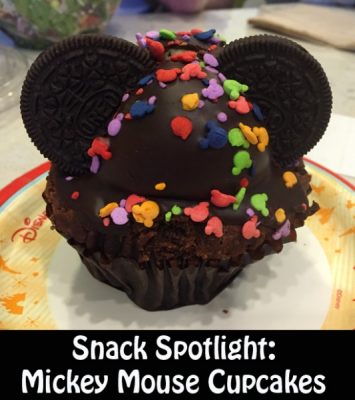 Did you know that this week (yesterday, in fact) was National Cupcake Day? I love a good cupcake. It's got cake, it's got icing, it's so yummy! And of course, one thing that Disney isn't shy with is the proliferation of cupcakes they offer!
To celebrate, I thought I'd take a look at the incredible Mickey Mouse Cupcake that I picked up at Gasparilla Island Grill at Disney's Grand Floridian Resort! Gasparilla Island Grill, for those who don't know, is a casual dining location that is open for 24 hours, so every time is the right time for a cupcake!
This is a great cupcake that starts with two Oreos! (It's like two desserts in one! I don't know about you, but I am perfectly ok with this!) The Oreos serve as the Mickey ears. I mean let's face it, it cannot be considered as a Mickey cupcake without his ears. The Oreos are crisp and taste like delicious.
The cupcake then features a layer of icing that's covered by a rich chocolate coating. It's a nice surprise when you get to the gooey icing underneath! Oh and you cannot forget Mickey sprinkles! They abound with a rainbow of color.
The cake itself is also chocolate. It is moist and delightful.
Honestly, this cupcake is a chocolate lovers dream! With so much chocolately goodness, it's hard to turn this one down. I strongly suggest whenever you see any version of a Mickey Mouse cupcake, you pick one up. You won't regret it.
What is your favorite cupcake to get at Walt Disney World? Share your favorite in the comments!