This post may contains affiliate links for your convenience. If you make a purchase after clicking a link we may earn a small commission but it won't cost you a penny more! Read our full disclosure policy here.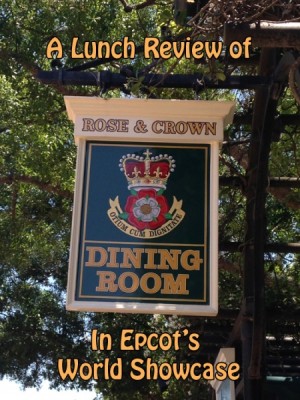 If you are looking for the ultimate pub in Epcot, then look no further than Rose and Crown, located in the United Kingdom Pavilion! This place is super authentic, serving up some of the best grub and beer around.
For those looking for a pint, you'll find the pub in the front. Here you'll be able to pick up a Guinness or a Black and Tan.
However, on this trip, I wasn't here for beer, instead, I was here for the food. So we were seated in the back, where the restaurant is located. This places just oozes charm and comfort and features a lot of dark woods.  It feels exceptionally homey.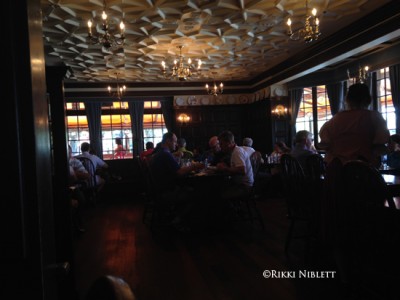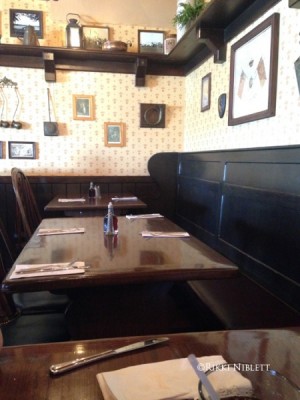 In addition, for those looking to watch Illuminations in the evening, you simply cannot beat the view. Although, a word of note: this reservation is the hot ticket, so if you want to be able to view the show from here, make sure to make your Advanced Dining Reservations early.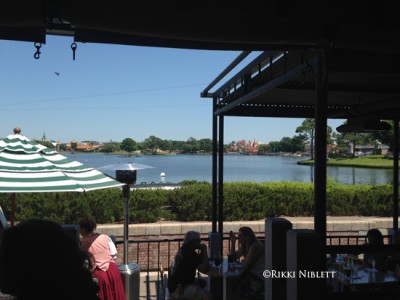 On this trip, I was here for lunch and I was excited to try the authentic British cuisine.
First, I was able to sample the Scotch Egg. This is a golden-fried hard-boiled egg wrapped in sausage meat with mustard sauce. Not being an initial fan of the description, I was hesitant, but I don't know why! This was dee-lic-ous!!!  I enjoyed the flavors as they melded together nicely.  The mustard flavor didn't overwhelm, the sausage was cooked well, and the egg was yummy–hard boiled to perfection.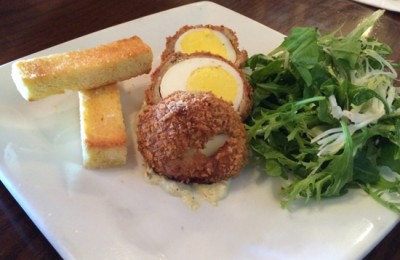 For the entree, I decided that you couldn't go wrong with the good old standby–Fish and Chips. The fish was very flaky and not overly greasy. It still had a good coated crunch to it. I also loved that the fish didn't taste overly fishy either. The only disappointment was that there was only one piece of fish included in the meal.  Yes, it was a large piece of fish, but for the price, (which was $19.99, by the way) I would have expected a couple of pieces to enjoy.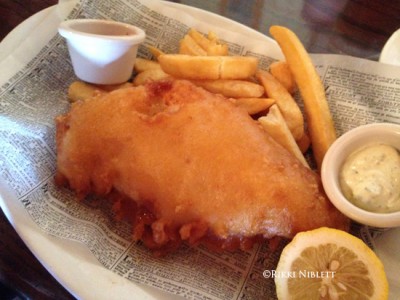 As far as the chips go, I'm a thin french fry girl, not a thick french fry girl, but knowing that the thick french fries are chips, I enjoyed these for what they were.  They were quite potatoey on the inside, with a crisp outside.  Dip them in ketchup and you have a winner.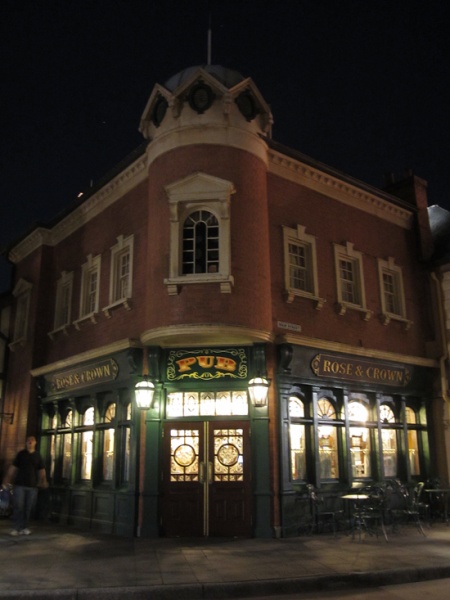 Overall though, I thoroughly enjoyed my meal at Rose and Crown and I will certainly be back.  But this time, I think I'll be trying something different.  You see, that Cottage Pie is calling my name…I am a sucker for Cottage Pie.
Have you been to Rose and Crown? What's your favorite meal to get?