This post may contains affiliate links for your convenience. If you make a purchase after clicking a link we may earn a small commission but it won't cost you a penny more! Read our full disclosure policy here.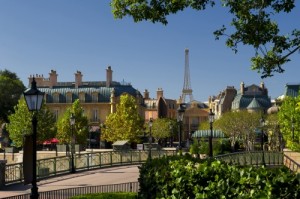 It's officially Summer Vacation for many of you out there and that means your Summer trips to Walt Disney World are right around the corner!  So, I thought you should be aware of a brand new place where you can beat the heat in the France Pavilion at Epcot. (Somewhere that I personally can't wait to check out in less than two short months!)
L'Artisan des Glaces, a delicious ice cream and sorbet shop has opened this week.  The shop is a completely refurbished area of the former France bakery.  (Which has now moved to the back of the France Pavilion in with the gift shop area.)
The shop's new theme is focused on dairy and milk and is very light and airy with colors of beige, light blue, and lilac.
There are ten different ice cream flavors to choose from, as well as 6 different sorbet options.  The flavors are all made in house, so expect them to possibly change from time to time.  As of right now, options include:
Ice Cream
Vanilla
Chocolate
Mint Chocolate
Pistachio
Hazelnut
Profiterole
Caramel fleur de sel
Cherry
Coco-White Chocolate
Coffee
Sorbet
Strawberry
Mango
Melon
Lemon
Pomegranate
Mixed Berries
For adults, they also have the option of a special treat.  The option includes two scoops of ice cream or sorbet served in a martini glass with a shot of either Grand Marnier, Whipped Cream Vodka, or Rum.
Guests will start at the registers where they will order how many scoops, as well as if they want the alcohol option or not.  One scoop is $3.99 and two scoops are $6.10.  The option with liquor is $11.50.  From there, they will move over to choosing their ice cream or sorbet flavors in either a cup or a waffle cone.  From there you will then pick up your dessert at the pick up station.
Personally, I am not a drinker, I'll imbibe only occasionally, but the option with the whipped cream vodka sounds intriguing.  In addition, they have a few flavors that also intrigue me including the chocolate, the profiterole, the caramel fluer de sel, and the coco white chocolate.  (I think I named like half the menu!)
Check out the full menu: https://www.themouseforless.com/walt-disney-world/dining/menus/l-artisan-des-glaces-menu/
Be prepared for a review later this summer!  Stay tuned for next week as I stick with the France theme and review the new France bakery.