This post may contains affiliate links for your convenience. If you make a purchase after clicking a link we may earn a small commission but it won't cost you a penny more! Read our full disclosure policy here.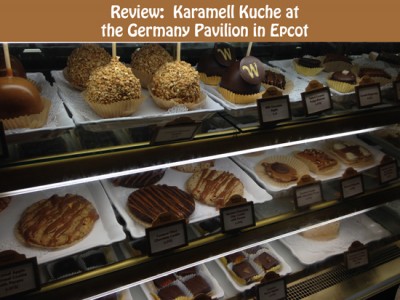 It's the holiday season, which means it's time for delicious cookies, baked goods, and other delectable treats!  I love getting the mixer out, shopping for flour, sugar, and eggs, and having dozens and dozens of treats sitting in my kitchen for me to eat.
Well, one cookie I wish I had the recipe to make for this year is the Caramel Filled Chocolate Cookie from Karamell Kuche located in the Germany Pavilion at Epcot. It was the most delightful treat that I wasn't expecting to enjoy so much.
Typically, when I think of Disney, I don't think of getting cookies.  I can get cookies anywhere.  I tend to lean towards things that are unusual:  like Mickey Bars, Dole Whips, and churros.  But on one fateful night, I was walking around World Showcase with my brother after just eating dinner from the Boulangerie Patisserie (more on that in a future blog post) and I was still hungry…but I was in the mood for something sweet. (We'd already walked away from the Boulangerie).  As I walked the promenade, my thoughts immediately fixated on stopping at Karamell Kuche! I knew that the bakery there would have something to satisfy my sweet tooth.
So, we walked in and were immediately hit with the delightful smell of warm Werther's caramel. (Werther's is the sponsor of the shop.) It's such an incredible smell.  Oh my god was I going to have trouble deciding.
The shop features a multitude of caramel flavored treats.  These include things like caramel apples, bars, brownies, and much more! If you can cover it in caramel, it's likely found here!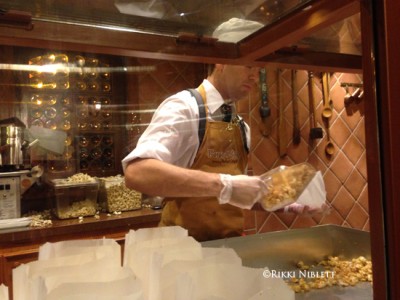 Karamell Kuche is extremely popular and almost always has a long line that winds through, so we got in line and were quickly tempted by their most famous delicacy…the caramel corn.  It's made on site and is this great warm bag of buttery sweet goodness.  So, of course, we ended up getting a bag of that to share amongst the two of us.  (One thing to note:  the caramel corn gets stale really quickly.  So, if you aren't planning on eating it immediately, bring a plastic baggy, which will ensure that the caramel corn will remain fresh and crunchy.) If you're looking for a great and portable treat, the caramel corn is where it's at.  Don't miss out on picking up a bag, which comes in two sizes, small and large. (Seriously, get the large…)
But the caramel corn was the impulse buy…I was in the mood for something with a bit more…CHOCOLATE.  Immediately I zeroed in on this chocolate caramel cookie!  This will be mine, I thought!  It was exactly what I was craving.  There was chocolate and caramel, I mean how can you go wrong?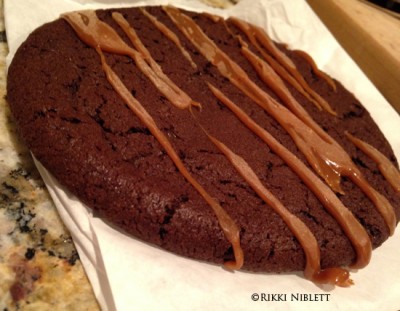 The cookie was a standard (and yummy) chocolate cookie.  It had great chocolatey flavor and was the perfect match for my craving.  While the sign indicated that caramel would fill the inside of the cookie, after biting into it, I was slightly disappointed to realize it didn't have any gooey goodness on the inside.  Maybe I got a bum cookie, not sure.  But I didn't feel super upset, because there was a good coating of caramel drizzled over the top. That caramel drizzle was just enough to satisfy the caramel desire I was feeling.  The cookie was the perfect consistency too.  Not too soft, but not too crisp. And it was a decent size; it didn't leave me feeling like I ate too much, but I wasn't hungry for more after devouring it. This was exactly what the doctor ordered.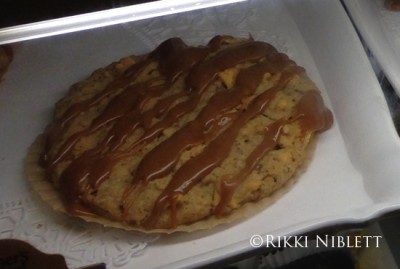 My brother also decided to get a treat.  He went with the Caramel Apple Oatmeal Cookie with Pecans.  Luckily, he is super nice and let me have a bite.  I actually almost regretted not getting this cookie for myself for a second.  This was heavenly.  There were good sized chunks of apple featured (which sounded a little weird to me at first, but were a pleasant surprise.)  The oatmeal and the caramel, and the pecans all meshed nicely together.  It was a fantastic cookie. I will get this one again, but all for myself!  No sharing.
The shop also sells a German Chocolate Chip Cookie which looks like it would be great too! I think on my next trip, I'll be stopping in to get this one.  (And maybe one of the other ones for good measure.)
Overall, if you're looking for a good cookie in World Showcase, you really can't go wrong with any of the offerings found in Karamell Kuche.  They have cookies that will appeal to just about any caramel lover's palate.
What are your thoughts of Karamell Kuche?  Do you enjoy the cookies, the caramel corn, or something entirely different?  Let me know in the comments!