This post may contains affiliate links for your convenience. If you make a purchase after clicking a link we may earn a small commission but it won't cost you a penny more! Read our full disclosure policy here.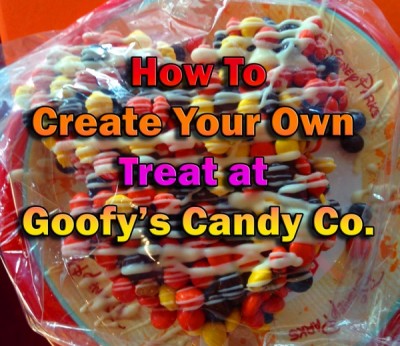 One of my favorite places to make a stop during my Walt Disney World vacations is Goofy's Candy Company, found in Downtown Disney in the Marketplace section.  While Goofy's sells lots of different types of candy and other sweet treats, including things like pecan clusters, cupcakes, slushies, caramel apples, taffy, cookies, fudge, jelly beans, lollypops, and much, much more, they are actually famous for one particular service. That would be the create your own treat option.
This is one of my favorite things to do.  I love being able to take a treat home with me, and because they aren't super messy, it's extremely portable!  Plus, I get to customize it the way that I want to!  Which of course, makes it even more delicious!
When you step inside Goofy's, you can automatically tell two things…Goofy is in charge with it's bright and colorful design, and it smells heavenly.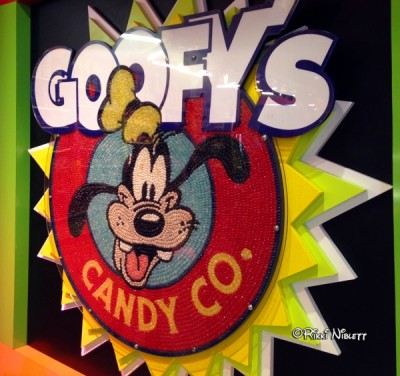 Inside, there are a few counters where you can pay for the multitude of pre-packaged, as well as self-serve candy options that you can take around with you to snack on.  There is also a slushy counter, where you can order a delicious drink…but that's not what we're here for today.  You see, we are here to take a gander behind the giant counter that sits in the middle of the room.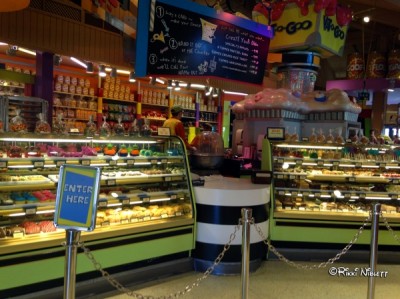 At this counter, there are a ton of different sweet treat offerings.  Special cupcakes, themed caramel apples, cookies, fudge, pretzel rods, and rice krispy treats, all beckoning your name.  Pick me!  They exclaim!  But why would you decide to choose something that has already been pre-made, when you can choose to make your own delicacy?  (Unless we're discussing the giant cookies they sell…then, we can make an exception because I seriously LOVE those cookies.)  Anyway….
So, you pick up a green order form.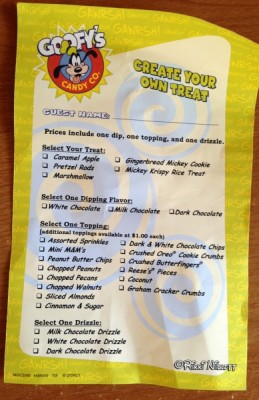 Here, you can choose to have one of five different items made into your own custom goodie!  You start the process by writing in your name.  From there, you get to select which treat you want to purchase.  You can choose from a caramel apple, pretzel rods (3), marshmallows (4), a gingerbread Mickey cookie, or a Mickey krispy rice treat.  After that, you'll choose one flavor for your treat to be dipped in.  The three choices are white chocolate, milk chocolate, or dark chocolate.  You can then select a topping (additional toppings are available for an additional cost.)  Toppings include sprinkles, mini M&Ms, peanut butter chips, chopped peanuts, chopped pecans, sliced almonds, cinnamon and sugar, dark and white chocolate chips, crushed Oreos, crushed Butterfingers, Reese's Pieces, coconut, and graham cracker crumbs.  After that, you can choose from one type of drizzle-white chocolate, dark chocolate, or milk chocolate.  Holy cow!  That's a lot of options.  How do you choose?
You then hand over your order form to the Cast Member and pay for your treats.  Then, the magic begins.  Another Cast Member takes your treat, coats it in your chocolate choice, covers it in your topping choice (and I mean COVERS it), and then slowly and beautifully drizzles your chocolate over the creation.  It really is a beautiful work of edible art.  You can even watch as the Cast Member makes your treat through the glass partition.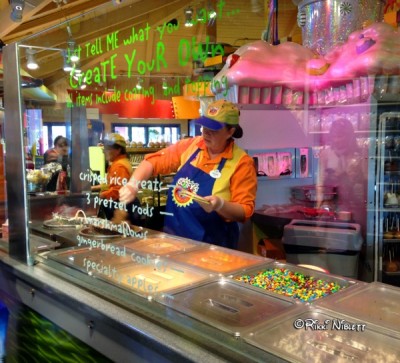 On my most recent visit, I decided to have them make me a dark chocolate covered, Reese's Pieces topped, white chocolate drizzled, Mickey krispy rice treat.  I also ended up purchasing one of the Mickey krispy rice treats that had already been pre-made and was sitting there for sale.  This is where I found out the secret…don't do that.  Haha!  Always order your own custom made treat (at least for the Mickey krispies).  The reason is that the pre-made ones are only coated with the topping on the one side.  The other side is left bare.  So, for the same exact price, you can get double the topping!  Yes!  That's a big win!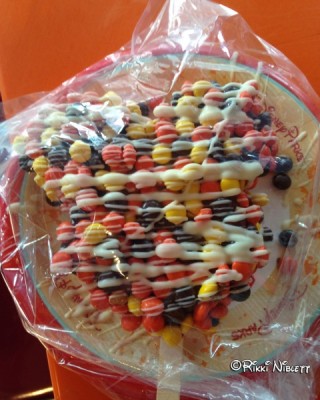 As I mentioned, these are my treats to take home with me now, and I love having that little touch of Disney for a few days after.  The best thing about these treats is because they are so coated, I can never eat them in just one sitting (and I'd bet you would have trouble too…they end up being HUGE when they are finished.) Now, personally, I just wrap it back up and snack on it later, but if you would prefer to eat it there (and there are some tables available), I would most certainly to share!
What do you think?  Have you ever made a stop at Goofy's Candy Co? What's your go to treat there?  Let me know!