This post may contains affiliate links for your convenience. If you make a purchase after clicking a link we may earn a small commission but it won't cost you a penny more! Read our full disclosure policy here.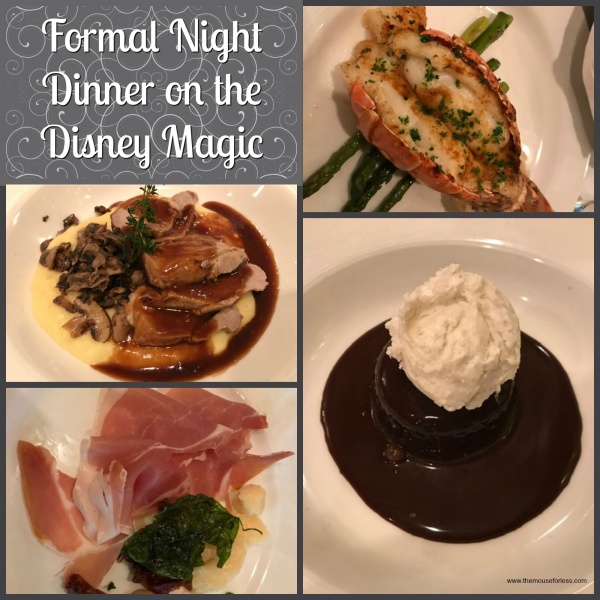 One of the fun parts of sailing on a 7 night or longer Disney Cruise Line sailing is that Guests can choose to participate in Formal Night. This evening, many cruise line Guests get dressed in their finest, with ballgowns and tuxes. But the great thing is that you don't have to get all gussied up if you don't want to. Some choose to wear just a cocktail dress and men wear button down shirts. Or some come to dinner in what they would have worn anyway for dinner. Formal night, is what you make of it.
But, one area where you'll definitely be treated like a king or queen on formal night is during dinner. Here, Guests will be given a menu that's served in all three dining rooms and it includes menu items that are just a bit fancier. Our meal was in Lumiere's for the evening, which really fit the themed night very well. I can't think of a better dining establishment to enjoy formal night in.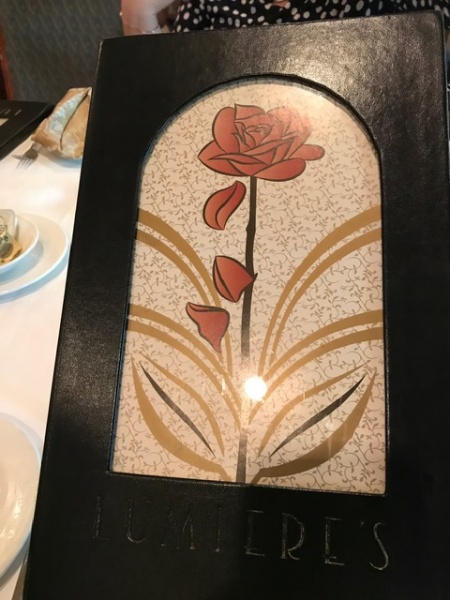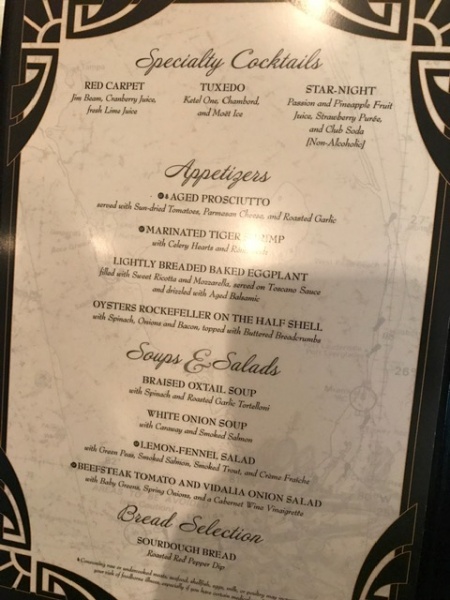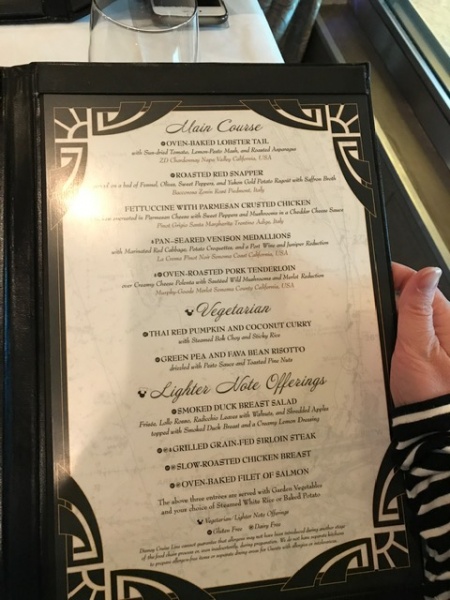 For my meal on formal night, I went with th eaged prosciutto which was served with sun-dried tomatoes, parmsean cheese, and roasted garlic. Ok…now you're talking! I do love prosciutto! This plate was delicious. I ate it all and could have probably had another one. The prosciutto was nice and salty, the parmesean was delightful and it was a great way to start the meal.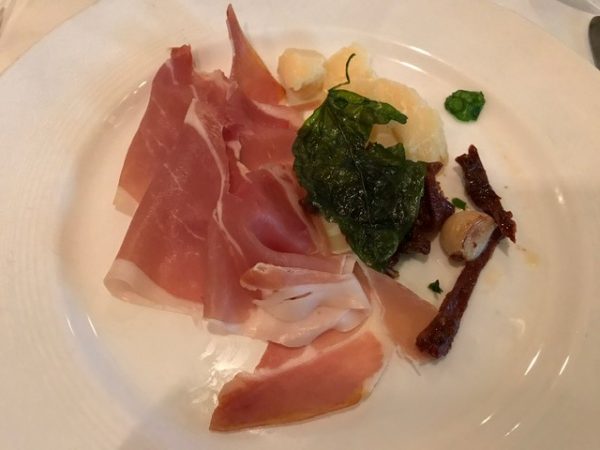 We also tried the marinated tiger shrimp. These were quite large and served with a romulade. Again, could have probably made a meal of the shrimp.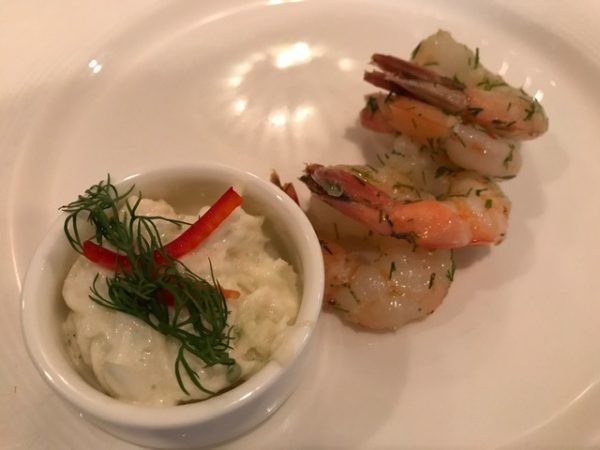 Now, formal night is known for one thing. Lobster tail. And you bet I got the lobster tail! The lobster is served with asparagus and a lemon-pesto mash. Really, I just filled up on the lobster, but I did enjoy the accompaniments too. But, on lobster night, the star of the show is the lobster, let's just be honest.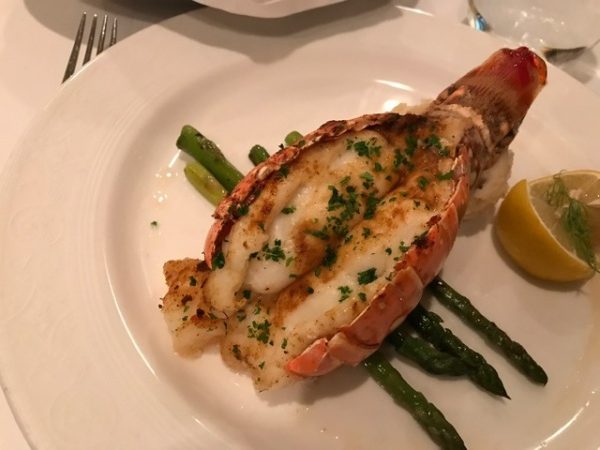 But we also tried the oven roasted pork tenderloin. This is served with a creamy cheese polenta, sauteed mushrooms, and a melot reduction. Again….delicious! I'm a huge fan of polenta and this was fantastic. The pork was also quite delicious.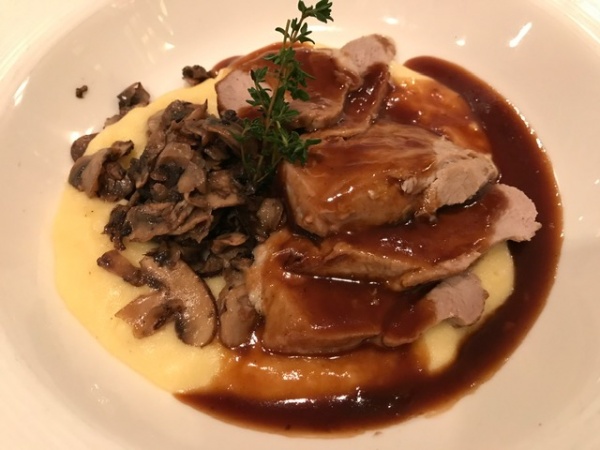 If we weren't stuff enough by the end of this, we were by the time dessert came around. There was no second guessing dessert today. The table got the chocolate lava cake. This is served with a double chocolate sauce and vanilla ice cream. To me, this was the star dessert for the whole cruise. Matter of fact, the entire table requested to be served the chocolate lava cake for dessert for the duration of the cruise. (And yes, our wonderful wait staff obliged.) This chocolate lava cake is rich and incredible. It's the stuff dreams are made of.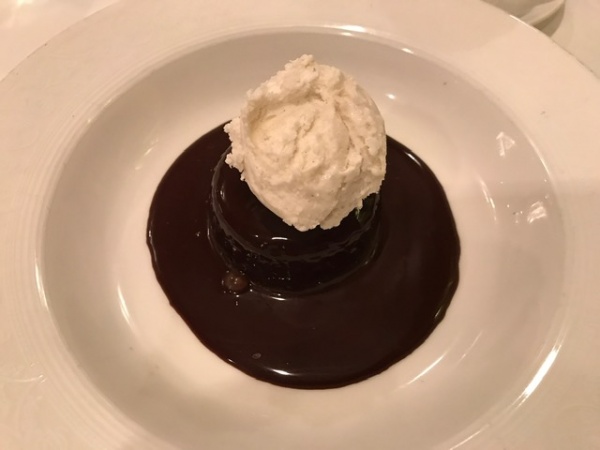 Formal night is a highlight onboard Disney Cruise Line and our time on the Disney Magic proved why that was the case, once again. The options on formal night are fantastic and delicious. I think it may be my favorite meal (that's one one of the adult only options) on all of Disney Cruise Line.
Have you enjoyed formal night on Disney Cruise Line? Do you enjoy the evening or like to avoid it at all costs? Let us know your thoughts in the comments, or on Facebook or Twitter!
Did you like this article? Make sure to share it with your friends! Check below for easy ways to share!
Want to visit Walt Disney World? Contact The Magic for Less Travel for more information and a free, no-obligation quote.

Incoming search terms:
when is formal night on disney magic five day cruise to bermuda