This post may contains affiliate links for your convenience. If you make a purchase after clicking a link we may earn a small commission but it won't cost you a penny more! Read our full disclosure policy here.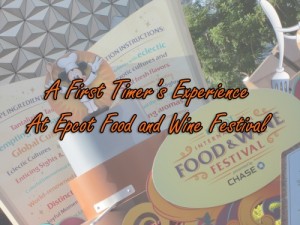 When I started writing my last Epcot Food and Wine Festival article, I had a different original flow in mind.  However, with the writing process, things can change at the drop of a hat and an article you think that is going to go one way, goes a completely different direction when it's done.  The change in direction caused me to have a brainstorm about this week's article, so I guess it all pans out in the end.
For this week's post, I decided to interview my husband, Brian, about his experience with the Food and Wine Festival.  Even though I had gone for a few years prior, this was his first time attending the event.
A little background information on my amazing hubby.  He did not grow up as a Disney fan.  He married into it.  Our first vacation ever together was back in 2005 to Walt Disney World where he proposed to me at Chef Mickey's.  Since then, we have been back at least once a year to a Disney park together.  We are attempting to move closer to the Magic and now, living in Georgia.  We both almost feel like locals, albeit, ones who are a little far away.
I have done my due diligence and trained him properly and what's great is that now he gets just as excited as I do to visit the parks and we have been known to have in-depth conversations about things that happen within The World.  So, he knows enough, but he's not as entrenched in the Disney fanaticism as I am.
As far as the Festival was concerned, I had done a little to prepare him on what to expect.  We'd talked about some of the booths and what they offered, we discussed some of the activities that surround the event, but with all the planning and discussing, he would, of course, experience the event a little differently that I would, both because it was his first time and he's a Disney Liker.  Here's what he had to say about the event.
What were your initial thoughts of Food and Wine before going?
I heard it was really cool but I thought it would be really busy and the food would be too fancy for me.
What were your thoughts overall of the festival?
I thought the festival was exciting.  It was a great place to meet up with a group of people and spend an afternoon / evening together.  It is a great option for those who are locals, as it gives you another experience than the same four theme parks, but in a different way with no extra cost like the Halloween and Christmas parties.  (Author's Note: Minus, of course, the food and drinks that you want to purchase, as well as the seminars, but the experience and some activities are certainly included with your Epcot admission.)
What was your favorite thing you consumed? 
I would say my favorite thing that I had was the Hawaii Pulled Pork Slider. It was the perfect size and had great taste.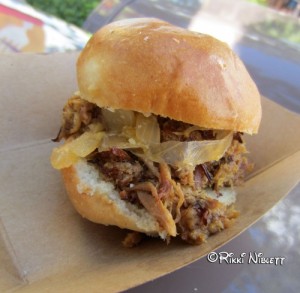 Which booth seemed to be the most intriguing to you?
I think Germany did the best job with their booth and the large display of the food, beer, and wine options that they had.
What was the biggest strength of the Festival?  
Being able to hang out with your friends and family and getting to try food, beers and wines from other countries.
What did you think of the extras (not food) that the Festival included?
I enjoyed the concerts that were going on each night and really just the buzz that could be found in the American Adventure pavilion.  I also enjoyed getting to go up into the Chase lounge because it was a great place to relax on a hot day. (Author's Note:  For those who don't know, the Chase Lounge can be found on the right side of the American Adventure Pavilion.  Guests ascend up to the American Adventure Parlor where they can relax, charge their cell phones, play games, grab a beverage, and soak up the air conditioning.  You must have a Chase card to have the opportunity to go inside.)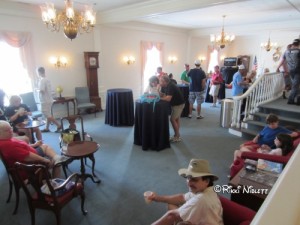 Was there anything you didn't like or thought could be done better? 
Personally, I think that the passports are kind of silly.  These can be picked up throughout the Festival.  I think the event is interesting enough to experience without the passports.  (Author's Note:  Of course, they can be handy if you are going to the event more than one day.  They make it easier to remember what you have tried and what you still want to try.  This may be an instance of my husband just not understanding the purpose.)
What tip would you give another first timer?
Don't try to do everything at once. Try a little bit from several booths, go in a group and have a good time.  Just look at it as something fun to do, not something that you must do and complete.
As a first timer what do you wish you'd known ahead of time?
To arrive at the pavilions around 5 or 6 PM and not 11 AM or lunchtime.  Drinking and heat in the afternoon do not make a good evening.  (Author's Note:  While the crowds are certainly lessened during the beginning few hours of the day, when it's hot out, like it was while we were there, it's very hard to enjoy some of the warmer dishes, because who wants to eat something like Fisherman's Pie when it's 90 degrees outside.  While the crowds do build around the evening hours, we found it a bit more enjoyable to dine the later it got.  If you plan on doing this, then try to do it during the weekdays, when locals are less likely to visit. Of course, if you want to dine in the middle of the afternoon, be on the lookout for air conditioning and I think you'll be ok.)
How would you rate the festival on a scale of 1-10 and why?
I would rate the festival at an 8 or 9.  I think Disney can do some extra things to make it better.  Perhaps a special firework show or more entertainment at the booths.  Overall it was a very good experience with the food, wine and beers.
Would you attend the Festival again and why or why not?
I would definitely attend the festival again.  If you have several days to enjoy yourself I absolutely recommend it.  If you are on a short vacation it may not be as enjoyable because you will be stressing to get all the food and beverages consumed that you want to or see all the Festival has to offer.  Just enjoy what you can.
Anything else? 
Another tip I would like to suggest is to get the reloadable gift card.  It is much easier than carrying cash or using a credit card.  You know how much you spent and it goes around your wrist which makes it easy to carry around.
So, there you have it.  A first timer's experience with the Epcot Food and Wine Festival.  It's always interesting to get someone's opinion who's not as much of an uber fan as many of us are and I think he makes quite a few good points.
The Epcot Food and Wine Festival is a fantastic event and whether it's your first time or your 100th time, I think everyone can get a little something out of it.