This post may contains affiliate links for your convenience. If you make a purchase after clicking a link we may earn a small commission but it won't cost you a penny more! Read our full disclosure policy here.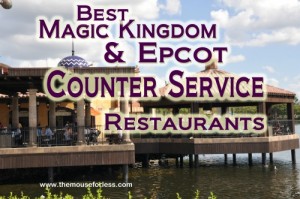 Welcome to my new column!
Here we're going to take a look at some of the best that Disney Food has to offer.  So let's dig in!  (Get it?  Ok…enough with the punny).
Today, I thought we'd take a look at some of my favorite counter service restaurants that are found in the Magic Kingdom and Epcot.
Personally, I am not a burger or sandwich eater, so I enjoy dining in Counter Service restaurants that offer just a little more.  That extra little bit that Disney seems to be noticing that more and more people are enjoying when visiting their parks.  Not that eating burgers and fries are necessarily a bad thing.  There are certainly times when those options are right up my alley too, but I enjoy having the option to choose.  Letting me choose is what Walt Disney World Counter Service restaurants have been doing a much better job in over the past few years.  With that, let's dive right in!
Magic Kingdom
Best: Columbia Harbor House
This restaurant has some of the best options in the Magic Kingdom and before Be Our Guest Restaurant, it was one of the few places in the Magic Kingdom that didn't rely on a menu solely of pizza, burgers, chicken nuggets, and hot dogs.
This location, found in Liberty Square,  focuses it's menu for the seafood lover.  With options like the lobster roll and grilled salmon, this isn't your typical theme park restaurant.
Also on the menu, fried shrimp and battered fish, plus the Lighthouse Sandwich made with hummus, tomato and broccoli slaw and the Anchors Aweigh Sandwich with white tuna and lettuce and tomato.  (And if you did want chicken, they do offer chicken nuggets.)
Columbia Harbor House also offers unique side dishes like couscous and steamed fresh broccoli!  In addition, they do have great soup options in chili and clam chowder, for days when it's not 1000 degrees out.
A tip:  After getting your food, consider heading upstairs.  There is quite a bit of seating on the second level that many miss because they don't know it's there.  Often it can be insanely crowded downstairs and nary a soul upstairs.  Plus, there are some window seats where you can look down on Liberty Square.  A perfect place for people watching!
Honorable Mention: Be Our Guest Restaurant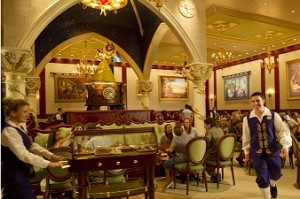 Only available at lunch for Counter Service, this restaurant offers a lot of amazing choices too like quiche, a steak sandwich and braised pork.  One downfall…it's popularity.  This restaurant is SUPER busy right now with New Fantasyland just opening.  Dining for lunch is the only way for many to get in there, because dinner reservations are going exceptionally quick.  Another reason for this restaurant's popularity, let's face it…it's cool!  How amazing to eat in Beast's Castle!  If you want to try eating here, you'll need to eat a very early lunch.
Epcot
Best: Sunshine Seasons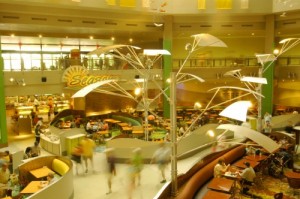 At Epcot, there really are so many choices for dining!  I could really have just done a best counter service restaurants of Epcot (and maybe some day, I will).  Having access to all the different delights that World Showcase has to offer the Counter Service diner that are unique, is incredible.  However, the best in Epcot, for me, is not found in World Showcase.  Instead, it is Sunshine Seasons, found in The Land Pavilion in Future World.
I mean, really…just the smell of walking into this area makes you hungry.  (Trust me, this Pavilion has a distinct smell.  Don't believe me, take a whiff next time you're there.)  The set up is sort of a food court type atmosphere.  You have different stations where everyone can pick out what they want (granted, you will have to stand in two separate lines if one person wants one dish and the other wants another.) Then, after selecting any grab and go items you may want, your party goes up to pay.  It is similar to the style that can be found in many of the resort food courts.
Sunshine Seasons really does have something for everyone.  Even the pickiest of eaters.  Here, you'll have the choice of Asian dishes, soups, salads, sandwiches, rotisserie chicken, fish, pork chops, etc.  And don't forget the amazing pastries and desserts that you can find too!  (Mmm…cake). Kids will have a litany of choices as well.  Not all traditional kid picks, either, but certainly kid friendly.  This really is the best choice if you are with your family and not everyone wants the same things to eat.
Honorable Mention: La Cantina de San Angel
Want to get your Mexican on?  (You know I had to mention ONE World Showcase restaurant.)  La Cantina is a great choice for guests because they have quite a few choices and they are certainly not typical.  This isn't Taco Bell quality here.  The options are fresh and full of color.  Options include tacos, empanadas, and nachos.  Add a margarita or a churro (or both!) and life is good. Just be careful.  Dining is all outside and well, let's just say, don't feed the birds.
So, that's gonna do it for this first installment of Foodie Friday!  I'll be back next week with a look at the best options (in my opinion) found at both Disney's Hollywood Studios and Disney's Animal Kingdom.
For now, what is your favorite Counter Service Restaurant in the Magic Kingdom and Epcot?  Make sure to share with us!
In addition, I want your help!  Is there anything you want to see here?  Do you have a great topic idea that you want to see me explore!  Please, feel free to email me at rikkibeourguest@gmail.com.