This post may contains affiliate links for your convenience. If you make a purchase after clicking a link we may earn a small commission but it won't cost you a penny more! Read our full disclosure policy here.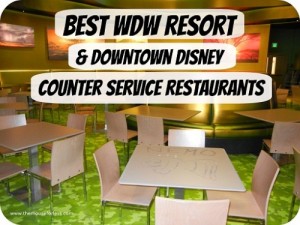 Welcome to the final edition of my favorite counter service restaurants.  Previously we looked at Magic Kingdom and Epcot, as well as Disney's Hollywood Studios and Disney's Animal Kingdom.  Today, we are looking at the the best counter service restaurants at both Downtown Disney, as well as the Resorts.
Downtown Disney

Best: Earl of Sandwich
Ok…ok, now I know I have said that I'm not much of a sandwich person, however, that goes out the window when talking about Earl.  These are quality sandwiches, all handmade to order.  Trust me, this isn't Subway we're talking about.
The store, located in Downtown Disney's Marketplace named after the inventor of the sandwich, the Earl of Sandwich (otherwise known as John Montagu) offers up a TON of different options.  From The Original 1762 (roast beef, cheddar cheese and horseradish sauce), to the Full Montagu (roast beef and turkey with sharp cheddar cheese and aged Swiss cheese, romaine lettuce, roma tomato and Earl's mustard sauce), to the delicious Hawaiian BBQ (roasted ham, grilled chicken, Hawaiian BBQ sauce, Aged Swiss cheese and fresh pineapple) this place really has everything you can think of.  Including the famous Holiday Sandwich.  Which trust me, is like eating Thanksgiving dinner on a bun.  It's got turkey, stuffing, gravy and cranberry.  Yum!
If you would rather have a wrap, they have those as well.  Options include a Chicken, Bacon, Avocado; a Spicy Tuna; Thai; and Buffalo Chicken, to name a few.
In addition, they have a number of salad options and soup choices for each day.  Plus, they have some really delicious desert options like chocolate chip cookies and brownie cream sandwiches.
The cost is actually very reasonable, with most meals coming in under $6.
For kids, they have three options: Roasted Turkey and Swiss, Pizza Sandwich, and Grilled Cheese.
Because it is so popular, crowds can get a bit heavy, but trust me.  It is well worth the wait!
Menu:  https://www.themouseforless.com/walt-disney-world/dining/menus/earl-of-sandwich-menu/
Honorable Mention:
Wolfgang Puck Express
Are you looking for variety?  You've found it here!  There is no way you can walk away from this Downtown Disney Westside restaurant saying, I didn't see anything on the menu I liked.
Much like Earl of Sandwich, this restaurant offers a variety of sandwiches (like the Pesto Chicken Salad; Meatloaf; and Chicken Aioli), as well as salad options (Greek; Roasted Beet; and Curried Chicken).  They also offer a delicious Tortilla Soup, Chicken Vegetable Soup, and Butternut Squash Soup.
This place is also extremely famous for their wood fired pizzas.  They offer more traditional options like a Margherita and Pepperoni, but they also have Meatball and Peppers, as well as Four Cheese Pesto.
Finally, they have absolutely delicious entree options too.  These include Spaghetti Bolognese; Bacon Wrapped Meatloaf; and Oven Roasted Salmon.
For kids, they have things like mac and cheese, pepperoni or cheese pizza, and Spaghetti.
Really, this place has a ton of options that can make an entire family happy.
Menu:  https://www.themouseforless.com/walt-disney-world/dining/menus/mp-wolfgang-puck-express-menu/
Walt Disney World Resorts

Best: Landscape of Flavors at Disney's Art of Animation Resort
This is the newest of the resort counter service restaurants, and therefore because of that, is simply the best.  Disney has learned what makes for a successful food court and used all of that knowledge to serve guests in this facility.
The theme is focused on the four different movies featured at the resort.  Artwork from Finding Nemo, Cars, The Little Mermaid, and The Lion King can be see in each of the four different sections of the food court.
Much like the other value resort food courts, there are the different stations that guests must go to to select their food.  Those include a Salad and Cold Sandwich station, a Tandoori and Mongolian Station, an Italian Station, a Burgers and Hot Sandwiches station, and a Bakery area.  They then select any grab and go items they would like and then stroll up to the registers to purchase it all.  (Guests who stay here can also take a quick visit over to Everything Pop across the way over at Pop Century Resort, which also an excellent choice for those looking to dine.)
There is a lot of selection available at this resort.  In addition, because it is new, there are a lot of unique items.  Even kids have some unique offerings that aren't seen anywhere else on property, with a focus on including healthier items for them to dine on.
If you are looking for the place that has it all and then some, this is the place for you.
Menu:  https://www.themouseforless.com/walt-disney-world/dining/menus/landscape-of-flavors-menu/
Honorable Mention
Captain Cooks at Disney's Polynesian Resort
Are you like me?  Addicted to the Polynesian?  I have to make a trip there every time just to soak in the atmosphere.
One way I get to soak up the amazingness that is this resort is to stop by Captain Cooks, the counter service location located on the bottom level of the hotel.  The restaurant is themed, of course, similar to the resort, with a tiki/Asian sort of feel.
What makes this place so awesome are the dishes that are offered.  Included on the menu are the Aloha Pork sandwich, Pork Nachos, Stir Fry Noodles with Chicken, Hawaiian Flatbread, and my absolute favorite, the Grown Up Grilled Cheese.
For the kiddos they have a chicken and pineapple skewer, sweet and sour chicken stir fry, and seasonal fish.
This location also functions like Landscape of Flavors where after you order, you selected any grab and go items and then pay.  However, the main difference is that you order your meal at a touch screen.  These allow you to make any changes to your order that you would like, so you aren't stuck eating something you don't want.
Another thing that makes this a unique location…the all you can fill in one cup Dole Whip.  So, imagine a soft serve machine.  Got that?  Ok…now imagine it's filled with Dole Whip and you are given a cup and told you can fill it up to your desired amount, for one price, as long as it fits inside the cup.  Wait…that is a real probability at Captain Cooks.  And trust me, I've seen people make extremely high cups of Dole Whips here.
Menu: https://www.themouseforless.com/walt-disney-world/dining/menus/captain-cooks-menu/
That's gonna do it!  My top locations to get the best, most unique counter service options in Walt Disney World.  Alright….now I'm hungry.  Where's my mile high Dole Whip?