This post may contains affiliate links for your convenience. If you make a purchase after clicking a link we may earn a small commission but it won't cost you a penny more! Read our full disclosure policy here.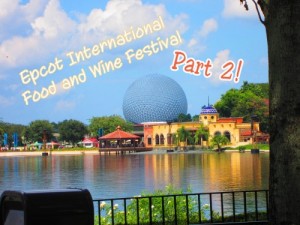 Seriously?  Can you tell I am super excited about Epcot's Food and Wine Festival?  I mean it is only the best time of the year.
Today on the blog, I thought I'd discuss some of the other important aspects of this year's Festival.  What things you need to know to make your trip more food-tacular!
Guests will not want to miss out on the Festival Center.  This location, housed in the former Wonders of Life Pavilion (which can be found between Universe of Energy and Mission: Space) plays host to many activities throughout the event.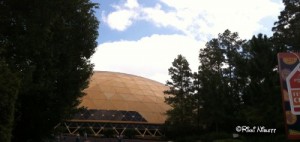 First are the multitude of seminars.  Many different culinary demonstrations and wine tastings will be available for guests to partake in, however, there is a nominal fee. Most of these demonstrations require reservations, so if you don't have a reservation, but would possibly like to attend, make sure to check at the check-in desk for any last minute availability.   There are also a few seminars that are free, but these mostly take place on the weekends and are few and far between.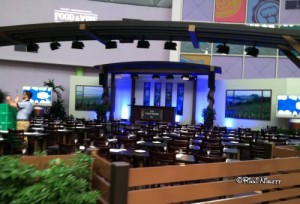 Guests can also get the chance to meet celebrated chefs and have them autograph their books or a piece of merchandise.  If there is someone who you really want to see, make sure to arrive at the Center early to get a wristband. Want to learn from these celebrity professionals?  Sit in as these celeb chefs share their incredible skills during low-cost culinary demonstrations. Chefs that will be making appearances include, Cat Cora, Robert Irvine, Buddy Valastro, Warren Brown, Paula DaSilva, Gale Gand, Jamie Deen, Dean Max, Rock Harper, Jeff Henderson, Art Smith, Allen Susser, "Cake Boy" Eric Lanlard, Duskie Estes and John Stewart, Donald Link, Bryan Voltaggio and Emily Ellyn.
In the market for a good wine to bring home?  Make sure to visit the wine shop sampling area, where guests can try complimentary tastings, allowing them to find the perfect bottle to enjoy later.  In addition, wine makers will be on hand signing bottles of vino that you have purchased.  You also shouldn't miss Seasons of the Vine, a seven minute video introducing guests to wine growing.
Want to know my favorite aspect of the Festival Center?  Have I previously mentioned how much I enjoy chocolate?  If you do too, then you do NOT want to miss The Chocolate Experience: From Bean to Bar.  Hosted by Ghirardelli Chocolate Company, guests can see the chocolate sculptures (yes, completely made of chocolate) by Disney pastry chefs. My favorite little piece of this exhibit?  The drinking chocolate.  It's like heaven in a cup.  (Actually, it's like drinking a melted chocolate bar!  How can you go wrong?  Honestly.)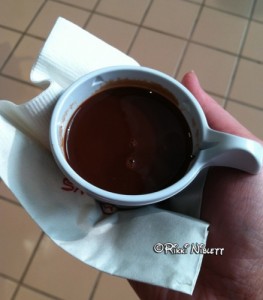 Of course, the other really big part of this Festival are the larger seminars that guests love to take part in.  These Premium Events have additional costs (sometimes very large additional costs) and sell out very quickly.  Most have sold out already, however, if you want to partake in any of them, I would suggest checking epcotfoodfestival.com to find out if there is any availability, like right now.    Go ahead…I'll wait…..
The Premium Events include:
NEW Scotland, Land of Food And Drink (Sept. 28)
NEW Spirits Confidential (Nov. 1)
NEW Parisian Breakfast (Saturdays)
NEW Hibachi Experience (Oct. 8, 15, 22, 29, Nov. 5)
NEW Scottish Burns Supper (Oct 24)
NEW The Chocolate Dinner (Sept 27)
"3D" Disney's Dessert Discovery (Oct. 4, 11 and 25)
Epcot Wine Schools (Sept. 29, Oct. 27, Nov. 3)
Culinary Adventures in Signature Dining (various nights)
Mixology Series: Taste, Shake and Indulge Like the French (Saturdays)
Kitchen Memories (Sept. 27, Oct. 4, 11, 18, 25, Nov. 1, 8)
Cheese Seminars (Sept. 28, Oct. 5, 12, 19, 26, Nov. 2, 9)
Party for the Senses (Oct. 5, 12, 19, 26 and Nov. 2)
Food & Wine Pairings (Tuesdays, Thursdays)
Sweet Sundays (Sept. 29, Oct. 6, 13, 20, 27, Nov. 3, 10)
The Discovery of Chocolate (Sept. 29, Oct. 13 and 27)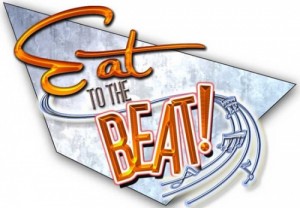 One of the most fun parts of this event are the Eat to the Beat Concert Series that happen nightly in the American Gardens Theater. Enjoy listening to artists that were popular in the 80s, 90s, and early 2000s (Um…hello Hanson!  I'm still dying to see you!) Showtimes are 5:30 pm, 6:45 pm , and 8:00 pm and concerts are free with park admission.  This year's artists include:
Sep 27 – Sep 29: STARSHIP starring Mickey Thomas ("We Built This City")
Sep 30 – Oct 01: Go-Go's ("We Got The Beat")
Oct 02 – Oct 04: Air Supply ("All Out of Love")
Oct 05 – Oct 06: Sister Hazel ("All for You")
Oct 07 – Oct 09: Sugar Ray ("Fly")
Oct 10 – Oct 11: Edwin McCain ("I'll Be")
Oct 12 – Oct 13: The Manhattan Transfer ("Boy From New York City")
Oct 14 – Oct 15: Wilson Phillips ("Hold On")
Oct 16 – Oct 17: The Pointer Sisters ("I'm So Excited")
Oct 18 – Oct 20: Night Ranger ("Sister Christian")
Oct 21 – Oct 23: Boyz II Men ("End of the Road")
Oct 24 – Oct 25: Survivor ("Eye of the Tiger")
Oct 26 – Oct 27: 38 Special ("Caught Up in You")
Oct 28 – Oct 30: Smash Mouth ("Walkin' on the Sun")
Oct 31 – Nov 01: Spin Doctors ("Two Princes")
Nov 02 – Nov 03: Christopher Cross ("Sailing")
Nov 04 – Nov 05: Hanson ("Get the Girl Back")
Nov 06 – Nov 08: Dennis DeYoung, original member of STYX ("Come Sail Away")
Nov 09 – Nov 11: Big Bad Voodoo Daddy ("Go Daddy-O")
Other activities you do not want to miss out on include the Cranberry Bog, Presented by Ocean Spray, which can be found in the World Showcase Promenade.  Here, guests can talk with growers who are wading through the cranberries and learn all you ever wanted to know about cranberries.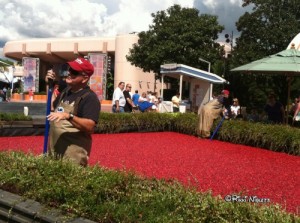 There are also plenty of shopping areas all around, featuring merchandise that depicts the Festival logo, as well as the ever popular cookbook, which contains many Disney recipes.  Disney Visa Cardholders do not want to miss out on relaxing in the Chase Lounge, which will be found at the American Adventure Pavilion on the third floor. Cardholders will need to present their card (which is good for up to nine guests) should use the elevator located between the attraction and the gift shop.  Also, for those passing by the Germany Pavilion, make sure to check out the train set, as they are celebrating their own Food and Wine Festival.
Something you should be aware of, is that there are two very popular race weekends that take place during the Epcot Food and Wine Festival that you should be aware of.  The Tower of Terror 10 Miler Weekend takes place October 4 – 6.  The Wine and Dine Half Marathon is on November 8-9.
Whew!  That's gonna do it for the biggies that are happening during the Food and Wine Festival, minus the Festival booths, which I discussed last week https://www.themouseforless.com/blog_world/2013/09/foodie-friday-preview-epcot-international-food-wine-festival/.  If you are headed to the Festival, make sure to check out the Food and Wine Checklist!  http://a.pgtb.me/N2TqKx
Next week, we'll share some tips with you on how to best experience the Festival!  So, check back on Friday for the details, as the Festival officially kicks off that day!