This post may contains affiliate links for your convenience. If you make a purchase after clicking a link we may earn a small commission but it won't cost you a penny more! Read our full disclosure policy here.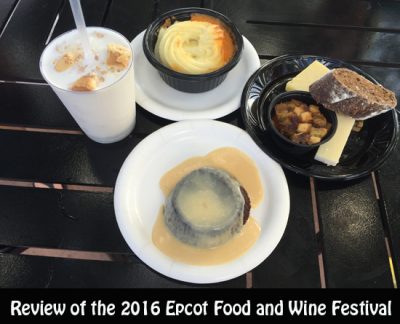 This weekend, I was able to make a stop and visit Walt Disney World for the opening weekend of the Epcot Food and Wine Festival. This year, the Festival runs for 62 days, September 14-November 14. The Festival includes many seminars, demonstrations, shopping, concerts, and of course, marketplace food booths.
I wanted to share with you guys my initial thoughts on some of this year's food and beverage items! So grab a snack, cause you are going to be hungry.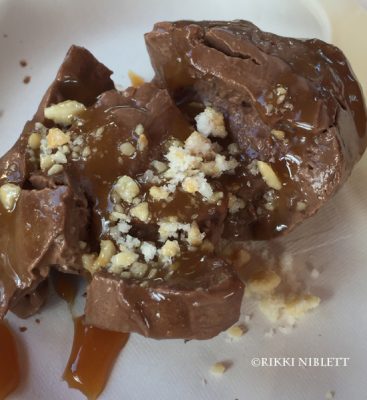 First I stopped at the brand new Chocolate Studio booth to try the Liquid Nitro Chocolate-Almond Truffle with Warm Whiskey Caramel. This comes as a ball of chocolate mousse that's dipped in liquid nitro so it's frozen. It then gets crushed and sprinkled with almonds and drizzled with the caramel. I was a bit disappointed in this one this time. I had gotten this same dish last year and it was much larger. This time, it was no bigger than a golf ball. It also had a minimal amount of caramel. I will give them a pass on this one this time, because I think they may still be working on the sizing of this dish, but if I continue to see that it's tiny, I may suggest that if you've never tried it to get it, but if you've had it before, pass.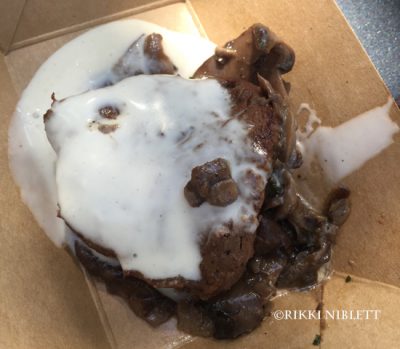 I then went to try the famous LeCellier wild mushroom beef filet mignon with truffle butter sauce. While the cost of this one is one of the highest out of all the options for the festival, it's still a delicious dish. The truffle butter sauce was incredible and while the meat is cooked more than I like (I like my beef still mooing), the filet cut easily and wasn't tough at all.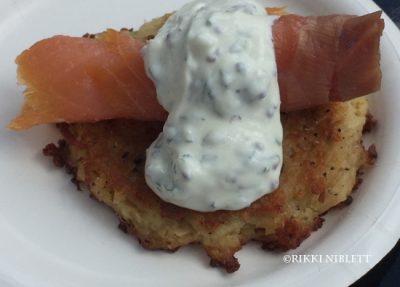 I sampled the Fresh potato pancake with smoked Scottish salmon and herb sour cream. The salmon was good, but to me the stand out was the pancake. It was crunchy, with a bit of a pepper kick. It was kind of like a fancy version of a hashbrown.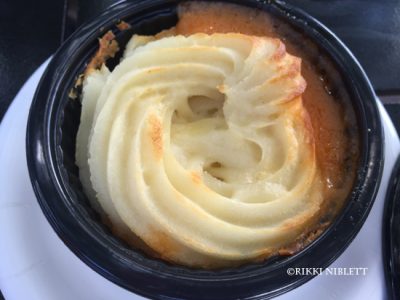 Ireland is always a favorite for me and this year was no exception. Of course, I love the Fisherman's pie, which is  delicious. There weren't as many chunks of seafood in the bisque as they have had in the past, but I still love this dish so very much.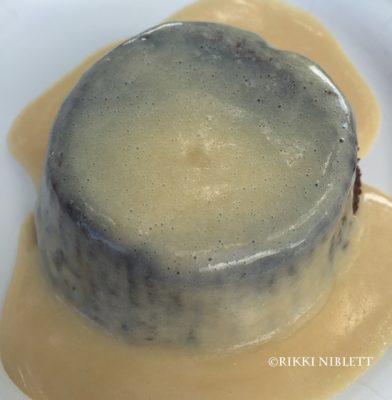 I also tried the Warm chocolate pudding with Irish Cream Liqueur Custard. Holy cow!  This has quickly become a favorite!  It's more of a dense creamy dish (kind of like a flourless cake) than it is a pudding. It's formed and sits on its own. The dish was heartily drizzled in the Irish cream sauce. This is a chocolate lover's dream. It is very rich, and I will be getting this again on my next go around.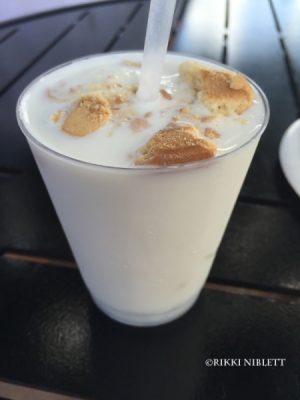 One more thing I'll be getting again at the Ireland booth…the Twinings Pumpkin Chai Tea Frozen Cocktail with Caramel Vodka. Wow! This was so yummy. It had a great spice thanks to the pumpkin and chai flavors. It tasted like fall. The caramel vodka was a nice touch. Make sure you stir with your straw, cause the vodka sits at the bottom of the cup. They also have a non-alcoholic version, but if you are over 21, I strongly suggest getting this version.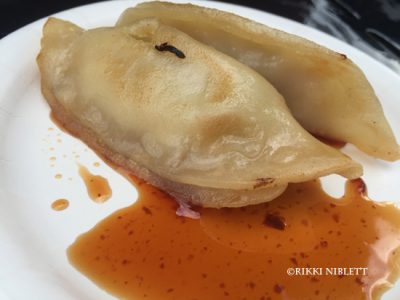 The China booth has great options and I decided to get the chicken potstickers. I think these are a great option for those with kids who want to try some of the dishes at the Festival. I think it's just "scary" enough for a child who wants to expand their palate. Especially with the chicken stuffing.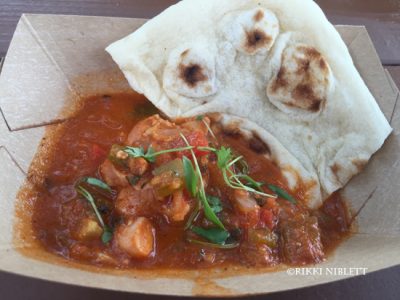 Speaking of those who want to try something out of their comfort zones…I tried the butter chicken from the Africa booth. I recently made a stop at Sanaa which prominently features butter chicken on their menu, so I wanted to try the Festival's version. It is served with a slice of naan bread. I wished that there had been more chicken in this sample (I only had 2 smaller pieces) but it gave me a good taste. I think for those who have never tried butter chicken, this is a great and easy way to try a dish you may be a little uneasy about. I think Sanaa's version is better though.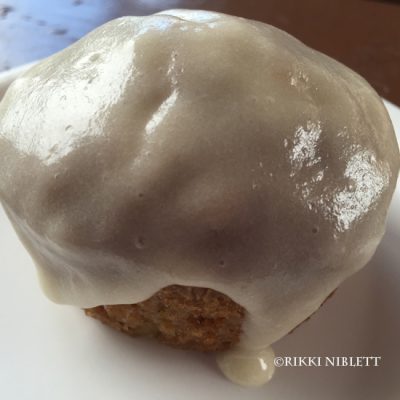 The final item that I tried this go around was the Fresh baked carrot cake and cream cheese icing. This is a favorite of mine and this year was no exception. In the past, this dish has had Craisins in it, but given that Ocean Spray isn't a sponsor for this year's event, the Craisins were missing. (That didn't bother me much.) This is still a solid dish. It is served warm and has the great spice flavor profile that one would expect with carrot cake. Oh and the cream cheese icing is to die for. It's so decadent.
I wasn't disappointed with my first go around for this year's Epcot Food and Wine Festival and I very much look forward to making additional stops as the Festival continues. I always find another new favorite to add to my already huge list of must gets every year. I'm curious to find out which new favorite will be added this year.
What dish interesting you the most this year? Share in the comments.