This post may contains affiliate links for your convenience. If you make a purchase after clicking a link we may earn a small commission but it won't cost you a penny more! Read our full disclosure policy here.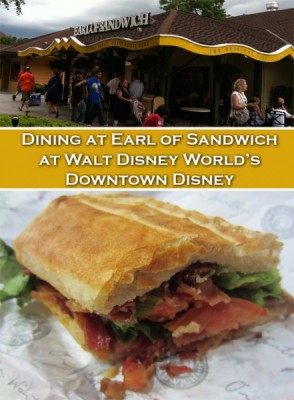 If you've been to Downtown Disney lately, you know it's in a bit of a transition. Construction walls are more prevalent than pretty much everything else.  And of course, it's been extremely difficult to navigate parking, with most of the lots missing, as work is being done on two parking structures, plus more.  However, if you can manage to make a stop at Downtown Disney on your next Walt Disney World vacation, I have a suggestion for you.  DO NOT MISS EARL OF SANDWICH!  (I may be a little excited….)
Earl of Sandwich is clearly a sandwich shop that's located on the Marketplace side of Downtown Disney.  The counter service location not only serves up it's titular sandwiches, but it also serves salads, wraps, sides, and soups.  Plus, they supposedly have some killer desserts and some unique beverages.  (PS: did you know they also serve breakfast?!  Hello made-to-order omelets!)
I typically like to visit Downtown Disney on my last day, in the last few hours before I drive home. It allows me to soak up those last vestiges of my Walt Disney World vacation, plus I can buy any last souvenirs and treats to take home!  But on a recent visit, I realized I should probably eat something before we took off on our long road trip home…and I knew exactly where I wanted to go!
You see while I'm not a huge fan of sandwiches, when I am in the mood for one, I want a good sandwich.  To me, hands down, one of the best sandwich shops around is Earl of Sandwich.  Their bread is homemade, they offer tons of unique options, and sandwiches are all made fresh to order.
Stepping inside, depending on the time of day, the restaurant will likely be packed, with guests lined up often out the door!  Don't let that deter you. The line moves quickly. (And it's worth the wait.) Actually probably the hardest part of your experience at Earl will be finding a place to sit.  Seating is certainly a minimum, however, if you don't see anywhere in the main dining area, there are a couple of side areas that may have availability or you can always consider dining outside on their patio.
The menu is super extensive. There are tons of offerings to choose from.
As far as salads, they have the Berry, Chicken, Almond-spinach, grilled chicken, strawberries, blueberries, almonds & balsamic vinaigrette; Asian-romaine, grilled chicken, Chinese cabbage, Mandarin oranges, almonds, wontons and Pan Asian dressing; and the Baja Chicken-romaine, grilled chicken, cheddar, cilantro, avocado, tomato, corn, black beans, tortilla strips and red wine vinaigrette.
For wraps they serve things like the Thai-grilled chicken, romaine, Chinese cabbage, sweet chili sauce and Thai peanut dressing; and the Spicy Tuna-albacore tuna salad, romaine, tomato, kalamata olives, pepperoncini peppers, chipotle sauce and balsamic vinaigrette.
Of course, the main draw would be their sandwiches.  The menu includes options like The Original 1762 -roast beef, cheddar cheese & horseradish sauce; the Hawaiian BBQ-grilled chicken, ham, Swiss cheese, pineapple & Hawaiian BBQ sauce; and the Veggie-Swiss cheese, roasted zucchini, cabbage, avocado, lettuce, tomato & pesto hummus.
However, one of my favorites is the infamous Holiday Sandwich. It's turkey, stuffing, cranberries, mayo, and gravy.  It is quite honestly Thanksgiving in a sandwich.  It's the most moist, delightfully delicious sandwich.  And the best part is that it's now on the menu every day. (Up until last year, it was only offered during the Holiday season.)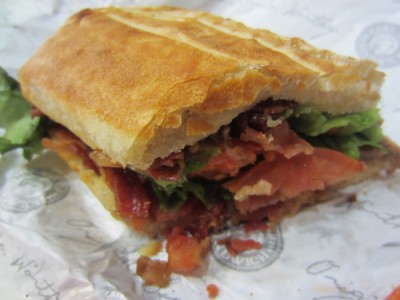 On this last trip though, I was in the mood for something simple.  I just wanted a BLT. It's served with Roma tomatoes, bacon, lettuce, and mayo. This sandwich was stacked!  So many places will load a sandwich heavy on the veggies and lighter on the meat, but this BLT was covered in bacon! And the best part, it was cooked exactly the way I like it, crispy! The sandwich also featured a nice helping of lettuce and had a wonderfully ripe tomato. We topped off the meal with a bag of chips, which were kettle cooked and the perfect accompaniment.
Of course, I'm still dying to try a few other things here.  I'm a big fan of soups, but on a hot day, soup doesn't sound particularly good.  So I've never gotten to try theirs. And of course, I've been dying to try their peanut butter brownie sandwich, but their cookie bites look fantastic as well.
The best thing about Earl of Sandwich though is the price.  These sandwiches are extremely reasonable.  Most dishes range from $5-$7. So, not only is it good to eat, but it's good for the pocketbook!
What are your thoughts? Do you enjoy visiting Earl of Sandwich? What's your favorite thing to get?