This post may contains affiliate links for your convenience. If you make a purchase after clicking a link we may earn a small commission but it won't cost you a penny more! Read our full disclosure policy here.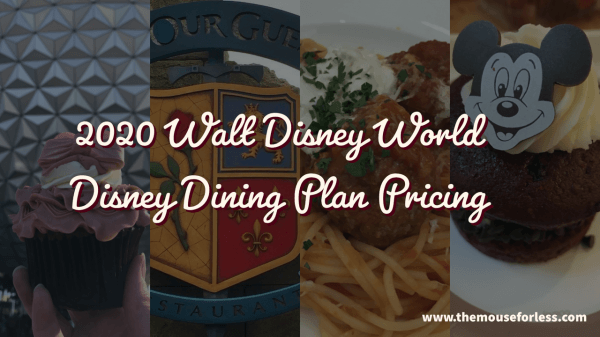 2020 Walt Disney World Vacation Packages have been released and with that, Disney has also released the pricing for the 2020 Disney Dining Plan. While it's often debated as to whether or not it's as good value, by at least knowing the pricing and by comparing that to menus and seeing if the menu items you are looking at potentially enjoy equal up to around what you'd pay for the dining plan, you have a better idea of if it's going to be a good value for you.
Those who love the Disney Dining Plans say that they are worth it because you don't have to think about the price of things. You can get whatever you wanted and not worry about how much you were spending, because you'd already paid for it. For many, the convenience of the Disney Dining Plan outweighs all.
One new perk that many find to be helpful now in deciding if the Dining Plans are worth it is that Guests can now purchase non-alcoholic specialty beverages and, for Guests 21 and older, beer, wine and cocktails. If you are someone who likes a beverage, this makes choosing one of the dining plans even more worth it.
For those who don't know, there are different dining plan options to suit every need and budget.
First is the Quick Service Dining Plan. This option is right for those who are looking for meals that are quick and easy. Guests will be able to enjoy a casual meal while dining at one of the many counter service locations. The best part is there's no need to make dining reservations, so this is the perfect plan for those who are on the go. For 2020, the cost per day of the Quick Service Dining Plan is $55 for adults (ages 10+) and $26 for children (ages 3-9).
For those on the standard Disney Dining Plan, Guests will be able to enjoy one of their meals at table service restaurants each night. To maximize your ability to use the Disney Dining Plan, Guests should make Advance Dining Reservations ahead of time. In addition, with this plan, Guests can enjoy a counter service meal and snacks each day. The cost per day of the Disney Dining Plan is $78 for adults (ages 10+) and $30.50 for children (ages 3-9).
For those who want to dine as your primary vacation goal, you may want to consider the Disney Deluxe Dining Plan. Here, Guests will be able to enjoy full meals from appetizers to desserts for all three meals, if they so choose. This plan offers the most table service meals, in addition to delectable snacks. The cost of the Deluxe Disney Dining Plan is $119 for adults (ages 10+) and $47.50 for children (ages 3-9).
Only those Guests staying at a Walt Disney World Resort Hotel can add on a Disney Dining Plan to their vacation package.
Using a Disney Dining Plan on your vacation can be a great way to save money, and it also just be a great way to let yourself relax during your vacation. Whether or not you choose a Disney Dining Plan, it's up to you.
Do you typically get one of these plans? Let us know your thoughts of whether you think they are worth it in th comments, or on Facebook or Twitter!
Did you like this article? Make sure to share it with your friends! Check below for easy ways to share!
Want to visit Walt Disney World? Contact The Magic for Less Travel for more information and a free, no-obligation quote.

Incoming search terms:
disney dining plan 2020
disney dining plan cost 2020
cost of disney dining plan 2020
disney dining plan prices 2020
how much is the disney dining plan 2020
disney dining plan cost
disney dining plan prices
disney dining plan pricing 2020
how much is disney dining plan 2020
cost of disney meal plan 2020