This post may contains affiliate links for your convenience. If you make a purchase after clicking a link we may earn a small commission but it won't cost you a penny more! Read our full disclosure policy here.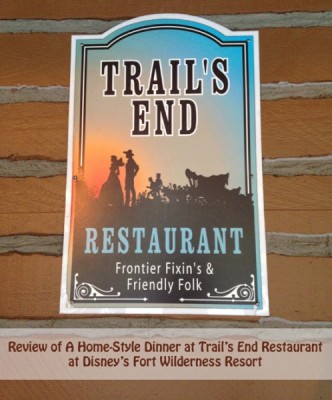 Have you heard about Trail's End Restaurant? It's one of the best kept secrets at the Walt Disney World resort. Not only is the pricing reasonable (for Disney), but it's at one of the most unique resorts, Disney's Fort Wilderness Resort.
One reason Trail's End is a hidden gem is because it takes some effort to get to it. The easiest way to arrive is by taking the boat from the Magic Kingdom. You will be dropped off at the boat dock for the Settlement Post, which is where Trail's End is located. There is also bus service to that you can utilize. Take the bus to Disney's Fort Wilderness. Then you will need to take the internal bus system to take you to the Settlement Post.
If you're early for your reservation, you can play tetherball, play on the playground, hoola hoops, or enjoy the front porch with comfortable chairs and games such as checkers.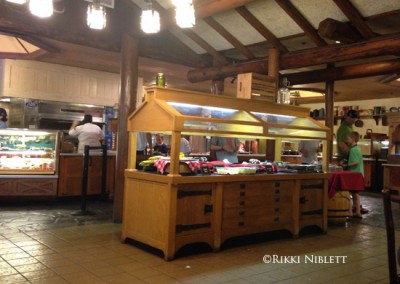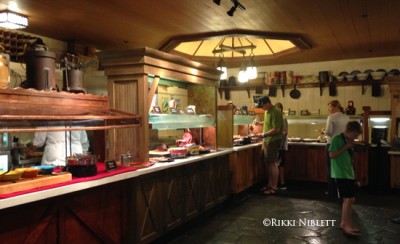 Trail's End serves up delicious home cooking in an all-you-can eat buffet style meal. The charm of Trail's End is in its rustic motif. You'll certainly feel as though you are in the time of pioneers with a countrified, relaxed feel. The restaurant feels like you're going back in time, in a delightfully fun way.
Guests will be able to start their meal by sampling the delightful cold bar featuring peel-and-eat shrimp, salads, and other cold items. Cold items do vary from time to time, so you never know what kind of salad you may be able to enjoy. My favorite is the simple and fresh tomato-feta salad. Of course you also can't go wrong with the peel-and-eat shrimp.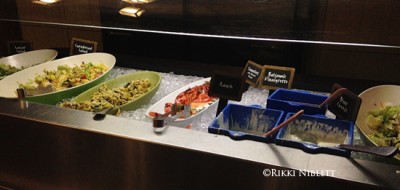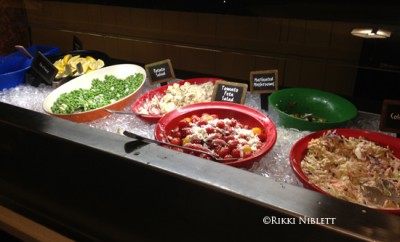 Though my favorite part of the meal is the hot items. Dishes include smoked pork ribs, hand-carved meats, chili, and the best item….fried chicken! (It's the same fried chicken you get from Hoop-dee-doo Revue.)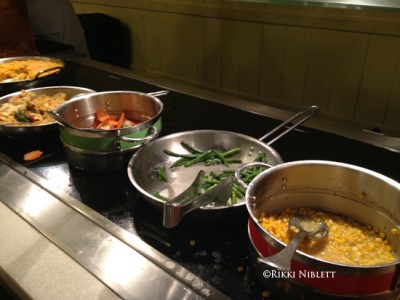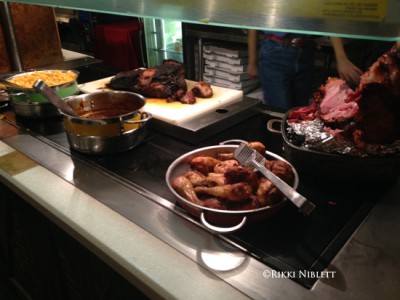 There's also plenty of great side items that are incredible, such as the mashed potatoes and gravy, green beans, carrots, macaroni and cheese (with goldfish crackers on top!), corn, and baked beans, to name a few.
One of the more unique items is the baked potato bar, which features items like cheese and bacon to put on top of your potato. (Or…here's a great idea…head over to the chili and add some of that with some of the cheese! Yum!)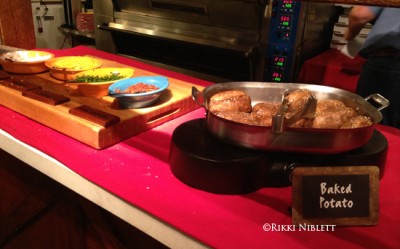 Oh and make sure you pick up some cornbread! It's not too sweet, not too salty. It's moist and cooked to perfection. This is one of the best cornbreads I've ever had. You will find it on the dessert table, so don't pass it up!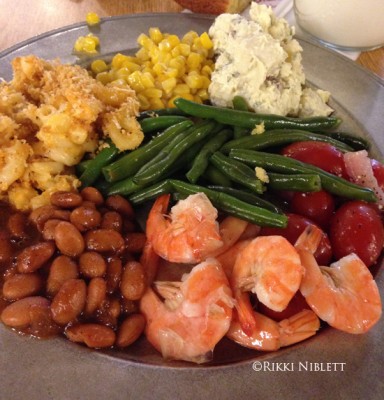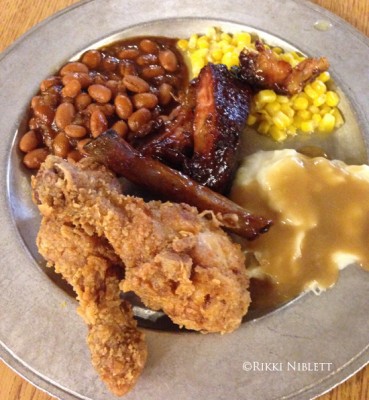 Speaking of dessert, if you're in the mood for a great cobbler or cake, this is the place for you. Again, desserts are seasonal, but they are fantastic.  I love a good apple cobbler, but they also sometimes have strawberry shortcake, red velvet cake, cookies, banana pudding, and more.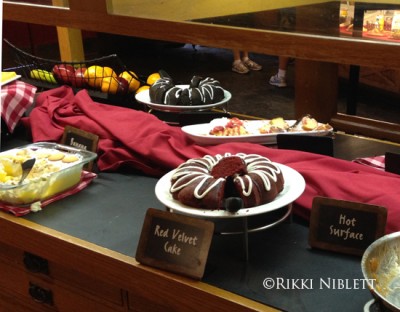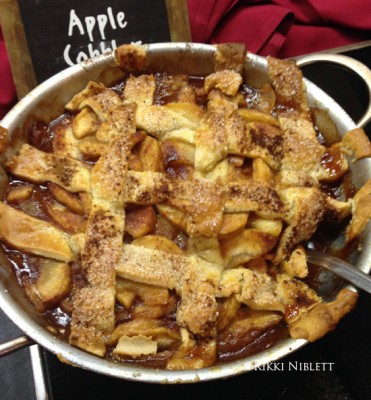 If you're in the mood for ice cream, they also have a soft serve machine, with great toppings like chocolate sauce and sprinkles, gummy bears, and M&Ms.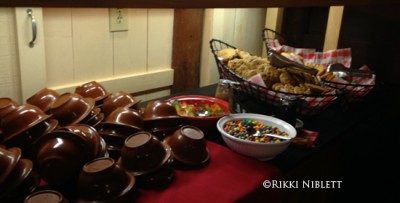 While Trail's End isn't on many people's radars, it should be. You will leave complete stuffed and certainly delighted.
Have you ever been to Trail's End? What is your favorite part of the meal? Share in the comments.