This post may contains affiliate links for your convenience. If you make a purchase after clicking a link we may earn a small commission but it won't cost you a penny more! Read our full disclosure policy here.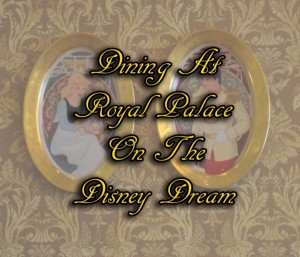 It is time…time for our last dinner about the Disney Dream.  So sad.
For our last dinner, we were scheduled to eat at Royal Palace.  Now, Royal Palace is quite elegant.  The restaurant is themed exquisitely after the infamous Disney Princesses, like Cinderella, Sleeping Beauty, and Belle.  There are little touches everywhere that indicate this.  From portraits adorning the walls, to glass slipper chandeliers, to Cindrella coach bread baskets.  Make sure to explore every nook and cranny because you never know when something royal will be apparent.  This is absolutely one of those places where there are a ton of Disney Details!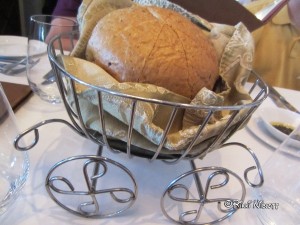 The design of this restaurant screams absolute opulence.  There's marble flooring, dark woods, and a gold and navy color scheme, with hints of red for a bit of pop.
Now, while my last meal here (for Pirates in the Caribbean Night) had been sort of hit or miss, my meal on this evening was phenomenal.  Absolutely 100% incredible.
I started out by choosing the Iced Lobster and Jumbo Shrimp as my appetizer.  If there's lobster on the menu, likely it's going to be something I order.  This was cooked perfectly and the presentation was gorgeous!  I even liked the Lemon-dill dressing with Horseradish Cream!  I normally would never try that! Definitely getting this again.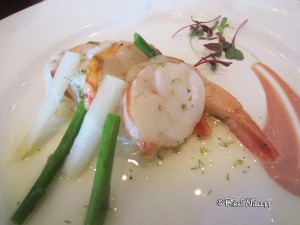 After that, for my main course, I opted to try the Royal Palace Aged Angus Grilled Beef Tenderloin.  It was the first time the entire trip, I'd chosen the beef entree.  I don't know why I waited so long.  It was cooked exactly to medium rare (how I prefer my beef) and it was so juicy.  The mashed potatoes that came along with it were great too.  They had been crusted over on the top.  There were also sauteed snow peas which was welcome with the heavy dish I was consuming.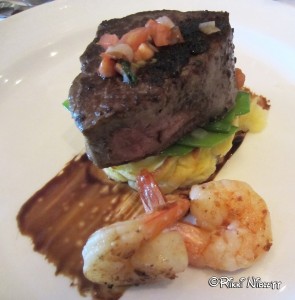 For dessert, I ordered the Tahitian Vanilla Crème Brûlée (Crème Brûlée is something that I also usually order when it's on the menu), but since it was the last night of the cruise and I was celebrating my birthday, they brought me a special chocolate cake.  Oh man…was it heavenly.  Extremely rich and delicious.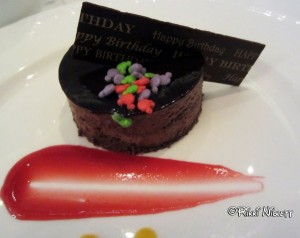 Here is a look at the full menu found at Royal Palace:  http://disneycruise.disney.go.com/ships-activities/ships/dream/dining/royal-palace/
This was our last night, so we continued our tradition of taking our photo with our wait staff.  I love doing this because they are such an important part of your vacation and I think it's a nice way to include them in your memories.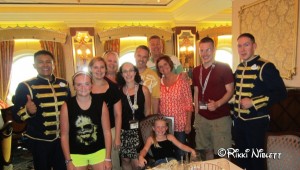 Alas, it was time to say see ya real soon because the cruise would end in the morning.
Stay tuned, as I have one more Disney Cruise Line article where I talk about some of the other dining options that you can take part in while enjoying your vacation aboard the Disney Dream.