This post may contains affiliate links for your convenience. If you make a purchase after clicking a link we may earn a small commission but it won't cost you a penny more! Read our full disclosure policy here.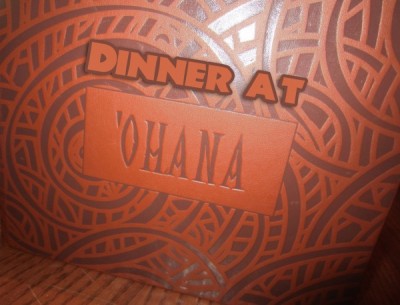 Well, we all know that lots of changes are taking place at Disney's Polynesian Resort lately, but one place that isn't changing is the table service location, 'Ohana.
This restaurant serves both breakfast and dinner and both are unique. Breakfast is a fun character breakfast featuring Lilo, Stitch, Mickey, and Pluto. Dinner is what we're here for today.  You see, dinner is served family style and the cuisine is sort of Asian inspired, with touches of Hawaiian flair.  Actually, the entire restaurant's design kind of reminds me of Brazilian steakhouses.
When you enter the restaurant,  you will pass by a giant, flaming pit! There you will see lots of delicious meat cooking on skewers. This will play a large part in your meal…more on that in a bit.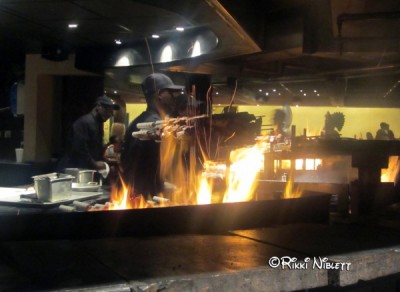 The room is actually quite large and has tiki touches everywhere, lots of tropical plants, and huge windows, which offers views of the Polynesian Resort grounds, Seven Seas Lagoon, and yes, even Cinderella Castle in some spots.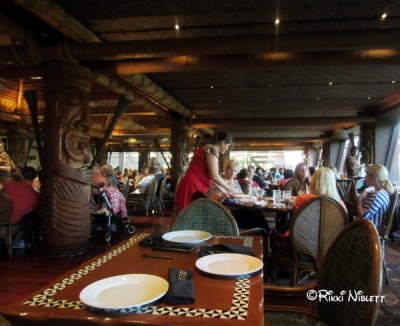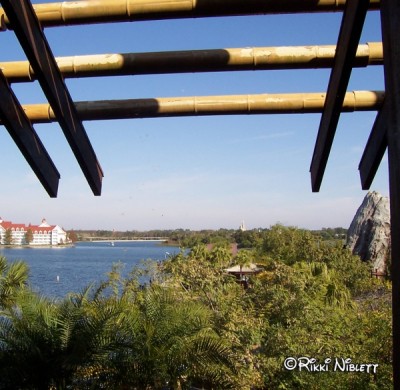 Once you are seated, that's when the fun begins.  Your server will start off the meal with delicious bread service. It is a pineapple-coconut bread, known as "Welcome Bread" that I think I could have eaten all of, it was so good, but I knew that this was an all-you-can-eat meatfest, so I had better pace myself.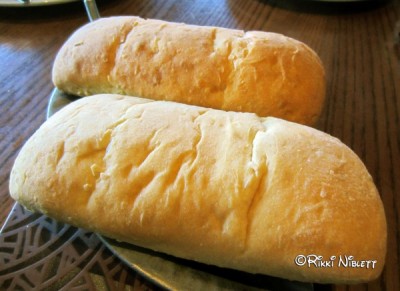 You will then be served a large bowl of salad for the table.  While I'm not a huge salad person, when it's offered, I will usually eat some.  what surprised me was that this salad was fantastic! The dressing, which is a honey-lime dressing and usually not even close to something that I would eat, was phenomenal.  I highly enjoyed it.
But then came my favorite part of the meal.  Labeled as an appetizer, our server brought out these incredible pork dumplings and honey-coriander chicken wings.  The dumplings were the perfect amount of crispness and the wings were just the way I prefer them, delightfully sweet and saucy.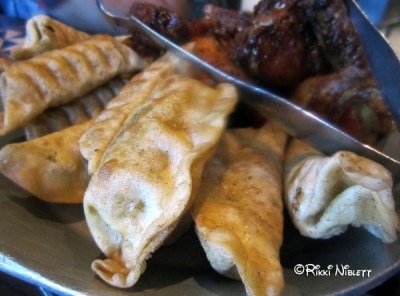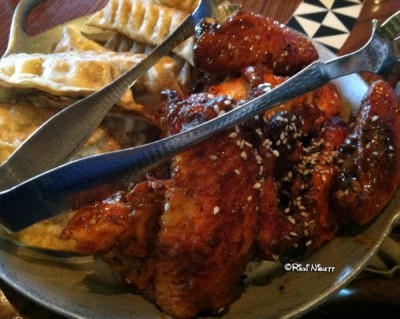 Next came the side dishes.  These consisted of lo mein noodles tossed in a teriyaki sauce and also stir-fried veggies. These were great additions to what was coming next.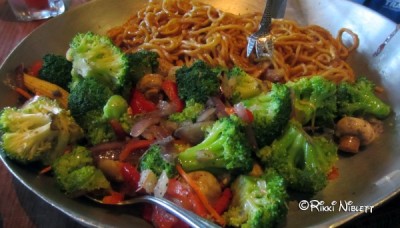 You see, next was the main show.  Your "cousins" (cause everyone is "Ohana here, otherwise known as family), begin to bring over wonderful skewers of meat!  There are three great options to choose from–Sweet and Sour Pork Loin, Szechuan Sirloin Steak, and Spicy Grilled Peel-n-Eat Shrimp.  Up until recently, they did also offer chicken, but that has since been removed from the line up.  My favorite was the pork loin, with the shrimp in second.
The meat can be dipped in either house-made Peanut and Sweet-n-Sour Sauces. Your server will offer suggestions of which sauce goes with which meat. You many need the sauces too…cause unfortunately, I found some of the meats served to be a little dry.
Keep in mind that if you want any more of any dish that's served to you, all you have to do is ask!
While you are dining, the fun continues as Hawaiian music is played, kids participate in coconut races, hula hooping contests occur, and more.
Oh my gosh…I am so full…wait…I still have dessert coming to me?  For many, this is the reason they come to 'Ohana. It's the bread pudding with bananas and caramel and it's heavenly.  It's served with heaping scoops of ice cream on top.  It was warm and rich and gooey and just mmmm….Oh I'm getting starving just thinking about it.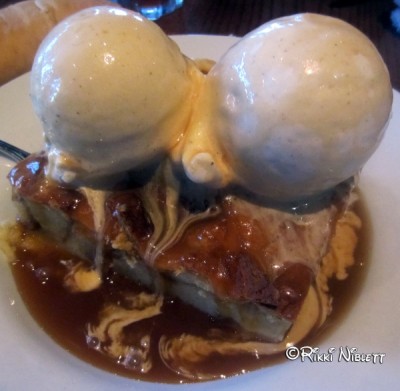 If you want more information about 'Ohana, make sure to check out the menu.
This restaurant is extremely popular and is one where you will need to make Advance Dining Reservations, however, we did get lucky and were able to obtain a walk up…so it can happen.  Just don't count on it.
I am currently wondering why it took me so long to make my first visit to 'Ohana.  I love her sister next door, Kona, so that could be one reason, however, I can say with certainty that it will absolutely not be my last visit to this fun and delicious restaurant.