This post may contains affiliate links for your convenience. If you make a purchase after clicking a link we may earn a small commission but it won't cost you a penny more! Read our full disclosure policy here.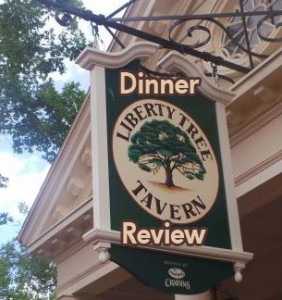 One of the most popular restaurants to dine at during a guest's Holiday visit to Walt Disney World  is Liberty Tree Tavern.  This fantastic colonial restaurant that is located in Liberty Square at the Magic Kingdom serves up their dinner offerings "family-style" which means they bring it all out in dishes and you get to scoop as much of it as you want on your plate.  Then, if you need more of something, just ask and it will be delivered to your table.  (Keep in mind that lunch is served ala carte.)
The outside of the restaurant looks like an 18th century inn and is divided into different rooms which are named and themed after famous Americans, like Betsy Ross, Benjamin Franklin, and George Washington.  The rooms feature colors of woods and white and the walls are are lined with artifacts and photos that are fitting to the time period.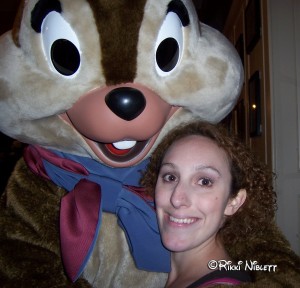 Years ago, Liberty Tree Tavern's dinner included characters who were dressed in colonial garb, however, this ended in 2009.  This makes me sad as I have gotten to experience this meal as both a character meal, as well as since the characters have been removed and I thought the character aspect was fun.  Plus, the characters (like Minnie, Chip and Dale, and Goofy) were in such unique outfits.  Either way, I still strongly suggest dining here, especially if you're in the mood for a holiday meal…no matter what time of year it is.
I've told you all about the restaurant, but let's get down to the fun stuff…the food!
As I mentioned, the meal is served up as a prix fixe meal, but they will give you a menu to look at when you sit down.  The menu (known as the Bill of Fare) includes the starter of the Declaration Salad, which features tossed Mixed Greens with House-made Dressing;  the Patriot's Platter is your main meal which includes Roasted Turkey Breast, Carved Beef, and Sliced Pork with Mashed Potatoes, Seasonal Vegetables, Herb Bread Stuffing, and Macaroni & Cheese; and for dessert they will bring Johnny Appleseed's Cake which is Tavern-made White Cake filled with Apples and Ocean Spray Craisins Dried Cranberries, topped with Ice Cream.  (Ocean Spray is the sponsor of Liberty Tree Tavern.)
Full Menu: https://www.themouseforless.com/walt-disney-world/dining/menus/liberty-tree-tavern-menu/
So, first things first, lets start with the salad…this is my favorite salad on property.  (Second is the salad from 'Ohana).  It's got a strawberry dressing on top that is to die for.  I only wished they sold this in stores because I would totally eat more salad!  The Cast Member also brings over a basket of fresh baked bread with butter.  I have to keep myself from filling up on the beginning stuff though, so I only eat one piece of this soft, scrumptious bread.
We then make our way to the main entree.  Ironically, I'm not the biggest turkey fan, so this part of the the traditional Thanksgiving/Christmas meals does nothing for me.  It was good for being turkey.  The carved beef and the pork are way more up my alley.  Both were delicious…though maybe a bit on the dry side.  (I prefer my beef medium rare and this was more well) However, despite this they both had good flavor…and slap a little gravy on top and the dry quality quickly disappears.  (Gravy makes everything better!)
My favorite part about the meal, much like during the Holiday meals, is the side dishes.  (Seriously…yesterday, I loaded up on the side dishes during my own Thanksgiving meal.)  So, I was excited to bring on the creamy mashed potatoes, the moist stuffing, the perfectly seasoned green beans, and the cheesy macaroni and cheese.  None of these side dishes disappoint and I made sure to load up on multiple servings of them!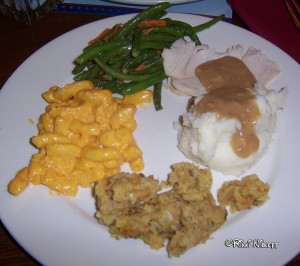 I haven't been there since they started serving the Johnny Appleseed cake (they used to serve apple cobbler which was super delicious.  Man, could I go for some apple cobbler.)  The Johnny Appleseed cake sounds intriguing and just is proof that I need to head back because I certainly miss eating here.
Overall, this really is one of my husband and my favorite meals in all of Walt Disney World.  There's just something so perfect about having that home-cooked style, comfort food dinner.  It reminds me of being a kid and going over to my grandma's house on Saturdays when she would serve up WAY more food than necessary, but it was all so yummy, so you just enjoyed yourself immensely.
If you are ever in the mood for a taste of the Holidays, even in the middle of July, make sure to make an Advanced Dining Reservation for Liberty Tree Tavern.