This post may contains affiliate links for your convenience. If you make a purchase after clicking a link we may earn a small commission but it won't cost you a penny more! Read our full disclosure policy here.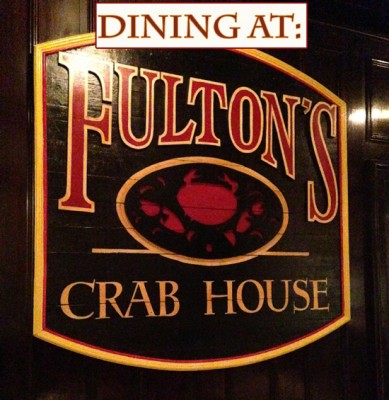 Have you ever been in Downtown Disney, looking for a place to eat because you haven't had dinner yet, and it's so crowded…there are people just everywhere…and you are looking for a sit down place to dine at, but also one that won't take forever to get a table for? (I'm looking at you T-Rex.)  Well, that's how we ended up at Fulton's Crab House on a recent trip.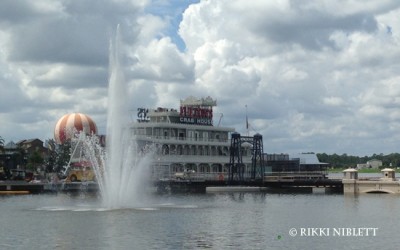 Of course, I'd always walked past Fulton's, but never thought of dining there until this evening. The restaurant is housed in the giant paddlewheel ship that you can visibly see through much of Downtown Disney. The restaurant has been around forever, so you may have, on some occasion, stopped in at some time.
We walked up, and they told us there would be a bit of a wait, so they took my phone number and told me they would text me when a table was available and that we were free to explore Downtown Disney.  So, we did.  We wandered around and made it to the new Marketplace Co-Op, when my phone buzzed…it said we had 10 minutes to get to the restaurant and the clock was ticking. Ack!  (PS: Did I mention it was insanely busy at Downtown Disney this evening?) We made it back with just a minute to spare! Whew…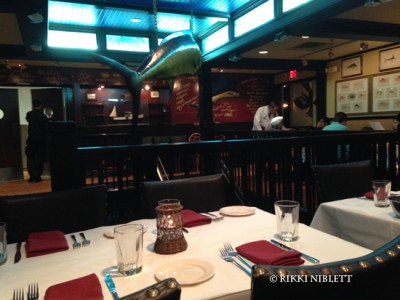 When we walked in, the first thing you see is nautical decorations everywhere; this place is filled with hanging fish, anchors, rope, etc. It's also kind of a dark restaurant. Lots of dark colored wood. There are two floors and we were escorted up to the second floor. The spaces here did feel a little tight and small, but you are in a ship.  While there were lots of sailing do-dads on the walls, the restaurant seemed elegant, as well.
We debated the menu for a while and I finally decided on the Seafood Combination Platter.  It features shrimp, scallops, and seasonal white fish, all fried, as well as french fries, which I substituted a baked potato for.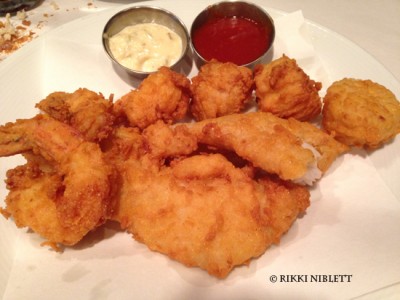 Wow…that's a lot of fried food.  Overall, the dish was good.  The breading was fantastic and light, the fish was very flaky and didn't have a strong fishy taste, the scallops were prepared perfectly (and this was the first time I'd eaten scallops fried…which I liked very much, but do prefer them grilled more), and the shrimp was large and tender.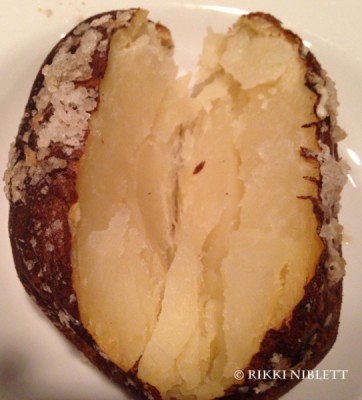 The baked potato was a nice accompaniment, cooked the way it should be. I always do love when they add the sea salt around the crust.
So what are my overall thoughts? The meal was a good one, and I left full, but it wasn't memorable. I felt that the selections on the menu were a little pricey (especially for it not being a go-to Disney restaurant) and they were kind of mundane. I can see why this restaurant does not top many people's lists for Disney restaurants.  I wouldn't really call it a place to go with small kids (though they are of course welcome), I think adults on a date night have better options to choose from, and the food isn't good enough for the prices they charge.
In all, while I enjoyed my meal from Fulton's, it's not a place where I will be dying to go back any time soon. It was decent, but certainly not a stand out.  I will be curious to see if anything changes once Disney Springs officially opens and more restaurants start opening up near this one…will the prices go down or the food quality get better, or will things stay status quo.
What are your thoughts?  Do you like Fulton's Crab House or do you tend to skip it on your visits?  Let me know in the comments.