This post may contains affiliate links for your convenience. If you make a purchase after clicking a link we may earn a small commission but it won't cost you a penny more! Read our full disclosure policy here.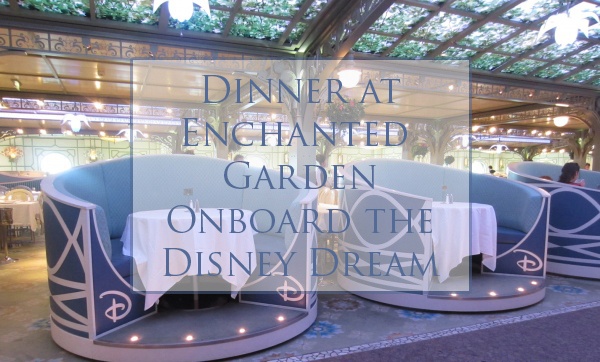 Recently I spent 5 glorious days enjoying the sun and the sea onboard Disney Cruise Line's Disney Dream ship. It was a fantastic time spent with family and friends, and yes, of course, lots and lots of good food. Dining on the Disney Cruise ships is a huge part of the vacation! (I mean you are practically eating every couple of hours…goodness knows you'll never go hungry onboard the ship!)
So, over the course of the next few weeks, I thought I would share with you my experiences with the fabulous dining that occurs onboard this magnificent and luxurious ship.
Our first dinner of the trip took place at Enchanted Garden.  I was actually very excited because out of all the cruises I'd taken thus far, I had yet to dine at Enchanted Garden for dinner! (This cruise, I would make up for it, because I'd end up dining there twice. But more on that on another day.)
Enchanted Garden is inspired by the picturesque gardens of Versailles and boasts a market-inspired menu. It features lots of greens and whites and has a gorgeous fountain found in the center of the room. The unique thing about Enchanted Garden is that the restaurant transforms from day to night as your meal progresses.  The room's fixtures also get in on the change as flower light fixtures "bloom" and the centerpiece fountain is flooded with shimmering light. It is a sight to behold.
Full meals at the main dining restaurants for dinner include an appetizer course, soup or salad course, entree, and dessert. As for me, I did things a little differently.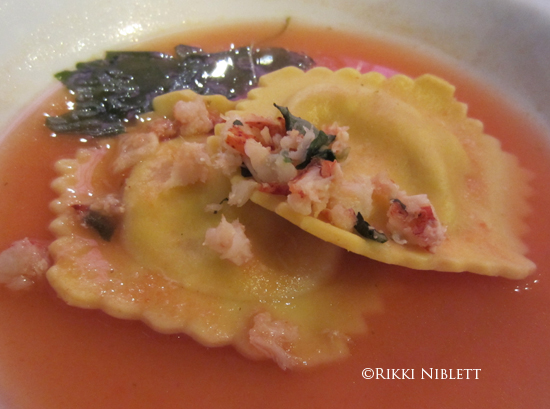 For my appetizer, I chose the North Atlantic Lobster Ravioli which featured roasted garlic and sweet basil in a light tomato broth. For the appetizer portion, there were two ravioli. They were prepared well with lots of lobster found both in the ravioli itself as well as as a garnish for the dish. The tomato broth was exceptionally light; it gave the dish just a hint of tomato flavor.
I decided to skip the soup or salad portion for most of my meals. So, as for me, we move on to the main course. Or shall I say my two main courses. You see, on Disney Cruise Line, you are more than welcome to order as many different dishes as you would like, so I was more than happy to try two entrees!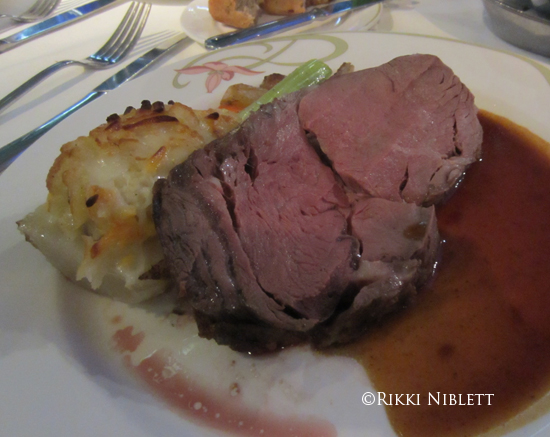 For my first entree, I chose the Slow Roasted Prime Rib, carved and served with thyme-roasted vegetables, double baked potato, and au jus. This was incredible. The meat was prepared perfectly; it was tender and juicy. The au jus was exceptionally flavorful.
As far as the sides, the twice baked potato was a great accompaniment, as well as the grilled veggies.  This was my winner dish of the night.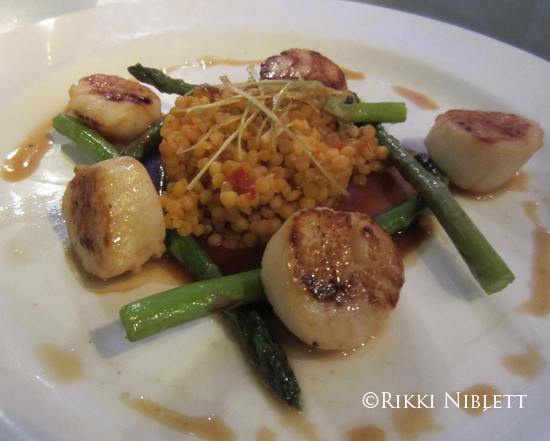 For my second entree, I am a sucker for scallops. So, when I saw the Caramelized Sea Scallops with roasted asparagus, sun-dried tomatoes, and pearl pasta, garnished with caramelized leeks and veal jus reduction, I knew I had to get it. While the scallops were seared to perfection, cut like butter, and were quite delicious, the rest of the plate left me feeling a little lackluster. (Or maybe it was just because the prime rib dish was so good.)  This dish just didn't win me over like I was fully expecting it to.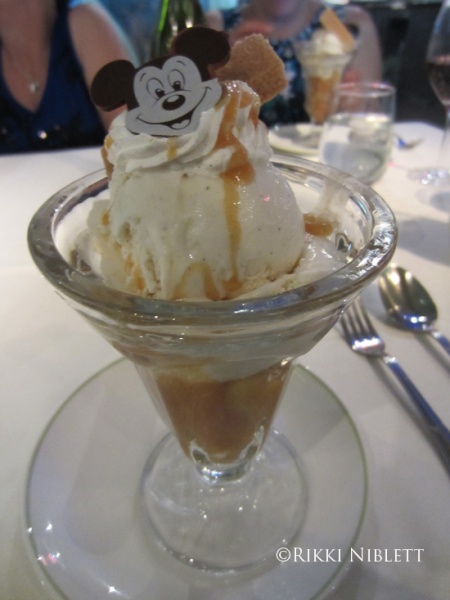 Now, it's time to enjoy our dessert. I opted for the Apple Cinnamon Crunch Sundae, which was great. It was not super heavy, due to it being ice cream, but the apples gave it great flavor. While it wasn't super fancy, this was actually one of my favorite desserts of the entire cruise.
Overall, I was very impressed with Enchanted Garden's offerings.  I thought they had a good mix of choices and  I was quite happy that I finally had the opportunity to dine here and felt sad that I had missed it all the previous times.
What's been your favorite thing to try at Enchanted Garden? Share in the comments section!