This post may contains affiliate links for your convenience. If you make a purchase after clicking a link we may earn a small commission but it won't cost you a penny more! Read our full disclosure policy here.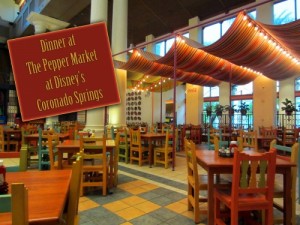 It has been one of my Disney bucket list items to visit every single Disney hotel on property at Walt Disney World and this summer, I managed to knock off the last one on my list…Coronado Springs.  Now, personally, I fell in love with this resort, and it has now made it onto my must stay list, but of course, that's not why we're here, now is it?  We're here to talk about food and of course, I'm ready to talk Pepper Market with you!
The restaurant's entrance, found off the main lobby area, next to the unmistakable large statue of a colorful dog holding a drum that says Pepper Market, is themed with an outdoor market sort of feel.  The food area is covered in canopies and tables include umbrellas to make it feel as though you are dining alfresco.  The place has a very Latin feel to it, with peppers hanging from the ceiling and multicolored chairs surrounding each table.
While a counter service location, this restaurant is very different than any other restaurant on property. Upon entering, guests are seated by a host or hostess.  You are then given a slip which you are to take with you when you head up to the different food stations and pick out what you want to eat.  The Cast Members behind the station will stamp your slip what it is that you ordered.
Once you have your food, you then head back to your table, where you server will bring you your drinks and keep them filled.  Decide you want dessert after your meal?  You are more than welcome to head back up to the food and get what you want, slip in hand.  Once you are all done your server will take the slip and then bring over your bill, which you will then pay.  (See, I told you it was different!)  It all may sound a bit confusing, given the fact that this restaurant is sort of a mix between counter service and table service, however, it all works flawlessly.
The restaurant has actually changed quite a bit over the past few years.  This restaurant was known for having at 10% surcharge added to it, as sort of a tip, however, that seems to have disappeared.  In addition, earlier this year, the Pepper Market has also transition from a buffet style experience to the a la carte system it currently uses.
Dishes are inspired by both Mexican, as well as American flavors.  There are many different stations available that change up, however, being here for dinner, we got to choose between the Grill Station (burgers), the Sandwich Station (paninis and warm sandwiches),  the Chef Station (Mexican dishes), the Market Station (soups and salads), Italian Station (pizzas and pasta), and Market Specials (more hearty dishes).  We were dining with The Forresters, so we all went up to see what delicacies we'd end up choosing.
The first thing I noticed is that this food looked fantastic.  Everything seemed to be fresh and there were a lot of options to choose from.  The hardest part was picking!
That was until I came upon the Market Specials.  Holy wow!  This was being offered up at a Counter Service meal?  The options here looked incredible!  The majority of our party stopped here for our meals.
Personally, I couldn't resist the carved slow roasted beef.  It was sliced off right there for me and was served with two sides of my choosing.  There were some great choices including mashed potatoes, mixed veggies, roasted potatoes, rice pilaf, and more. Once I got to the table, I was anxious to dive in.  This meal looked simply fabulous and with one bite, I was able to verify that it was.  The meat was cooked to perfection was juicy, and had a great flavor to it.  The crusting on it was spiced just right.  The veggies were cooked, but still a bit crisp and the mashed potatoes with brown gravy (which I am a sucker for mashed potatoes) were heavenly.  I couldn't believe how great everything was.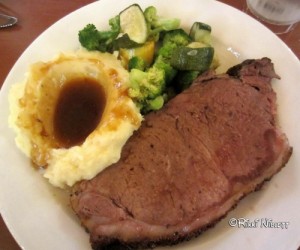 Pam decided to try the honey adobo roasted chicken.  She said it was juicy and delicious.    It was a LARGE portion of chicken too!  She also thoroughly enjoyed her mashed potatoes and mixed vegetables.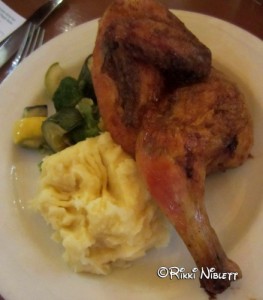 My husband decided he was going to go to the Chef Station and build his own burrito.  This was just like Chipotle with many different options  that could be thrown in.  And it was HUGE.  It would barely close!  After trying it, I can say that it was simply delicious and since it was assembled on the spot, filled with a ton of options, it was fresh and had a lot of flavor.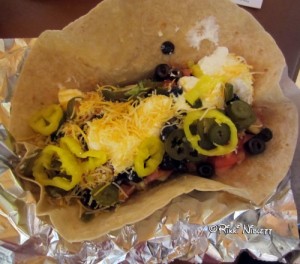 Kids will find plenty of options that should appeal to them, including chicken nuggets and macaroni and cheese.
Of course, we were much to full for dessert…maybe next time, because there most certainly will be a next time.  This was one of the best values of the trip.  The food was extremely reasonable (I mean, my dinner cost $14.99 and that was one of the most expensive things offered) and it tasted incredible. Not to mention that portion sizes were extremely large.  I now only wonder why it's taken me so long to try it.  If you can, make the trip over to Pepper Market and I can almost promise, you won't regret it.