This post may contains affiliate links for your convenience. If you make a purchase after clicking a link we may earn a small commission but it won't cost you a penny more! Read our full disclosure policy here.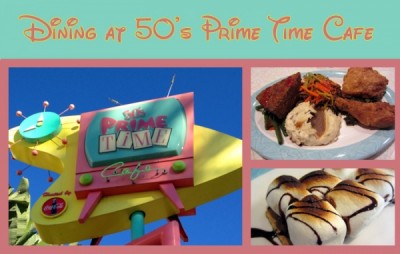 Can somebody tell me how I have gone this long without talking about one of my all time favorite restaurants in all of Walt Disney World?  I experienced this table service restaurant, found at Disney's Hollywood Studios on one of my very first trips as an adult to The World.  I asked around the internet for places I should try and this was, by far, one of the most recommended options.
You see, I am talking about 50's Prime Time Cafe.  This restaurant, located in the Echo Lake section of the park, is a favorite for so many reasons, but chief among them is the fact that they serve up home cooking, just like grandma used to make.  (I'd say mama, but my mama didn't cook like this.)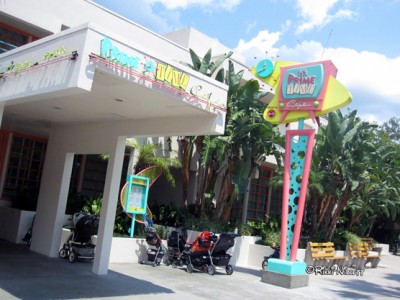 50's Prime Time Cafe is a blast from the past, as soon as you walk in the door.  The stage is set and you are actually in mom's kitchen, in the 1950s.  You are surrounded by whoosits and whatsits (wait…wrong part of the park.) There are knick-knacks directly from 1950s living, it's like you stepped into a time warp.  You may even recognize an artifact or two from your own childhood.
The rooms are filled with Formica tables, pastel colors, and televisions, all showing programs that have something to do with food.  If you're lucky, you may get to sit at one of these fun tables.  If not, you'll still be able to see the TVs, should you want to watch them.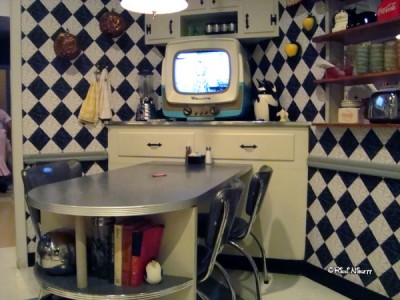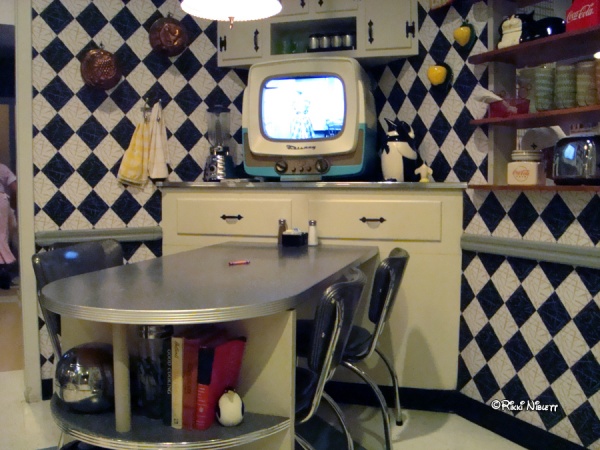 As soon as you enter, you are asked to wait in the Tune-In Lounge.  This area doubles as a bar, so if you want to grab a drink before you sit down, go for it.  (Another tip, if you are there without a reservation, which is pretty much required to have in order to dine here, the Tune-In Lounge allows for guests to order off the full menu.  I've done this before and had a fantastic experience.)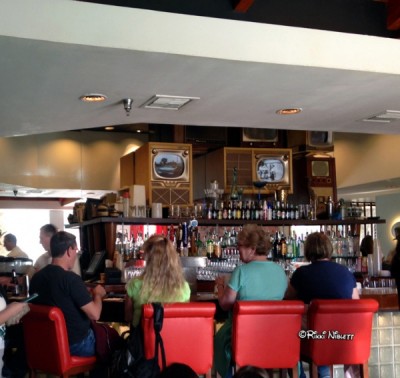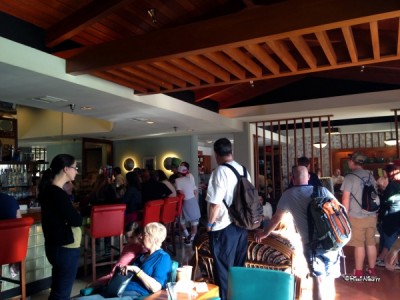 When it's your turn to sit down, they call for your party, but not in a standard way.  There's no Niblett, party of two.  No…instead it's "I've got a table for the Niblett kids!" which bellows through the small lobby area. This is a hint at what's to come.
As you sit down, you are thrown napkins and straws. You are also told to keep your elbows off the table and often to put your walkie-talkies away (cell phones.)
You wait staff are "relatives" of yours.  I've been waited on by aunts, uncles, cousins, pretty much any family member you can think of.
There are a few items on the menu that 50's Prime Time is famous for.  Chief among them is the Peanut Butter and Jelly milkshake.  Now, I love peanut butter, but I have never been brave enough in all my visits to try this particular milkshake. Something freaks me out about the addition of jelly and I have no idea why.  Other popular items include their onion rings (which are huge), pot roast, meatloaf, s'mores, and fried chicken.
Full Menu:  https://www.themouseforless.com/walt-disney-world/dining/menus/50s-prime-time-cafe-menu/
My favorite item to order is the sampler platter, called A Sampling of Mom's Favorite Recipes.  This dish comes with all three of the restaurant's specialties, the meatloaf, the pot roast, and the fried chicken, plus all the fixins'.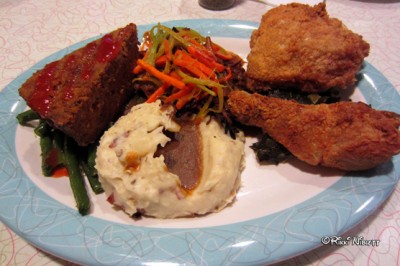 Let me tell you…it is so hard to pick a favorite from this plate.  Matter of fact, often, my favorite changes, depending on the trip and my mood.  This last time, my favorite was the pot roast.  It was the most tender pot roast I've had in a long time.  The plate includes not just one piece of fried chicken, but a couple and it is very juicy and succulent.  The meatloaf is served the way grandma made it.  It has great flavor and it comes with tomato sauce drizzled on top.
As far as the veggies, I love the mashed potatoes, though they are a little thicker than I prefer, but the gravy helps to moisten them up.  They have a nice taste of garlic added to them…and I am a sucker for garlic! The green beans are fresh and delicious and well, as for the greens, I usually avoid those.  Not a super big fan of those.
A lot of times, I will get this and split it with my hubby.  There is just so much food on the plate, that it makes no sense for me to eat it all by myself.  Of course, on my last trip, I was visiting by myself and was so starving that I did manage to eat a good majority without any issue.
Now, you want to make sure to eat all your food, because those who do often get recognized.  Also, if you don't eat all your veggies, you could end up finding them in your dessert.
The one thing that really makes this restaurant unique is the wait staff.  Here, they are encouraged to sort of "play" with guests.  I've seen people standing in the corner, being airplaned their veggies, or what they did on my last trip with my hubby…they made him clear the table.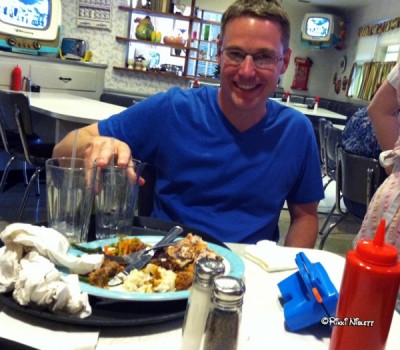 While I absolutely love this restaurant, there is one minor negative that I've noticed in my recent experience.  I feel that looking back over the past 9 years I've been dining here, the whole schtick has been decreased by a lot. I still see the Cast Members playing with guests a little, but no where near the fervor that I used to see.
My theory behind why the interaction has become sort of minimized is because of the Dining Plan.  I suspect that a lot of people picked this restaurant who were on the dining plan, not knowing what the whole experience would be like.  They didn't particularly enjoy the experience, causing Disney to maybe tone back a bit.  I could be wrong on the catalyst, but I certainly have noticed that the schtick of the restaurant isn't as fervent as it used to be.  Of course, if you ham it up with your wait staff, they should hopefully realize that you are are here for a good time and play with your party a little bit more.
I cannot forget to mention dessert and this is one of the most fun parts!  Not because it's dessert, but because of how it's shown to you.  Guests can choose their selection by viewing a ViewMaster!  Um…hello…how awesome!
My favorite dessert to get is the S'mores.  I don't know why.  It's the simplest dessert-a graham cracker with toasted marshmallows and chocolate sauce.   But it is honestly one of the best treats ever.  And, it's perfect because while it doesn't look like a lot, it fills you up quite quickly.
I've also tried the warm apple crisp, which is the perfect amount of warm, from the warm apples and cold from the ice cream.  Oh, I am so craving this one right now…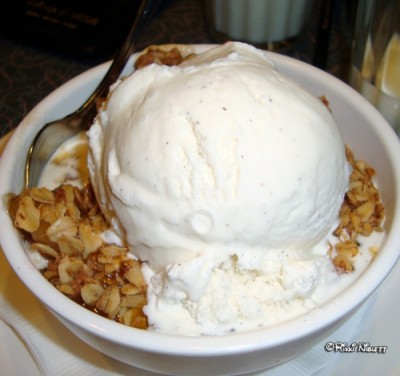 50s Prime Time Cafe is bar none, one of the best restaurants at Disney's Hollywood Studios and it could very well be one of the best restaurants in all of Walt Disney World.  There is just something so perfect about getting to eat real home cooking and feeling like you're there in your relative's kitchen once again.  There are very few trips where I don't make a stop here at least once.
What are your thoughts on this fantastic restaurant?