This post may contains affiliate links for your convenience. If you make a purchase after clicking a link we may earn a small commission but it won't cost you a penny more! Read our full disclosure policy here.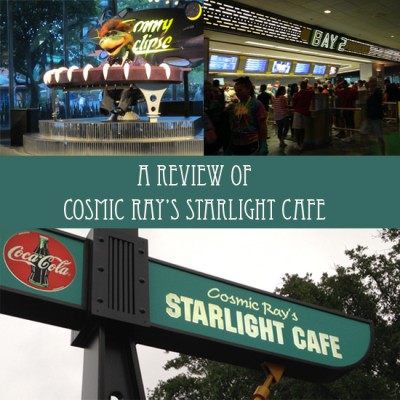 Tomorrowland is my favorite land in the Magic Kingdom.  Hands down.  There's just something about it that I find fascinating. Maybe it's all the neon at night, or it's the metallic palm trees, or the fact that it was supposed to be a city in space and really takes on that feel. Or maybe it's Sonny Eclipse.
Wait…who's Sonny Eclipse? Well, chances are, if you've dined at Cosmic Ray's Starlight Cafe, you've seen the cute little green alien lounge singer from Yew Nork City on the Planet Zork. He provides some fantastic jazzy music and cute punny jokes while you dine at this great, Tomorrowland counter service restaurant. Make sure you really listen to him, because you'll likely chuckle!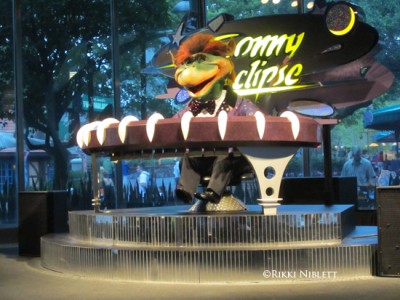 Every time I dine at Cosmic Ray's I must sit in the room with Sonny.  Although there are plenty of other places to sit,which trust me, is necessary in this very busy restaurant. The other areas are also a little quieter than the main dining room is.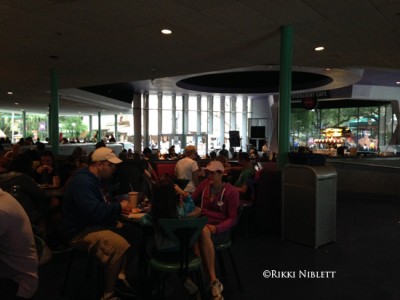 Speaking of the restaurant, let's get down to the review.
Cosmic Ray's has a fantastically retro-space vibe and specializes in quite a few different offerings.  They have sandwiches, hot dogs, salads, chicken, ribs, and more. There's just one little tiny (or not so tiny) hiccup with Cosmic Ray's and that's that they have different bays for guests to queue up in, but each bay serves different items. So you better all want something from the same line, otherwise ordering here can be quite a pain.  Bay 1 offers up Chicken Entrees, Bay 2 offers Burgers, and Bay 3 offers general Sandwiches.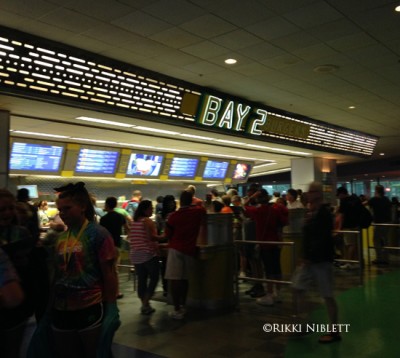 Cosmic Ray's also offers a great fixins condiment bar. It's not as extensive as the one over at Pecos Bill's, but it does offer some nice choices to make your burger or sandwich the way you want it.
As far as my choices go, one of my favorite dishes to get is something that not many people think of when they dine here. Most are thinking about what kind of burger or hot dog they want. As for me, I'm thinking about the half of a rotisserie chicken!
You all know that I'm not much of a burger/hot dog eater. I like to try things that are a little outside the box, especially when it comes to Disney counter service. So, as soon as I found out that Cosmic Ray's had a rotisserie chicken option, I added it to the bucket list of things to try.
The chicken can be a little hit or miss. I've had it a few times now and some times it's cooked to perfection, other times it's a little bit dry. The chicken is dark meat – a thigh and a leg and a wing.  I'm a fan of dark meat, so this didn't bother me, but I know many are strictly white meat eaters. I also very much enjoy the rub that's used on the chicken. It has a great taste to it.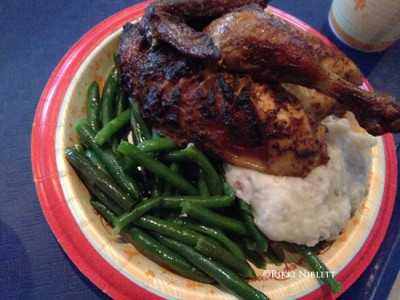 The other great thing about getting the chicken is that it comes with non-traditional theme park sides…ie…french fries. Instead, guests get mashed potatoes and green beans!
The mashed potatoes are quite good. They aren't as creamy as I like, but they do have good flavor to them.
As far as the green beans go, these are cooked pretty darn well too.  They aren't traditionally soggy. They still have some crisp to them; maybe a little waxy.
Overall, the whole meal isn't something you would expect to find at a counter service location in the most popular theme park in the world, and that's why I love it! Oh and did I mention that this really is a meal that could potentially be shared.  (Maybe with a child…or two very small adult eaters…perhaps those looking to grab a snack afterwards.)
As I mentioned, Cosmic Ray's has a plethora of choices, which is good. It can satisfy everyone in the family. Now if they'd just do away with the whole Bay concept and have three different lines serving the same choices, things would be so much better!
What do you think about Cosmic Ray's? Is it a must stop for you?  Let me know in the comments!