This post may contains affiliate links for your convenience. If you make a purchase after clicking a link we may earn a small commission but it won't cost you a penny more! Read our full disclosure policy here.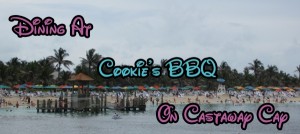 Happy Friday everyone!  I hope you all had a great Thanksgiving and are ready to get back to cruising, because we are still on the Disney Dream and we still have a few more delectable meals to go!
The best thing about cruising with Disney is that they have their own private island called Castaway Cay.  This island oasis is the perfect mix of tranquility and fun.  But…what do you do when you start to get hungry?  I'd hate to have to head all the way back to the ship.  Never fear, because Disney takes care of making sure you never go hungry when cruising with them!  They've brought their very own special barbeque restaurants to the island.
There are two locations where guests can grab either a snack or a meal:  Cookie's BBQ or Cookie's Too.  (If meeting with people, make sure to specify which one you mean.  It's easy to get confused.)
Both establishments are set up in a buffet fashion and are delightful open air restaurants.  (IE:  all outdoor, including seating.  Luckily there are tables that are covered by shelter or an umbrella.)  Guests will head up to the buffet, fill their plates, and then find the seating at a picnic table which is located near by.  Both restaurants can be found on the family beaches.  Cookie's is found on the main Family Beach and Cookie's Too is found near the extended Family Beach.  (Make sure to check a map for exact locations while on the island.  Luckily, the island isn't big, so you'll likely find one of them easily.)
Menu options from the grill include hamburgers, hot dogs, rotisserie chicken,  BBQ pork ribs, cajun mahi mahi.  Also offered are fresh salads, potato salad, potato chips, corn on the cob, cole slaw, cous cous, and fruit.  Of course, dessert is also offered.  Ice cream or cakes can be found, but they are most famous for their chocolate chip cookies.  (Given what the restaurant is named, I would expect nothing less.)  These are large cookies and quite delicious.  There is a self serve drink island available for guests here too, serving up coke products.
Menu:  http://disneycruise.disney.go.com/cruises-destinations/bahamas/ports/castaway-cay/dining/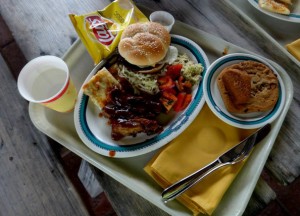 The food isn't fancy (It's certainly no where near as fancy as what's served on the ship.  If you want something fancier, I would suggest boarding the ship for your lunch)  This is what you expect from a typical BBQ restaurant.  Personally, I think the food is quite good and I could eat about a dozen cookies (and that's saying something…I mean they are huge!)  I like that they give some of the menu options a bit of island flare to them too.  The food is flavorful and it's nice that they have some more unique offerings too.  (Like the cous cous).  My favorite would have to be the ribs.  Juicy BBQ covered ribs.  I also really enjoyed the corn on the cob, the potato salad, chips, and did I mention the cookies?
Overall, after swimming in the ocean all morning, Cookie's and Cookie's Too is a welcome spot in my Castaway Cay adventure.  It's perfect for the island.  You can eat quick and then head back out to enjoy the rest of your fun-filled, sun soaked afternoon!