This post may contains affiliate links for your convenience. If you make a purchase after clicking a link we may earn a small commission but it won't cost you a penny more! Read our full disclosure policy here.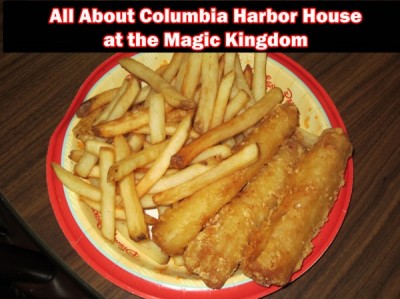 One of the best counter service restaurants in all of the Magic Kingdom is Columbia Harbor House.  This quick service dining location offers a multitude of options for guests that are downright tasty. Don't pass this location up because you think it's all typical theme park fare. It most certainly is not. They even have a nice selection of healthier items on the menu.  Columbia Harbor House serves up chicken, fish, shrimp, sandwiches, salads and more!
To find Columbia Harbor House you'll easily see that it is situated in Liberty Square right across from The Haunted Mansion.  The restaurant is themed after sea shanties in Colonial America.  There are tons of nautical decorations here, including paintings, ships, mastheads, ship wheels, maps, and more. Look around and explore to see truly all the great details this dining establishment has to offer. Because of it's sea-faring motif, the restaurant relies heavily on woods to carry the theme out.
When you enter, you'll enter the main ordering area.  Here, you will often be directed by a Cast Member to a cash register.  If you don't see one, just head to whichever line is the shortest.  Please keep in mind that BOTH SIDES OF THE REGISTER ARE OPEN!  Cast Members rotate to the left and the right who's order they take. This is something that I am well aware of, but I cannot tell you how many times I've gone right up and ordered via a shorter line and the people on the other side of the line give me the stink eye.
Also, please be aware of what you want to eat before you get to the cash register.  Make sure to take a look at the menu while you're waiting to get a general idea…it will make the whole process go a lot faster, for both you and those waiting behind you.  Once you have placed your order, you will make your way up to the pick up counter.  Here, when your order is ready, the Cast Member will hand you your food.  You can then proceed to finding a table.
While there is ample seating downstairs, I'm going to let you in on this hint…there are stairs that are right by the main ordering area…take them.  Upstairs is a glorious seating area that is often not crazy full of guests, since most people don't necessarily know about it.  Plus, if you sit by a window, you've got a great view of Liberty Square!
Now, let's get to the food!
Perhaps the items they are most famous for are their chicken and fish baskets.  These are delicious fried white fish or chicken breast nuggets that are served with either fries, apples or steamed broccoli! (Broccoli?  In a theme park?  What a wonderful idea!) In the mood for both, ala Long John Silvers…you can get both here too!  I've gotten the fish basket before and it's quite good. Not too greasy with good flavor. The french fries are your standard issue fry.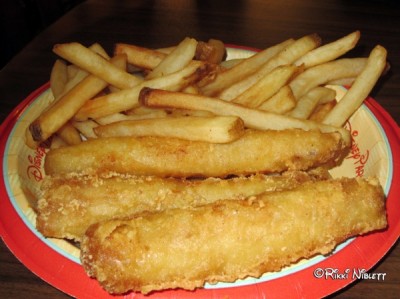 You know how I said that this isn't your typical theme park counter service location.  Here's why.  Columbia Harbor House also serves up quite a few unique and healthy options.  Chief among them are the infamous Anchors Aweigh sandwich (a white tuna sandwich served with lettuce and tomato) and the Lighthouse sandwich (hummus, tomato, and broccoli slaw).
They also serve my favorite sandwich, which is the lobster roll. Wait…what?  A lobster roll?!  Why yes indeedy!  This sandwich consists of lobster chunks, lettuce, celery, onion, and mayo served on a hoagie type roll.  Do keep in mind, it's got quite a bit of mayo and I would probably prefer if there were a few less onions (whew…onion breath stays with you) but overall it's a good sandwich.  Though I mostly ate the stuffing by itself as it fell out of the roll, cause they do heap in in there.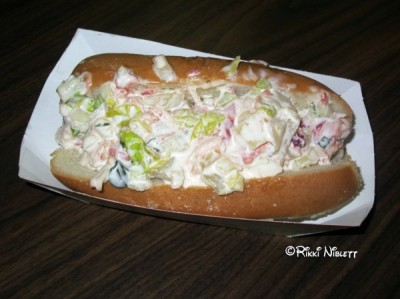 A couple other unique options.  They serve up grilled salmon, which comes with broccoli and couscous. They also have an amazing fried shrimp platter, which serves up good sized fried shrimp!  If you are looking for a good salad, look no further than the Broccoli Peppercorn Salad, served with Mixed greens, chicken, broccoli, bacon, all tossed with a creamy peppercorn dressing.
Looking for a heavier snack?  They also serve up some great soups.  They have a vegetarian chili, but my favorite is the New England Clam Chowder. It's the perfect consistency and got wonderfully sized chunks of potato and clam.
For kids, they offer chicken nuggets, mac and cheese, an Uncrustable, or a tuna sandwich.
They also have a couple of dessert options.  On one of our previous visits, our food never showed up at the counter, so they offered us dessert too.  I decided to try the chocolate cake and my husband got the seasonal cobbler, which was apple. The chocolate cake is your standard counter service chocolate cake. It is a decent dessert, but it's not really something I'd write home about.  I'd say the same about the apple cobbler, though I did enjoy that one just a little more.  If you're visiting here and on the dining plan though, I would choose the cobbler.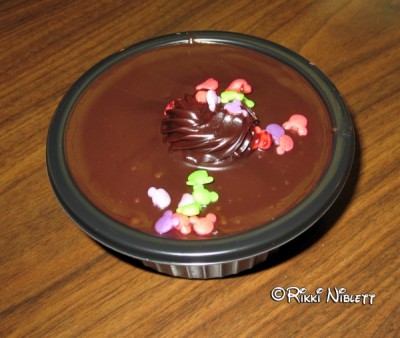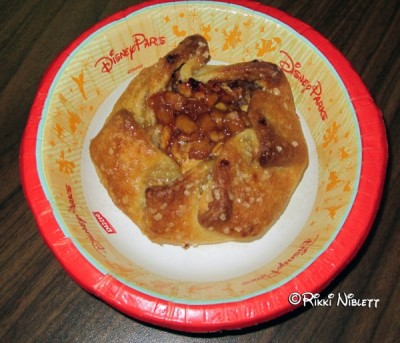 Menu:  https://www.themouseforless.com/walt-disney-world/dining/menus/columbia-harbour-house-menu/
Overall, Columbia Harbor House is a great option for those who are looking to eat outside the typical theme park box, but they do have some options that are average, standard fare.  It's really the best of both worlds.
What are your thoughts?  Do you like Columbia Harbor House?