Foodie Friday: Columbia Harbor House at the Magic Kingdom
|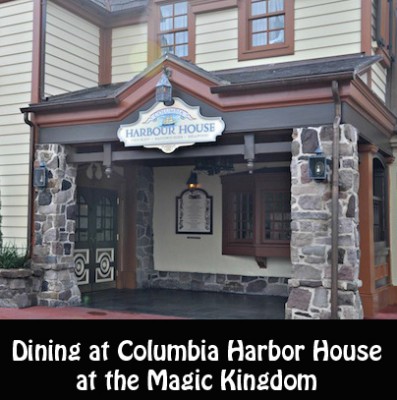 Many people wonder where the best counter service place to eat at the Magic Kingdom is. Up until recently, I had just one simple answer…Columbia Harbor House. It's still a top pick, don't get me wrong, but it does have a bit more competition than it has had in the past, in the way of restaurants like Be Our Guest Restaurant and Pecos Bill's! But that just means that dining at Columbia Harbor House is a tiny bit easier! (Maybe…ok probably not….let me have wishful thinking.  🙂 )
Columbia Harbor House is found in Liberty Square, across from The Haunted Mansion. This unique seafood restaurant offers up delightful and often unique options that makes a stop here a delicious one! Oh and for those of you who are looking for healthier options, this is a great place to stop as well.
Columbia Harbor House is themed after sea shanties found in Colonial America.  Guests will find that the restaurant takes heavy influence from the many nautical decorations here, including  ships, paintings mastheads, ship wheels, maps, and more.
Guests will enter the restaurant and come to the main ordering here. You will be able to walk up to a Cast Member at a cash register. Head to whichever line is the shortest. Once you have placed your order, you will make your way up to the pick up counter.  When your order is ready, the Cast Member will hand you your tray of food.
From there, you can then proceed to finding a table. There is seating available on both the main level, as well as upstairs. Often Guests will stick to the main level, so the upper level often has available seating. Plus, if you sit by a window, you get to overlook Liberty Square!
As far as the menu goes, there is quite a few things that Guests can choose from that run the gambit.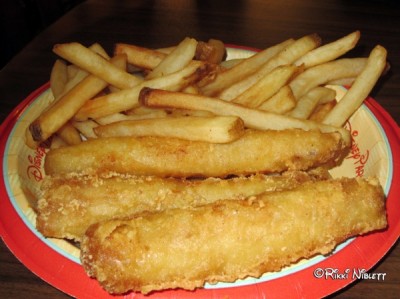 One of the best options that can be found here (and one of the most popular) is the battered fish platter. The fish is battered crispy and has a light flavor. The meal can be served with fries or broccoli, which is a nice touch.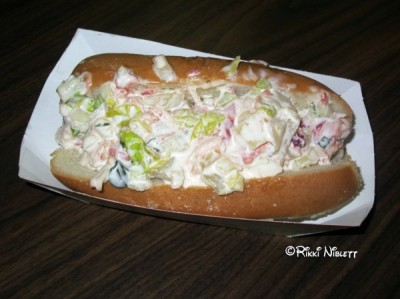 Another popular option is the lobster roll. The lobster roll has good sized chunks of lobster, but I also find it very heavy on the onion. Almost too heavy.  Like my breath was dragon breath for the rest of the day. It has has a heavy smattering of lettuce and of course mayo to finish things out.  Also, the roll is a bit big and hard to eat. I typically prefer to eat this sandwich with a fork and knife, mostly out of necessity, cause if I didn't, the pieces would be all over the plate, instead of in my stomach.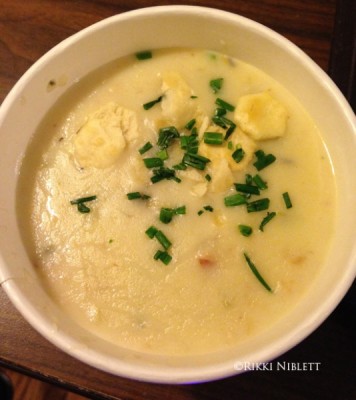 If you're looking for something a little bit soupier, consider, the clam chowder. This is a thick soup with good chunks of clam and potato. It had a nice bacon-like flavoring to it too. While the clam chowder isn't something you'll be clamoring for in the middle of the summer, in the cooler months, this soup is the perfect option.
Of course, for those looking for something lighter, consider both the Lighthouse Sandwich, with hummus and tomato and broccoli slaw on toasted multigrain bread or the Anchors Aweigh Sandwich served with white tuna, lettuce and tomato. They also have a salmon option served with broccoli.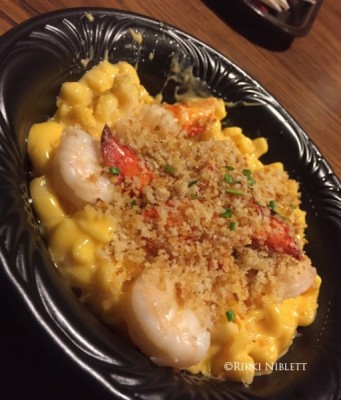 Did you know they also serve different options for dinner. They currently have a chicken pot pie option, and previously have carried a shrimp and lobster mac and cheese dish. (Which was amazing and I hope they bring it back. It had good chunks of lobster, decent sized shrimp, it was extremely cheesy, and had toasted breadcrumbs!)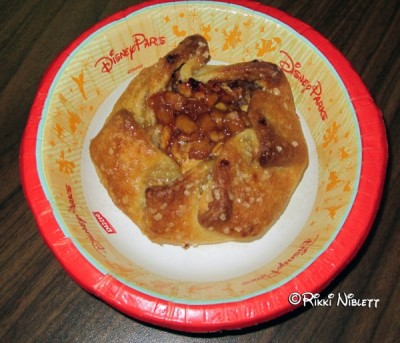 For dessert, Guests can choose the seasonal cobbler. I've had apple and it's quite yummy!
Overall, Columbia Harbor House still consistently serves up incredible meals that are quick and tasty! I suggest you give it a try on your next visit!
What is your favorite dish to get at Columbia Harbor House? Share in the comments!
Incoming search terms:
disney columbia harbor house battered fish platter