This post may contains affiliate links for your convenience. If you make a purchase after clicking a link we may earn a small commission but it won't cost you a penny more! Read our full disclosure policy here.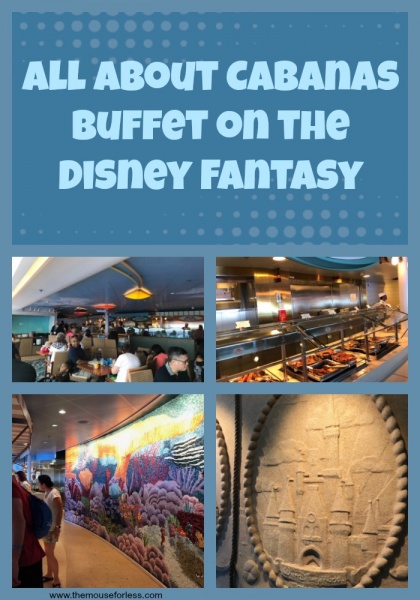 When sailing on Disney Cruise Line, so many people focus their attention on the table service, rotational dining. But, there are other quicker options that Guests can choose to enjoy. Mostly, people tend to visit Cabanas, during breakfast or lunch, but you actually can eat there during dinner, instead of heading down to the main dining rooms.
Cabanas, for those who don't know is a buffet option that can be found on all four Disney Cruise Line ships now. The restaurant features a very laid back, beachy atmosphere and is the perfect spot for if you're looking to enjoy a delicious meal in a quick and efficient manner. The restaurant features palm trees, beach umbrellas, and decorative surfboards. Oh and take a look at the floor! It alternates between sandy-brown and ocean-blue. See! It really feels like you're at the beach. Oh and Cabanas features a fantastic ocean view to enjoy while dining.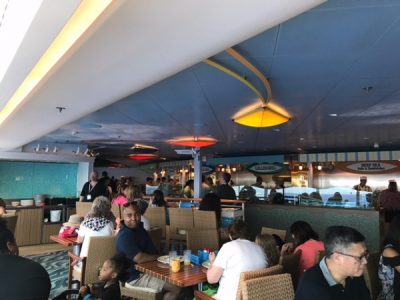 The artwork found in Cabanas is also spectacular. There's a fantastic Finding Nemo mosaic tile display, as well as adorable sand castles of the Castles of Disney.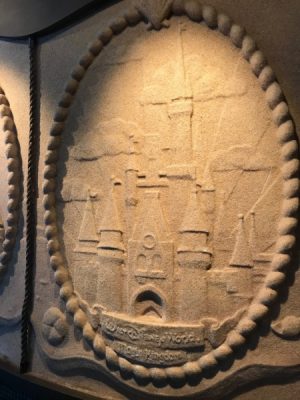 I love the sinks outside of Cabanas on the Disney Fantasy where you'll need to wash your hands. (It's the odd little touches like this that transport me back to the ship on days like today when I'm reminiscing.)
Cabanas features two sides that offer different stations for Guests to stop at. Never fear, there's no set path for you, so if there's a section of dishes you don't want to enjoy, you can move on to the next section.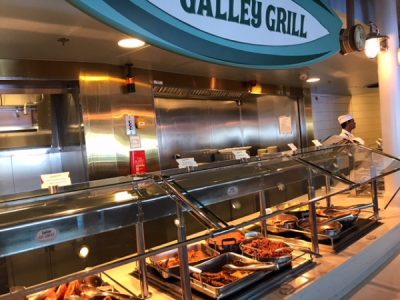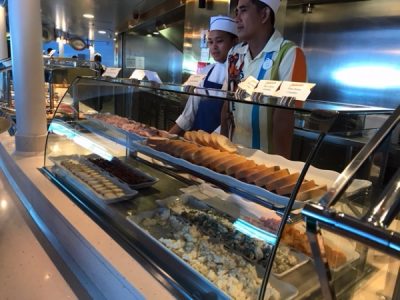 Once you have your food, you can go find your own seat. This can be a bit more challenging at peak dining times, when everyone on the ship seems to be wanting to dine here. There are usually more areas further back that tend to be available, so if you can't find something, just keep heading towards the back of the ship.
For breakfast, enjoy traditional items like made-to-order omelets, scrambled eggs, sausages, hash browns, muffins, fruit, cereal and more. Oh and yes, there are Mickey-shaped waffles!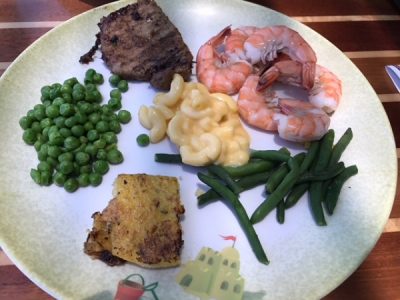 Lunch includes salads, soups, burgers, sandwiches, steak, chicken, seafood and pizza. You can't forget desserts (you are on a cruise….so calories don't count, right?) Enjoy things like sundaes, cookies, cakes and fruit. (If you are looking for something healthier.)
For dinner, Cabanas features signature dishes that can be found in the Main Dining rooms, so you do't have to feel like you're missing out, plus a menu of exclusive lip-smacking delicacies over a tantalizing 4-course meal.
Cabanas menu isn't totally set, as they often take dishes inspired from the ports of call you'll be visiting. That's what makes dining at Cabanas so awesome. Oh and there really is something for everyone…from vegetarians to picky eaters; you will find something delicious to enjoy.
Have you dined at Cabanas on a Disney Cruise Line Ship before? What were your thoughts? Share them in the comments or on our Facebook page.
Did you like this article? Make sure to share it with your friends! Check below for easy ways to share!
Incoming search terms: