This post may contains affiliate links for your convenience. If you make a purchase after clicking a link we may earn a small commission but it won't cost you a penny more! Read our full disclosure policy here.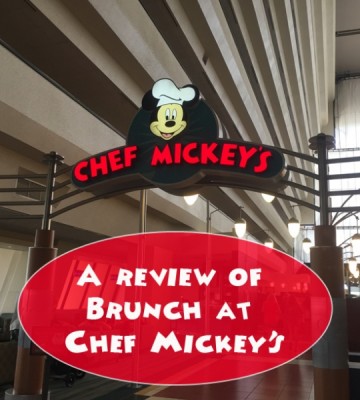 A couple of months ago, Disney announced that they would be introducing a brunch offering to Chef Mickey's at Disney's Contemporary Resort.  This meal takes place daily from 11:30 a.m. until 2:30 p.m. and includes all your favorite breakfast items plus soup; salads including Caesar, seafood, fresh broccoli, antipasto, chicken and Caprese; barbecued ribs; seafood étouffée; and baked salmon. Oh and don't forget dessert with the ice cream bar and Contemporary bakery sweets.
So, knowing all of this, plus combining the fact that my husband and I got engaged at Chef Mickey's 10 years ago in May, I figured it was the right time to make a stop here.
Chef Mickey's is an extremely popular restaurant, so it is imperative that you get reservations ahead of time. Also, due to the popularity, it may take a while for you to be seated.  Guests will be given a pager and then will be told to have a seat in the waiting area, and that you can get your photo taken, if you so wish.  We sat down to wait and I have to say, I was intrigued by one of the TVs they had to occupy guest's time. It was playing the late 80s/early 90s Disney home video classic "Sing-Along Songs"! I hadn't seen one of those in years!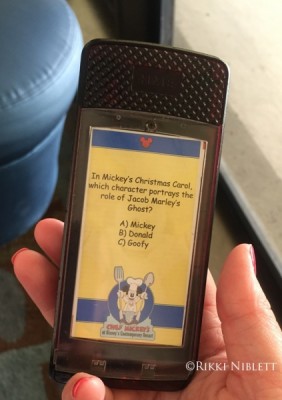 About 15 minutes later, our pager went off and we were escorted to a table.  Once our drinks had been ordered, we walked up to the buffet.  Now, we had actually booked a late breakfast time, however by the time we were seated, brunch was clearly being served.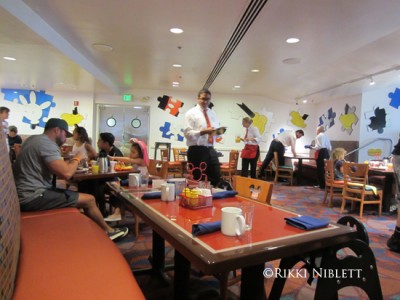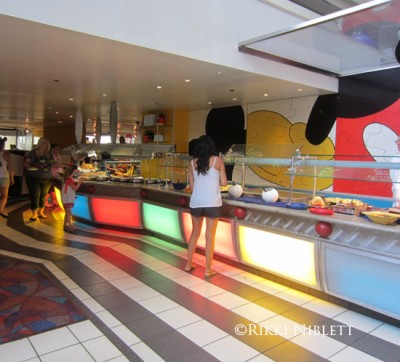 The buffet offered quite a bit of variety. I was most impressed with the choices and they looked quite delicious.  You started with salads, fruits, and yogurts. This was also where you would find cold breakfast fish options, like salmon.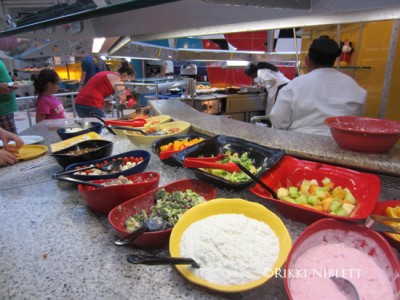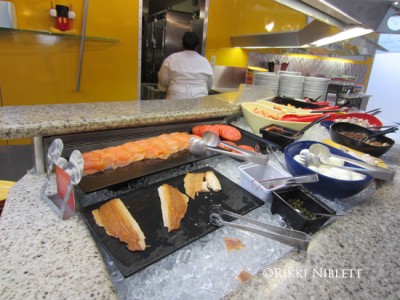 There was the kids station, featuring a mixture of breakfast and lunch items like Mickey Waffles, mac and cheese and chicken nuggets.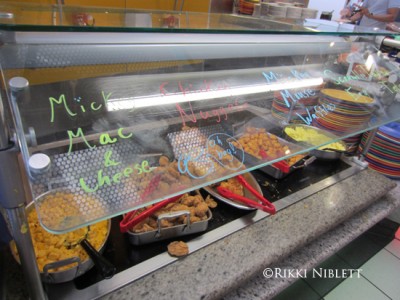 From there, there were more hot breakfast choices, such as pancakes, bacon, sausage, and a cheesy hashbrown bake.  These were followed by the vegetable offerings, and then the meat choices.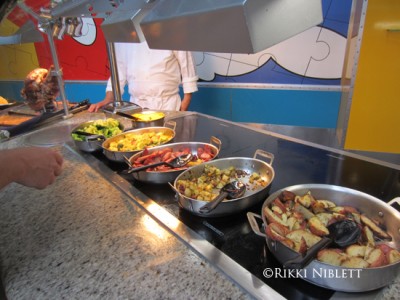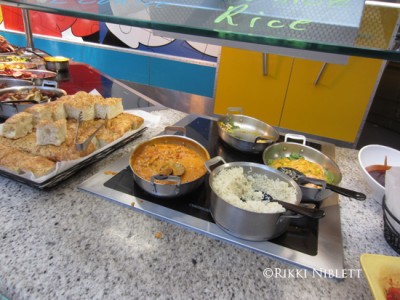 One thing I didn't realize until later was that they also had bagels and cream cheese, as well as crepes, that could be found near the desserts section, so if you're looking for a bagel or crepe, that's where you should head.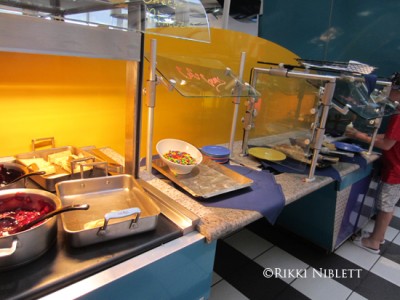 Another tip:  There are two buffet lines. One near the front of the restaurant and then one in the back.  They meet in the middle at the carving station, but serve the same items.  I would suggest heading to the one in the back for less congestion.
I started with breakfast items and then figured I'd work my way to lunch.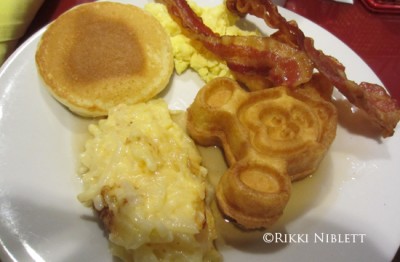 The Mickey Waffles were fantastically malty, the bacon was a little greasier than I like, the pancakes were alright, but nothing much compared to the Mickey Waffles, the eggs were scrambled eggs, but my favorite thing had to be the cheesy potatoes! Wow!  Those were exceptional. They were covered in sauce and the potatoes were the right texture. I would get those potatoes again in a heartbeat!
I do have one suggestion though.  It would be nice if I could have a little cup to put my syrup in, instead of having to use the pump and cover my waffle with syrup that way.  It made for a very large mess on my plate, plus I had difficulty actually getting it ON the waffle, which is, of course, where I wanted it.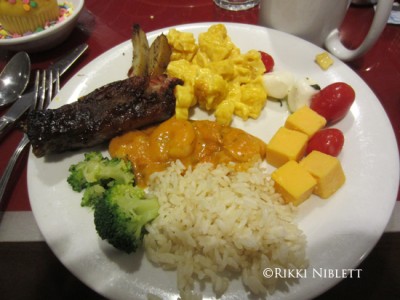 Now it was time for stop 2 at the buffet. This time, I went with the lunch-inspired options. The tomato mozzarella salad was delightfully fresh, the seafood étouffée had a little kick to it, but it was great with the rice, the broccoli was a little overcooked, but the ribs were outstanding. They were certainly fall off the bone. Both kinds of lunch potatoes were nothing to write home about; I much preferred the cheesy hashbrown potatoes.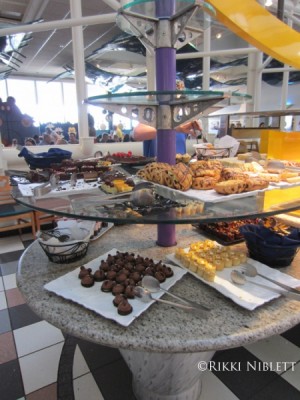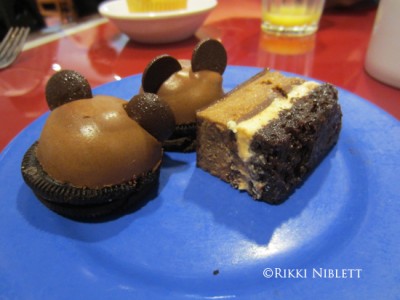 Desserts were plentiful. You could get ice cream if you wanted, but I am all about the Mickey Mousse Domes.  These are a favorite of mine; I could seriously eat just a plate of those right now.
Now, this is Chef Mickey's so you know it's a character meal. Guests have the opportunity to meet the Fab 5 here.  I have to say, this is the part of the meal where I was a little disappointed.  I'm not sure if it was just because it was me and my husband, but I felt that we did not get much character interaction at all.  It was hey how you doing, smile pose for picture, move on to next family.  I noticed it was kind of like that for the other tables as well, but a little less so for those with kids.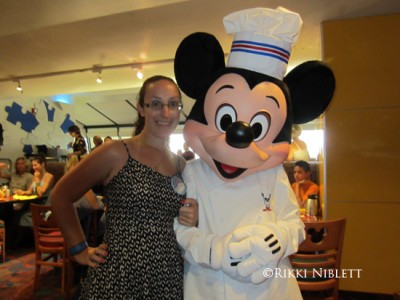 I know that Chef Mickey's is a big restaurant, but from what I could tell, they seat one section, characters meet guests, and then as that section is finishing up, the next section is just starting to settle in.  There was no real time to interact with the characters.  At these meals, I am aware that I am paying a majority of my money to get character face time in quick succession, but to me, I really felt like I didn't get what I paid for in the form of characters and that left me with kind of a sour taste in my mouth.
Also, one other thing to keep in mind…once the characters start coming by, the meal gets forgotten, and after all the characters have been met, most people tend to hurry up and leave, meaning that I don't know how much dining actually occurs at this meal.  We took a bit more time with our meal and I was stuffed when we left, but that is something to keep in mind when booking a character meal that most people don't tell you about. So, don't be in a rush to leave…stay and enjoy the remainder of your meal after you've met the characters.
Overall, I found brunch to be quite delicious, however, given the lack of good character interaction, I cannot say that I will be going back to Chef Mickey's any time soon, just the two of us.  Maybe in the future, when we have a little one, I'll change my mind, but with our family dynamic the way it is currently, the meal as a whole wasn't worth the exorbitant cost we paid. For those who are consider Chef Mickey's for brunch, I would suggest booking a later time slot for your meal when less people will be likely to be clamoring for a meal with Mickey and the gang.
Have you done Chef Mickey's brunch? What were your thoughts?