This post may contains affiliate links for your convenience. If you make a purchase after clicking a link we may earn a small commission but it won't cost you a penny more! Read our full disclosure policy here.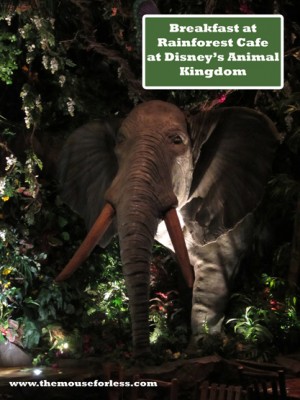 One thing people who know me are well familiar with, is that I do not get to the parks early.  My hubby and I like to sleep in a bit and often don't get to the parks until around 11:00 am or noon. (I know, we're in the crowd of people who are missing out on the best experiences and little wait times.) Because we often sleep in, we very rarely see breakfast.  We're just never dressed and ready in time to grab it.  So, I usually pack a box of pop-tarts or granola bars and have those for breakfasts in the morning.  They are just something to get me going a bit and then we'll have a good lunch later.
Well, in January, we ended up being at Disney's Animal Kingdom, cheering on the runners running the Marathon, and we were extremely hungry, since we'd already been up for a ridiculous number of hours. (You've gotta be there early to see your runner!)  The restaurants were all still serving breakfast, so we decided to pick a place to go.
We were originally looking for a counter service location, so I pulled out my iPhone and started searching in the My Disney Experience app. There weren't that many choices available and the ones that were didn't sound too appealing or didn't offer enough substance. (We were STARVING.) I thought about heading to Tusker House, but didn't want to pay that much for a character breakfast, but then, I noticed that Rainforest Cafe served up a pretty decent number of breakfast choices. We decided to try it out.
I'd never been to Rainforest Cafe at Disney's Animal Kingdom, but knew it was in the front of the park.  (For your information, there is also a Rainforest Cafe at Downtown Disney.) We quickly wound our way through the running traffic and made our way to the theme park entrance.
We walked in and were seated right away.  The restaurant was mostly empty, only a few tables had guests sitting and it cleared out even more as we dined.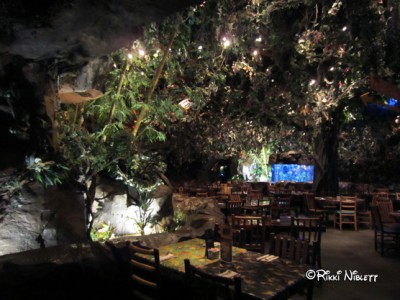 The first thing I noticed was the theming.  This place, whether you like it or not, is full of it. It feels like a lush jungle, with plant life and rock work everywhere. Then, you have the animatronic animals interspersed throughout.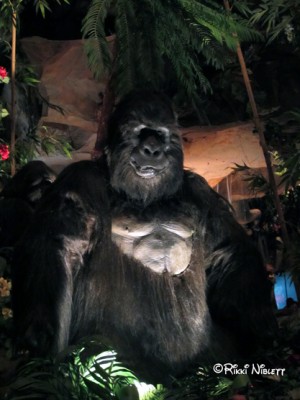 In the back section was the fish tank, filled with beautiful aquatic life.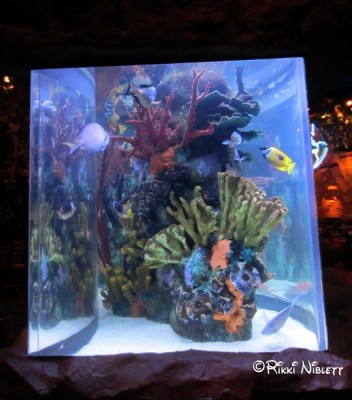 One thing that people always mention when discussing Rainforest Cafe is the thunderstorm and lightning that occur every half hour or so. To many, it bothers them.  I've even heard it be called sensory overload and too loud.  I have to say, I don't know whether it was because it was still morning or what, but the thunder and lightning didn't bother me one bit.  Matter of fact, I kind of thought it was a bit quiet and fitting for the restaurant's theme.  I think that unless it was severely altered recently, that the storm is something that is up to interpretation.
Ok, so let's get to the food!  The restaurant has many different items to choose from and they seemed, to me at least, to be reasonably priced.  (Especially given that the only other Table Service restaurant serving breakfast in the park cost $30+, per person.) Menu items included waffles, omelets, french toast, breakfast pizza, and more.
Full Menu:  https://www.themouseforless.com/walt-disney-world/dining/menus/ak-rainforest-cafe-menu/
Brian decided to go for Ozzie's Omelet, which is a three egg omelet filled with your choice of three options like mushrooms, cheese, sausage, bacon, spinach, and more.  It is served with breakfast potatoes and toast. It came out and it was HUGE!  It wasn't overly dry and had great flavor.  Plus, it had lots of cheese, which, to me, makes everything better.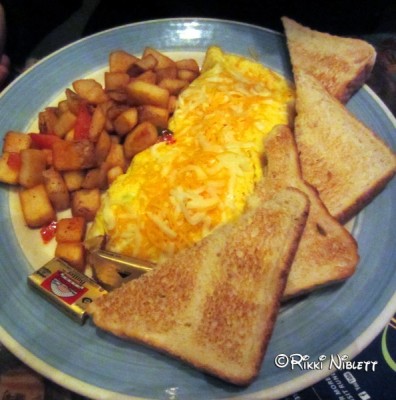 I went with Cha Cha's Wild Waffle.  It's a Belgian waffle served with strawberries, bananas, and either bacon or sausage.  I liked that it was served with fresh fruit, not a strawberry compote.  The waffle itself was average.  It wasn't super outstanding, but not awful either.  It was a great option for a busy day. (One where I could go for a while without eating.  Usually, if we eat this big of a breakfast, we'll skip lunch and have snacks, then eat a good dinner.)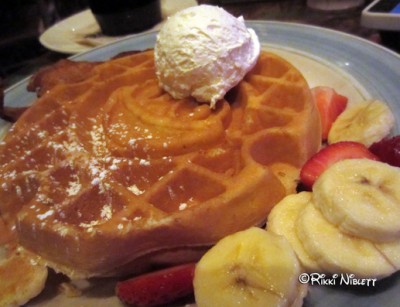 While I know that many dislike this restaurant, I think it's a great choice for your morning at Disney's Animal Kingdom.  It fits in with the theme of the park, the breakfast choices are plentiful and hearty, and it is very reasonably priced (at least for breakfast anyway.)  Plus, because of it's location, you can likely get a walk up here with absolutely no problem at any time.
While I know it isn't a Disney-owned restaurant, many other favorite restaurants are no longer managed by Disney anymore (like most of what's found around World Showcase), so I feel the prejudice may be a bit unfair.
If you are touring Disney's Animal Kingdom, and you want a good breakfast, keep Rainforest Cafe in mind.  It may surprise you, like it did me.