This post may contains affiliate links for your convenience. If you make a purchase after clicking a link we may earn a small commission but it won't cost you a penny more! Read our full disclosure policy here.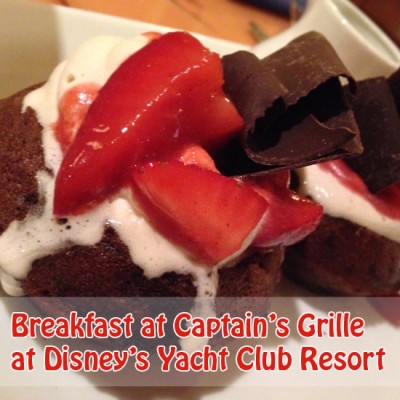 Breakfast…it really is the most important meal of the day. This is especially true when visiting Walt Disney World. It's always a great idea to fill up on a hearty meal before heading off to a long day in the parks. And boy do I have a great suggestion for you for your next breakfast option! You need to head to the Captain's Grille at Disney's Yacht Club Resort!
Wait…the Captain's Grille…I've never heard of it! Well, trust me…this is your wake up call!
It has sort of a non-nondescript entrance, and is actually a place where I think you could easily walk by without giving it a second look, but that would be wrong! Wrong, I tell you!
This restaurant features a heavy nautical theme, which makes sense, given its location. It is very reminiscent of a New England Yachting Club, but it's not stuffy enough that you feel you need to wear your ascot or best pearls. It's actually a very warm and inviting feeling, albeit, it does feel a bit like a typical resort hotel restaurant.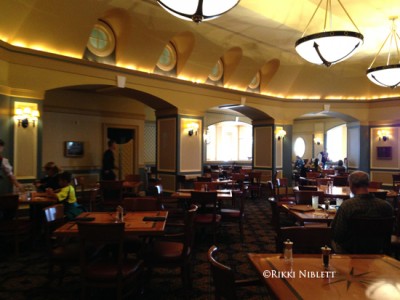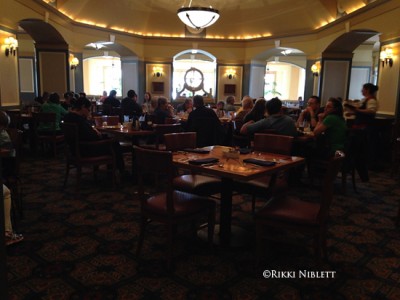 The best thing about dining here for breakfast is that you have two fantastic options to choose from!
First there is a great buffet where you can pick and choose what you want. Here Guests will find pastries, fruit, yogurt, scrambled eggs, hashbrowns, bacon, sausage, bread pudding, oatmeal, cereal, and a frittata. My husband had the buffet and he found it to be very much to his liking.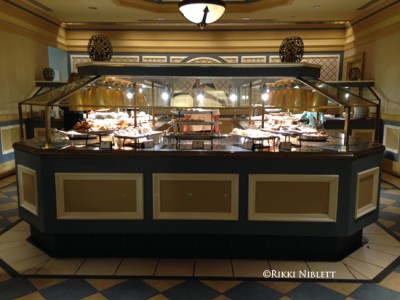 However, for me, I instead enjoyed the a la carte offerings. I think that they have a vast selection of choices including Lobster Omelet, Eggs Benedict, Buttermilk Pancakes, Petite Strip Loin and Eggs, and Lemon-Ricotta Hotcakes, to name a few.
On my visit though, I decided to go with the Dark Chocolate Waffles, which are served with Dried Cherry Compote, Espresso-Mascarpone Cream, Chocolate Shavings, and a choice of Bacon or Sausage. Now, I don't like cherries, but saw that on the menu they offered a strawberry compote on another dish, so I was able to substitute my dish with that option.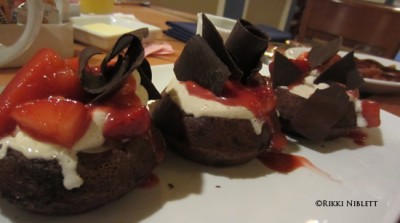 Let me tell you…this was one of the best breakfasts! I thought these waffles were fantastic! First of all, let me start out by saying that there are THREE of them! I found them to be about the sizing that you would see at the Epcot Food and Wine Festival, so they are good sized. The chocolate flavoring was not over-powering, but the mascarpone was fantastic! It too didn't have an overpowering flavor of espresso, but you could taste it. The strawberries added a nice touch to the dish, as did the chocolate shavings.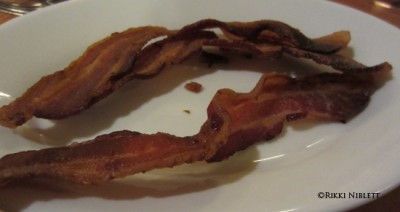 I had them cook the bacon for me crispy, which is how I like it and it came out cooked to perfection. The bacon had the exact right amount of crunch.
The biggest thing I find to be great about this restaurant, despite the fact that the food is outstanding, is that the pricing isn't terrible. Meals are under $20, with most under $15! (Which for a table service meal, is not bad, given that some counter service meals ask just a little less and you don't get nearly as much, in my opinion.)
Honestly, I had not thought about Captain's Grille before this trip, but I can certainly tell you, it is on my radar and with so many great and unique options, I certainly think this is a can't miss. The only hard part for me will be deviating  away from those waffles. Even though everything else looks great, those waffles will be difficult to pass up! Decisions, decisions!
Have you ever tried Captain's Grille for breakfast? What were your thoughts? Or did I just put it on the map for you? Share in the comments!