This post may contains affiliate links for your convenience. If you make a purchase after clicking a link we may earn a small commission but it won't cost you a penny more! Read our full disclosure policy here.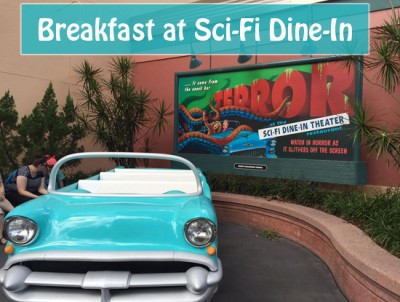 A couple of weeks ago, I was in Walt Disney World and I happened to be there at the same time (roughly) as the introduction of the brand new breakfast option offering at Sci-Fi Dine In at Disney's Hollywood Studios. Options looked interesting when I looked at the menu, so I was excited to give it a try.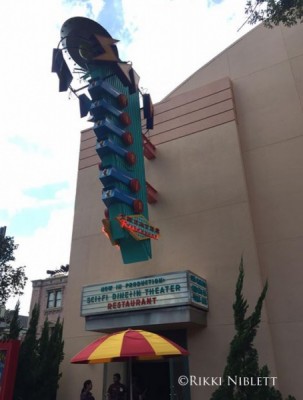 Now, there's a bit of a story, as well as a warning to go with this post. I had booked this dining reservation 3 times. Once, because I had the wrong weekend booked originally, once because when I realized I had the wrong day booked, the only time that was available was at 8:00 a.m. so I knew I wanted to try it and scooped up that reservation, and then an actual reservation time that I was looking for popped up, so I jumped on it.  (Yes, I cancelled the other reservations.) Needless to say, I had had a lot of times and dates to deal with in my head at the time.
I had thought that my reservation was for 10:10 a.m. (the time stuck out to me, because I thought it was odd), but was running a bit late (as you usually do at Walt Disney World for one reason or another), so I arrived at 10:18 a.m. for my reservation, thinking I was only 8 minutes late. Turns out, my reservation had been for 10:00 a.m., I was 18 minutes late and the kitchen was now closed. What?! Luckily, I was able to be seated after checking with the kitchen to see if there was something they could do for me. (Because I really wanted breakfast; I did not want to come back for lunch, which was originally suggested to me.)
I do find it odd that there is no real time buffer at this restaurant for breakfast for those who run late. There are a ton of things that don't always go as planned on a Disney vacation due to transportation, a ride malfunction, getting the wrong time. Personally, I would have expected a half hour buffer, as a just in case, and was very surprised to learn that was not the case at Sci Fi. I mention this as a word of caution to those who make this reservation because I found out this problem the hard way.  If you have the last reservation, which occurs at 10:00 a.m., make sure that you arrive to it on time or early, because there is no guarantee that you will be able to be seated after 10:00 a.m.
Ok…let's get on to the food because trust me…while I may have experienced a hiccup to begin with, the dining options offered more than made up for things.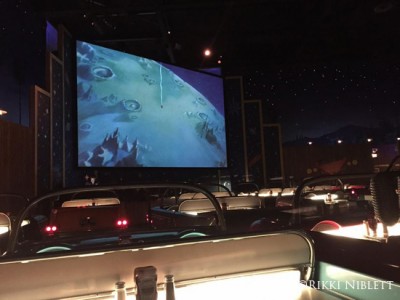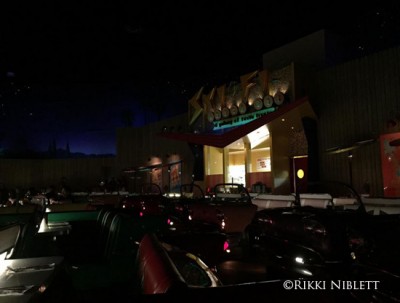 For those who have never been to Sci-Fi Dine In, the restaurant is themed after those classic drive-in theaters that used to be found across the country. Guests eat in vehicles while watching campy science fiction films under the "stars". The restaurant is themed to the nines and the films shown aren't scary enough to scare young ones. (Or they shouldn't be anyway.) Do keep in mind that due to the fact that you are eating under the stars, the restaurant is very dark, meaning that it can be difficult to see your menu and your food. Flashlights are a good idea and I needed to use mine a few times.
Breakfast currently costs $23.99 for adults ages 10 and up and $12.99 for ages 3-9. The meal is an all-inclusive offering, and features breakfast pastries, choice of appetizer, an entrée, and a non-alcoholic beverage.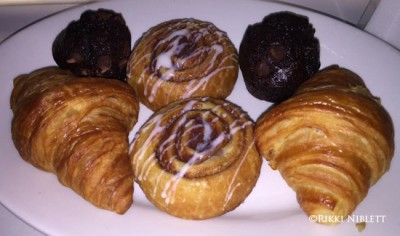 The first thing that is delivered to you is the breakfast pastry sampler. The breakfast pastry sampler includes croissants, double chocolate muffins, and orange-glazed cinnamon buns and pairs of guests will share the pastry sampler. I particularly enjoyed the croissant.  It was light, buttery, and fluffy.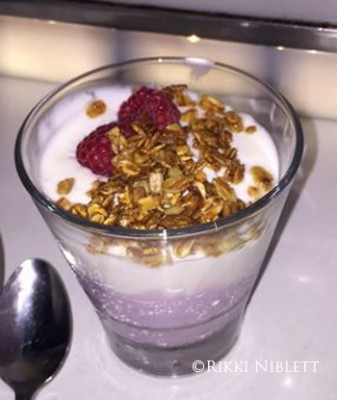 Next, you'll get to choose either seasonal fresh fruit or a yogurt parfait with housemade granola and berries. I chose the parfait and this was my least favorite part of the meal.  The yogurt was raspberry (I think) and extremely tart. There were huge chunks of fruit, both raspberries and blueberries included though.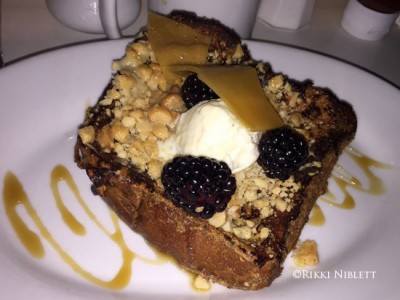 For my entrée, I chose the Brioche French Toast which is a macadamia crusted French toast with mascarpone and fresh berries. I have to tell you…this is one of the most incredible versions of French toast I have EVER had. No joke. It had a sweet crunch thanks to the macadamia nuts, the mascarpone was a great addition; it was just gooey perfection. I would, hands down, head back to Sci Fi just for this.
Yes, that's right…even after all of the trouble I had originally, this was a fantastic meal.  I watched the fun movie clips while enjoying a delicious breakfast. It couldn't get any better.  I also found it to be an exceptional value.  I had a ton of food presented to me for the price and left incredibly full. (I didn't eat again until dinner.)
However, here is one other word of warning: Breakfast is currently being offered from now until January 23, 2016. There is currently no word on if breakfast will continue after that date, but I really hope that it will.  Sci Fi Dine-In breakfast is a true winner.
Have you tried Sci Fi for breakfast yet? What were your thoughts? If you haven't tried it, does the menu sound intriguing to you?